Well, my friends - the time has come. To raise the roof and have some fun. 
Eat Too, Brutus The Eleven Dubgate is back to bring together a perfect College Football Saturday in Columbus, the best local tailgating cuisine, the city's freshest beer and the vibrant 11W community - for a good cause.
If you're not familiar with our annual tailgate, you can read all about it here. This year's edition - our fifth - takes place Saturday 9/27 prior to Ohio State's game with Cincinnati. 

VS

SAT, SEP 27, 2014 - 2PM
263-265 W NORWICH AVE


City Barbeque will dish out copious amounts of delicious meat and there will be a beer truck on-site with five bottomless taps pouring Yuengling in addition to other delicious brands. We have a few other surprises for your palate as well. 
The tailgate will again be equipped with flat screens, bathrooms, shelter if the weather doesn't cooperate - it always has - and both liquor permits and liability insurance for anyone concerned about 11W events being on the level. There will also be a silent auction, music and plenty of Eleven Warriors readers and writers to meet.
Once again, we are raising money for DownSyndrome Achieves, an advocacy organization that creates a welcoming community of support for individuals and families living with Down syndrome while aggressively advancing research, legislation and education.
100% of proceeds from the Eleven Dubgate go to DSA, and since 11W keeps nothing while our gracious sponsors like City Barbeque donate their contributions - like food, bathrooms and even event insurance - that's very close to 100% of every dollar you give.
Last year this tailgate funded the world's first biobank for Down Syndrome research. It's at Nationwide Children's right now, aiding in the advancing research part of DSA's mission. Our readers did that. How can you contribute this year?
It starts by simply showing up to have some fun with us.
GIVE YOUR VERBAL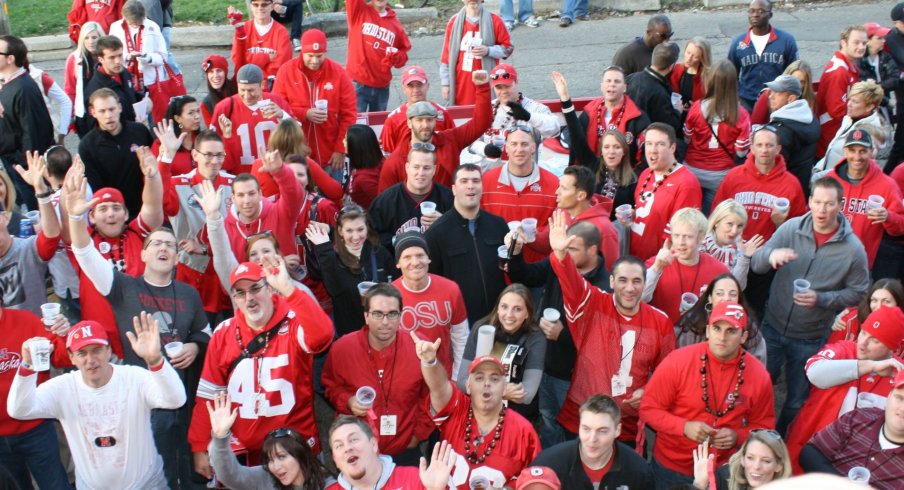 We've been hearing for months when do tickets go on sale? and the answer for this year's tailgate is: Never. Just show up. 
Your donation at the door - cash, check or credit cards accepted - is your passport to food and beverages. A DSA officer will be on-site to accept it, so your gift goes straight to the charity. We're suggesting $40 for unlimited food and drinks. Try to find a deal like that on Lane Ave.
The Eleven Dubgate Hostesses will make their debut this year to assist in tailgate proceedings - and can aid in meat and beer procurement as necessary. They will also have Eleven Dubgate t-shirts for sale to further benefit DSA.
Your non-binding "verbal" commitment is requested - don't be silent about it and try not to waver!  Just join the Dubgate event page on Facebook.
Signing up absolutely does not put you on any solicitation list whatsoever - not with 11W or with DSA. It just makes it easier to get you your donation receipt for when you do your taxes.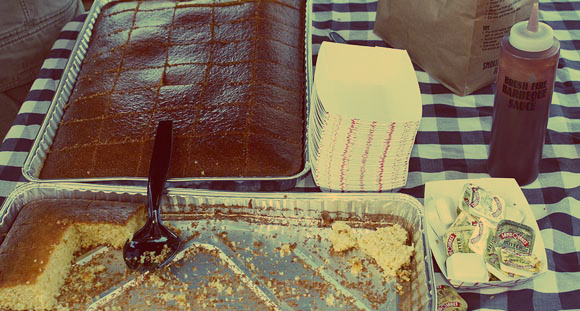 Event Map
The tailgate will be held behind the Varsity Club, one block north of Lane Avenue at 263-265 W Norwich Ave. Doors open at 2pm.
Sponsors
Frequently Asked Questions
What time does the Eleven Dubgate V begin?
The tailgate begins at 2pm on Saturday, Sep. 27. You must be at least 21 years old to attend. (sorry kids, there's a beer truck and a liquor license there)
How do I find the Eleven Dubgate V?
The tailgate will be held on the north side of the building located at 263-265 W Norwich Ave. Here's a map. The photo at the top of the page should help you once you get close.
Why Eleven Dubgate? What happened to Eat Too, Brutus?
Ohio State's trademark attorneys do not want there to be any confusion about Ohio State's involvement with 11W's annual tailgate.
This event funded the world's only blood bank for Down Syndrome research, has given thousands of dollars to the Stefanie Spielman Fund for Breast Cancer Research and Down Syndrome Achieves and donates 100% of what it receives to its charities, keeping $0 for itself.
We were told to change the name. Please be assured that Ohio State has no involvement in this tailgate. But you can, and you should.
How big of a donation we talking about here?
We're suggesting $40 but there's no cap on what you can donate. DSA is a 501(c)(3) charity and you will be provided with a receipt. Dubgate shirts will also be sold at the tailgate for $20.
I love tailgating, but there are college football games that day I want to see! 
There will be numerous televisions at the tailgate. It's Eleven Warriors, chief. We like watching football too. You should know this by now.
If you are interested in donating an item to the silent auction, let's talk. Ditto if you'd like to be a corporate sponsor.
Will my favorite 11W writer be there?
Yes, of course DJ will be there. His colleagues will probably be in attendance as well.
I'm so pumped for this. Can I verbal right now?
Yes. Do it. Come spend a Saturday afternoon on campus with Eleven Warriors.