A wise man once told me, everyone wants a job writing about sports online until it comes time to write about sports online.
Sportswriting never stops. It's a 24-hour, 365-day adventure that has folks scrambling to publish online words to hordes of ravenous fans anxiously awaiting the content to devour.
And as a result of the demand, it's become easier and more common to publish instant, unedited and unfiltered takes to the masses. The results are sometimes a spectacular disaster. And once a year, we like to collect those disasters to serve as a reminder that we can always be better next year.
I want to make this crystal clear: I live in glassiest of houses.
This is not an opportunity to bomb on others so that I feel better about my own failures or horrible opinions. We're all in this together. You're going to read some terrible takes and egregious mistakes, but I promise I'm at the top of the list.
This year, I published an article stating that Ohio State's matchup with Purdue would be a home night game (as you know, the game was in West Lafayette).
For roughly three minutes, this was published under my name: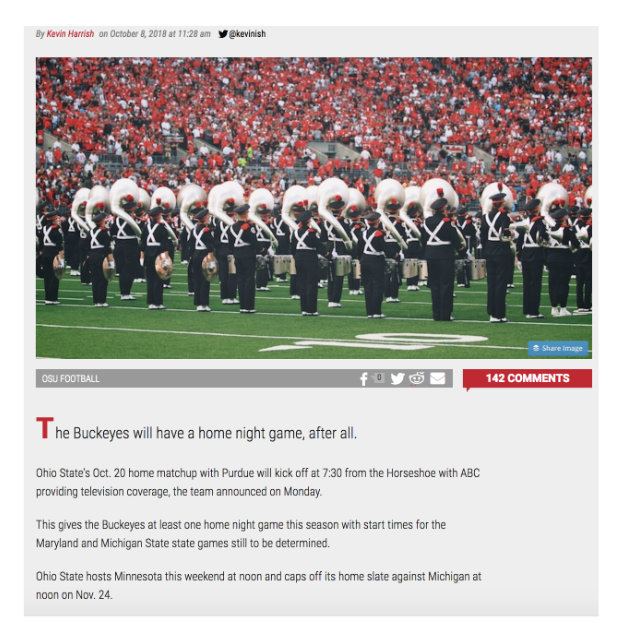 I also erroneously alleged that Nebraska lost to a game to an FCS opponent this season, which they decidedly did not. And that's not even including my numerous misspellings, typos and uncompleted sentences you have come to know.
The point is, nobody is topping my transgressions, but that doesn't mean they didn't try!
We'll start by bombing on my boss, Eleven Warriors Founder and Publisher Jason Priestas:
The Blue Jackets are the best team in Columbus right now, arent they?#CBJ

— Jason Priestas (@priestas) November 20, 2018
The Blue Jackets blew a 2-0 lead that night, and days later, Ohio State carpet bombed the top defense in the country.
And here's a little more friendly fire:
Of course he knew. He knew he was an alcoholic, he knew his marriage was in shambles and he knew that his mentor's grandson was a terrible football coach and that he was protected because of bloodline. Literally everybody knew. I knew. I wrote around it for six years.

— Ramzy Nasrallah (@ramzy) August 1, 2018
Look, *I* knew what Ramzy meant by this Tweet, and he clarified a few Tweets down, but I cringed as soon as I saw it because I knew many others would not. I was right.
I'm glad Urban is gone.

— D.J. Byrnes (@DJforOhio) December 4, 2018
He harbored an unqualified serial abuser for years simply because he was the grandson of a mediocre coach who once gave him a job in the 1980s.

He's also a dick who started J.T. Barrett over Dwayne Haskins in 2017 because Barrett was good at screaming at teammates before games. https://t.co/la5ob43gtV

— D.J. Byrnes (@DJforOhio) December 4, 2018
The opinion itself is abysmal, but even if you're going to have a bad opinion, pick your timing a little better. I know the goal was to be edgy and piss people off, but the Internet doesn't need your help to be angry and miserable. Just sit this one out.
Now we'll move on to the rest, starting with one that unified us all:
College football has tradition and pageantry that cant be beat. But, writes @Andy_Benoit, for those who love the strategic elements of football, nothing matches the NFL.https://t.co/GkPjIo8fV3

— The MMQB (@theMMQB) July 11, 2018
His argument included things like length of game, jersey number rules, and overtime format and he never once successfully argued that the NFL was strategically superior. In fact, he more or less did the opposite.
Head coaches and players make programs great. Assistant coaches are intended to be replaced. But now Ohio State has joined the trend of overpaying football assistants, who aren't worth $1 million a year https://t.co/WplruSfAjH

— Doug Lesmerises (@DougLesmerises) February 15, 2018
This take looks even worse months later, when the only reason Ohio State has the head coach they do is because they paid him over $1 million to be a coordinator this season. Also, by definition, they're "worth" what someone will pay for them. That's how economics works.
NBA trade deadline and free agency is better than actual college football and NFL games.

— Kyle Rowland (@KyleRowland) February 8, 2018
Imagine thinking that.
No comment needed. https://t.co/OLlBQsoPGi

— Tim May (@TIM_MAYsports) January 23, 2018
Tim, my guy, there's a reason why the simple "retweet" button exists.
FACT: An SEC team has never lost to a 16-seed.

— SEC Network (@SECNetwork) March 17, 2018
"How can we make this historic moment about us?"
First half stats looking good. Despite the defensive attention paid to Kelsey Mitchell, she ended up having a solid first half.

PS: If someone wants to slide into my DMs with that StatsBroadcast password, that would be dope. https://t.co/leyRQfyp38

— Land-Grant Holy Land (@Landgrant33) March 17, 2018
I get that not every outlet has the same resources, but the game was in Columbus, not across the country. You have a staff of 17 people but can't have someone cover a home NCAA Tournament game in person, and have to solicit the livestats password through Twitter DMs?
.@Skyline_Chili is turning its noodles green this weekend for #StPatricksDay! #yum https://t.co/oLRWr5kxAz pic.twitter.com/xD2hpHMDM3

— WCPO (@WCPO) March 15, 2018
I'm a documented skyline lover, but nothing about that photograph screams #yum.
This might be tough to understand, but Ohio State fans should be rooting for Michigan in the #FinalFour title game. https://t.co/Grz2vDyGe9

— Toledo Sports (@toledosports) April 2, 2018
"My unpopular take is objectively correct, and the only reason you wouldn't agree with me is because it's too nuanced for you to understand."
How sad for the former Buckeye (FREE)https://t.co/4kfUnr7hQs

— Bucknuts (@Bucknuts247) February 3, 2018
"How sad" is literally the most condescending way to express sorrow in the history of words. But don't worry, the article is FREE!
There were a few other cringeworthy ones:
Props to @MalcolmJenkins for letting Tom Brady hear about his dropped pass in #SuperBowlLll. #BuckeyeNation is proud of you (FREE)https://t.co/AoynW83Kw4

— Bucknuts (@Bucknuts247) February 9, 2018
The only word that does this stat justice is Damn! https://t.co/EYGHcaiIBZ

— Bucknuts (@Bucknuts247) August 15, 2018 
Know a #Buckeyes fan who isnt a @Bucknuts247 subscriber? *ichigan week would be a good time to do something nice and get them the best insider #OhioState information. FREE 7-day trail!https://t.co/mNY6QsYxFl

— Bucknuts (@Bucknuts247) November 19, 2018
This whole week was rough on their Twitter feed. They were blocking out some Ms in some Tweets but there was absolutely no consistency.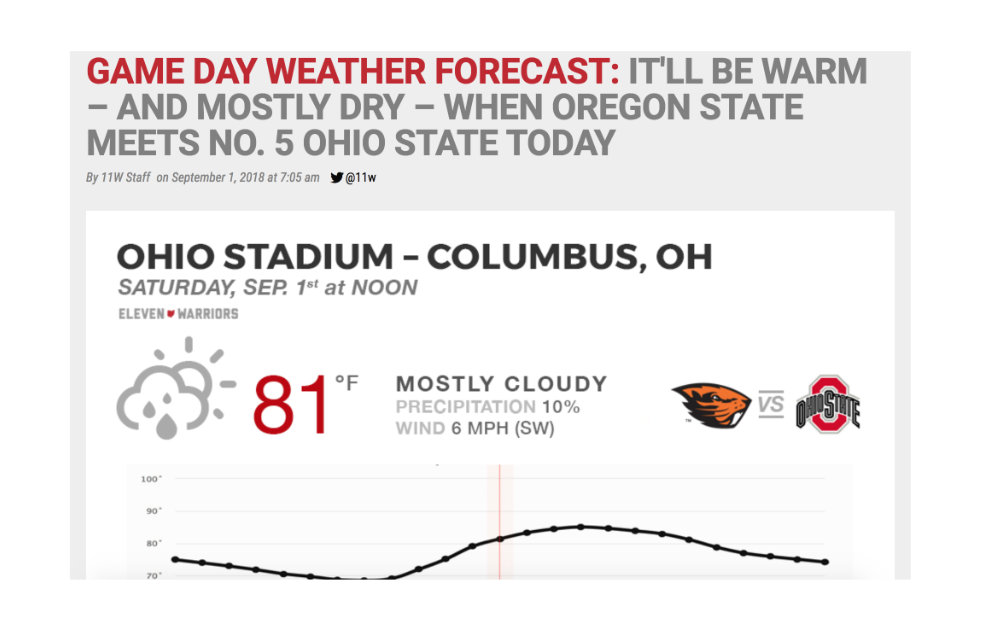 Narrator: it was not.
Whatever the narrative was on Coach O, probably time to reevaluate. Deserves loads of credit for rebounding after Troy and -- to this point -- developing a qb.

— Dennis Dodd (@dennisdoddcbs) September 3, 2018
Uh, Joe Burrow was at LSU for three months before his first start. I think the wrong dude is getting the credit there.
Ohio State will wear red in the 105th #RoseBowl https://t.co/AYhNG3aKah

— Rose Bowl Game (@rosebowlgame) December 10, 2018
With the number of times Ohio State's played in the Rose Bowl, you'd think they'd know the primary color correct.
Soooo what position coaches will we see back in 2019 @ osu? asking for a friend

— Coach Greene (@GreeneSpeedAcad) December 4, 2018
Is... Is the former walk-on Ohio State receiver who most recently coached at a fake high school trying to angle for an assistant coaching job? Cause that's what it looks like.
Unreal. The Indiana offensive line takes the same cheap shot at Rashan Gary that they took at Chase Winovich. Unreal. pic.twitter.com/rigCKQ9lWn

— Jordan Strack (@JordanStrack) November 18, 2018
"I have never once watched the offensive line!"
Shot, chaser: pic.twitter.com/fNBmjeT2PF

— Barrett Sallee (@BarrettSallee) February 21, 2018
Does... Does he know?
The live broadcast is about 15 seconds behind what we're seeing live. So, in advance: SPOILER ALERTS.

— Adam Jardy (@AdamJardy) February 24, 2018
This year, Adam Jardy learned that live TV is on a delay.
July 25, 2018
Those are stupid people!

— Bill Kurelic (@Bill_Kurelic) August 23, 2018
Nmbimjgmuum https://t.co/KT5sAUiCdA

— Bill Kurelic (@Bill_Kurelic) July 10, 2018
I'm not convinced the Dean actually knows how to delete Tweets because there's just no reason for those to still be active.
And speaking of things that are still active, when this was published, this six-month old article from Lettermen Row still had "general pubic" written instead of general public.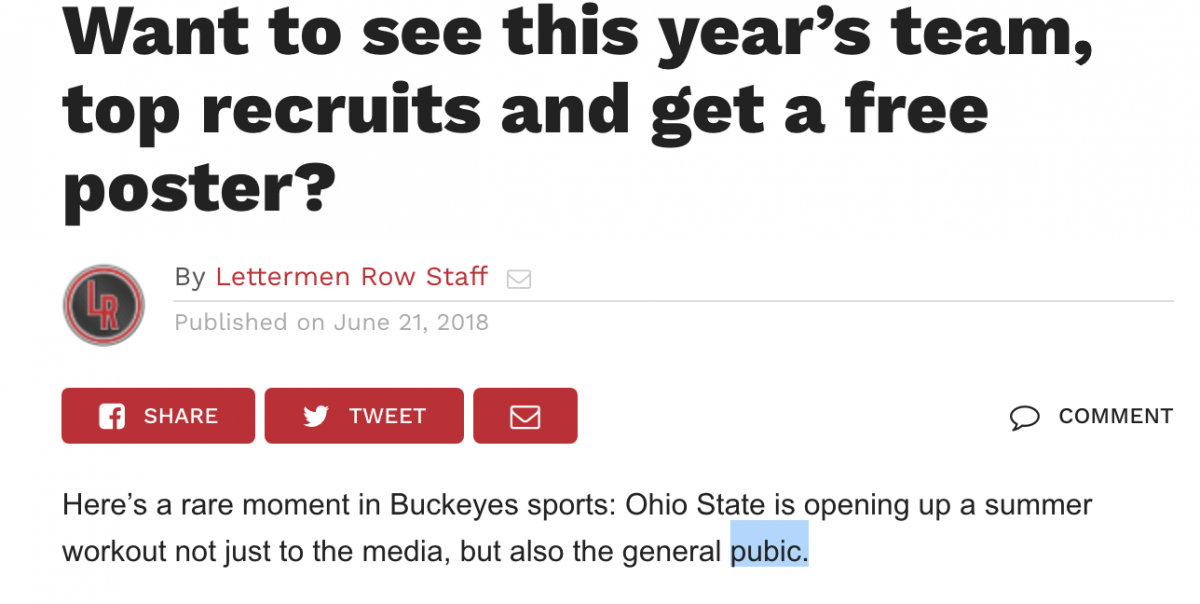 I've made worse mistakes, but luckily I have y'all to bomb on me before I even wake up and don't have to wait six months for someone to rip the bandaid.
The article is written under the Lettermen Row Staff byline, so I don't know who to properly blame, but Birm is looking like a prime culprit:
An 12-1 season with a Rose Bowel win would be a GREAT year for any program, and hell yeah itd be celebrated, but if youd prefer your favorite team play for a bronze medal then you shouldnt be a sports fan.

— Jeremy Birmingham (@Birm) November 19, 2018
Another mistake that never got fixed: 
New MGoPost: Temporary Post Used For Theme Detection (c09fa462-528c-4af1-a199-44fb57663b6b - 3bfe001a-32de-4114-a6b4-4005b770f6d7) https://t.co/V1kIumBBSS

— mgoblog (@mgoblog) March 9, 2018
Maybe this will be the year we all learn how to crop photos, because this is becoming an epidemic:
I think I'm going to start a Twitter account that just features images that Twitter has cropped really awkwardly. It shall be called: "Oh, crop it." pic.twitter.com/PQVByuKIt2

— Lori Schmidt (@LoriSchmidt) April 2, 2018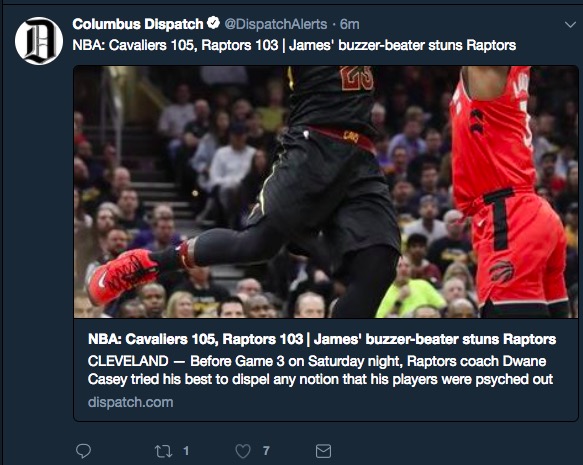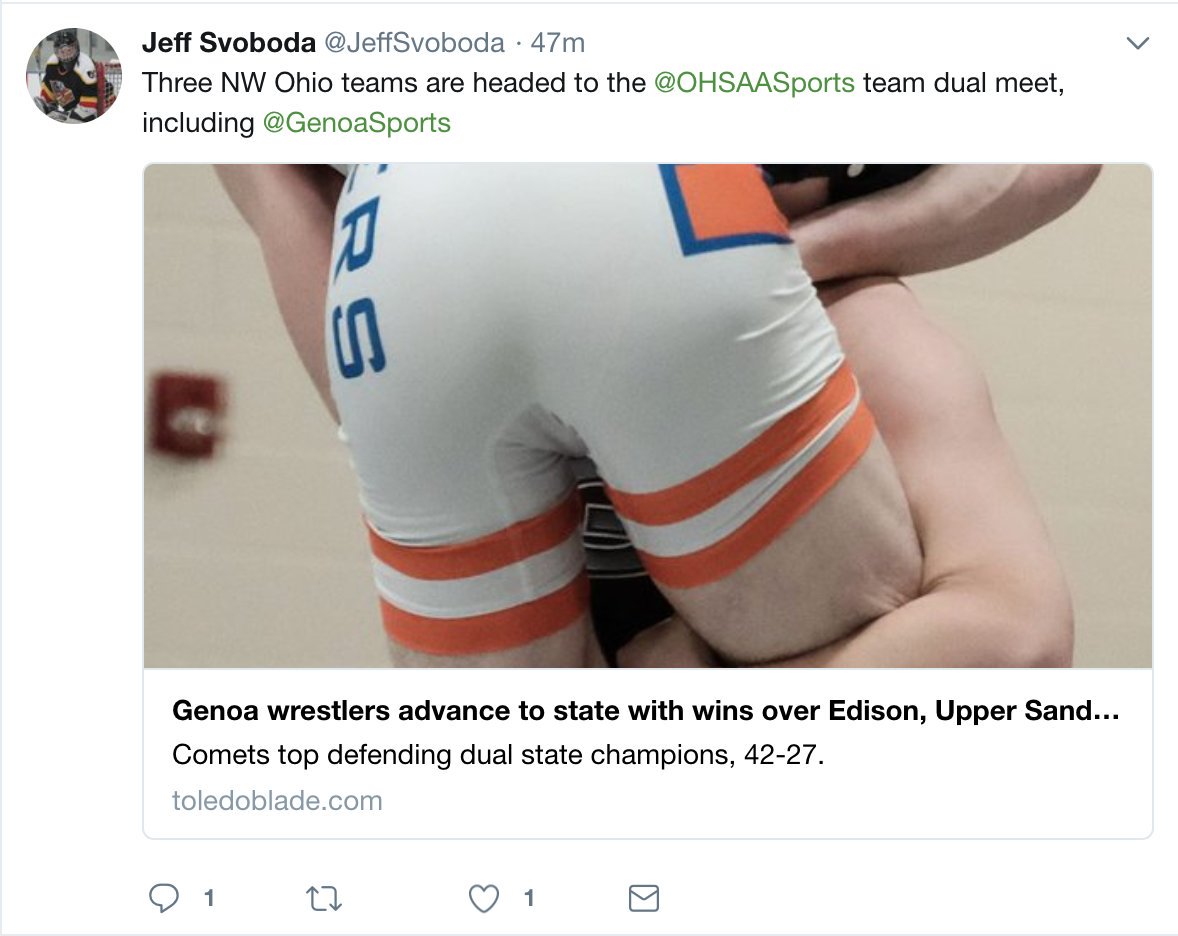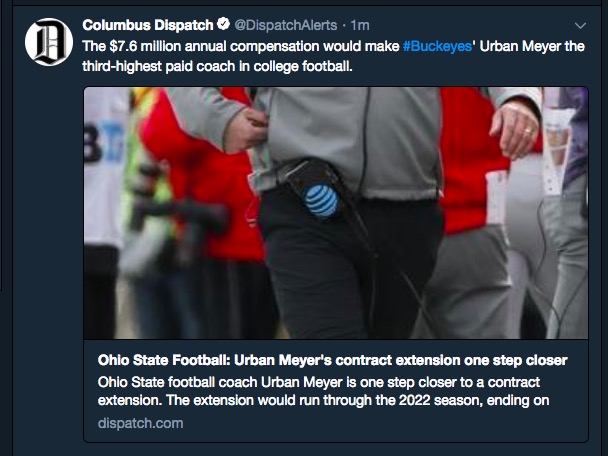 And we have the elusive poor crop with a bad take!:
College Football Playoff committee never has rewarded a team with a bad loss. https://t.co/oQ2UjiFAkt

— Berry Tramel (@BerryTramel) November 29, 2018
Keith Byars is probably the most under-rated player in Ohio State history. https://t.co/XAXxYNKXC7

— Jeremy Birmingham (@Birm) June 4, 2018
"Almost won the Heisman Trophy" doesn't scream "most under-rated player in Ohio State history" to me, but I guess we can go ahead and toss Dwayne Haskins in that category now!
I can think of another Ari from Scottsdale that would make a much better contestant on The Bachelor this season tbh

— Ari Wasserman (@AriWasserman) January 30, 2018
I mean, I'd watch the hell out of that.
Justin Fields - transfer to #Pitt! You will be a star.. then take take over for Big Ben in 2 years for the #Steelers! Sounds like an awesome plan, my man!

— Mark May (@mark_may) December 19, 2018
Mark May has no idea how the NFL Draft, works, does he?
Do the #Buckeyes have a real interest in Justin Fields despite multiple quarterbacks on the roster? (VIP)https://t.co/WXE9IIoX1Y

— Bucknuts (@Bucknuts247) December 19, 2018
Ohio State has more than one defensive end, would they really be interested in adding Zach Harrison?
Re: The John O'Neill crew. This isn't a one-game issue. This isn't a three-game issue. This is years of consistent, game-defining malpractice. This isn't just bad calls; their inability to manage personal fouls is the reason these games get out of control and players get hurt.

— Seth M. Fisher (@Misopogon) November 18, 2018
Gun to my head, I could not tell you a single college football referee by name, but this dude can rattle off more than a dozen games a particular crew has officiated the past eight years.
Centuries was pretty good in 2014-15 https://t.co/VIsiWDMQkO

— Steve Helwagen (@SteveHelwagen) July 20, 2018
Steve get the hell out.
I think you will see a lot of new concepts with Grinch now co-DC. Key is turning the dogs lose and playing nasty and fast. https://t.co/TXYlSIWkHP

— jbook (@jbook37) March 4, 2018
I love how the fellow asks a very intricate, well thought-out scheme question and the response is more or less "Idk probably. Let the dogs go!"
Here's a little #Buckeyes exclusive after submitting a public-records request. https://t.co/tUEQKYcHwo

— Adam Jardy (@AdamJardy) December 14, 2018
Everything in this was reported by other outlets like, a year and a half ago. I understand the contracts were finalized and you just got the records, but maybe let's pump the brakes on the self-congratulatory "exclusive."
BUCKEYES WON THE MOMENT!

No. 6 Ohio State wins the Big Ten Championship! pic.twitter.com/LEm0UDgr2p

— ESPN CollegeFootball (@ESPNCFB) December 2, 2018
Who made this?
When did it become the industry standard to use atrocious stock photos? Cause we need to change that as soon as possible.
Here are some examples that have been used this year: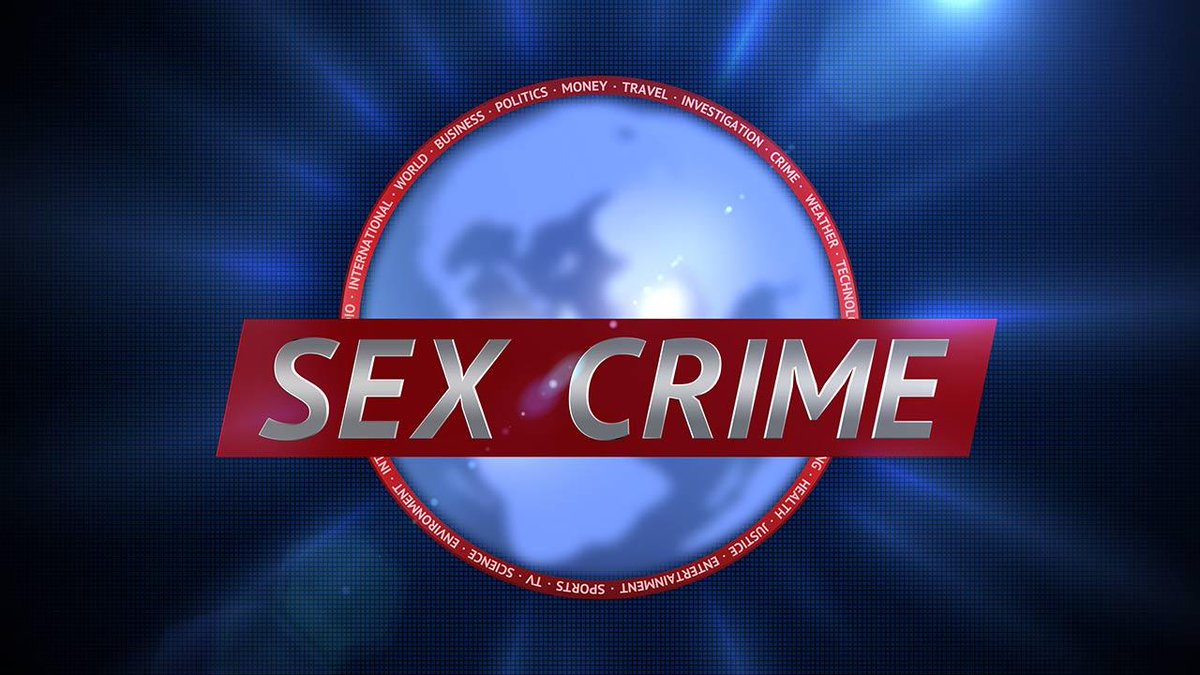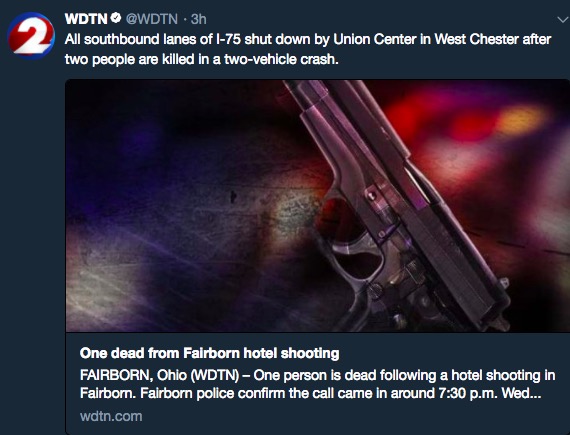 2-year-old fatally mauled by pit bulls inside Pennsylvania homehttps://t.co/e2dtkKI9Kt pic.twitter.com/umzl0vzz7k

— WSYX ABC 6 (@wsyx6) August 3, 2018
This one is especially bad because it's not even a stock photo. It appears they stole it from a Czech website, cropped out the leash, and doctored it to look more scary.
The original: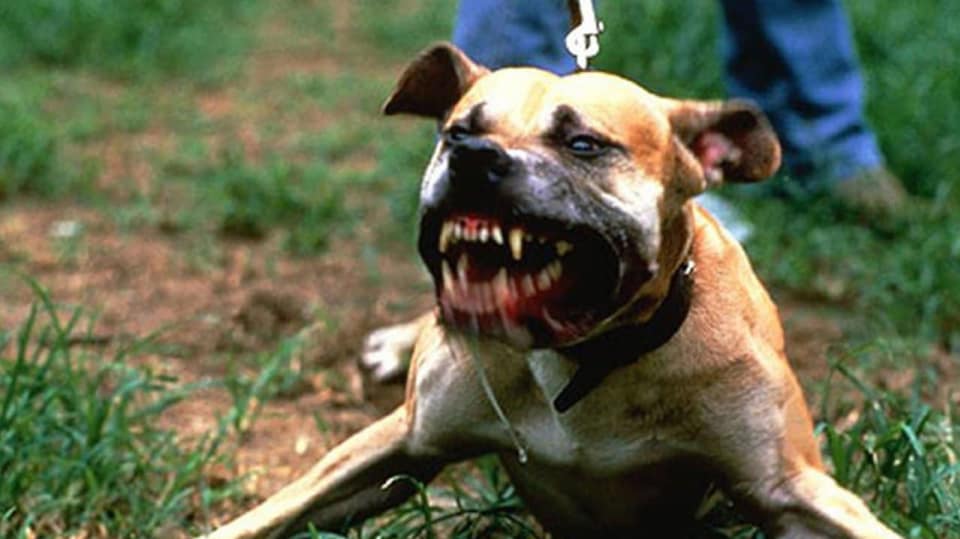 CELEBRATE THE WIN WITH A NEW JERSEY! We are excited to partner with University Of Flags to offer you guys #7 Dwayne Haskins Replica Jerseys for 50% off! Deal ends in 24 Hours! #GoBucks

https://t.co/WpMnR5QAuL pic.twitter.com/Qceu6QvzfU

— Buckeye Videos+ (@BuckeyeVideos) November 24, 2018
Celebrate the win by helping us profit off of Dwayne Haskins' likeness with unlicensed memorabilia!
Yet, somehow, that's better than this one:
Revenge Tour 2018 CANCELLED!

https://t.co/DPNEBdB4n6 pic.twitter.com/F9KZnwWckv

— Buckeye Videos+ (@BuckeyeVideos) November 25, 2018
They literally just stole our shirt design, and spelled "canceled" in the Queens English instead.
Ohio States throwback uniform will follow the same design as that worn during the Buckeyes run to the 2014 national title (and as an alternate during the 2015 and 2016 seasons), but on the Vapor Untouchable template instead of Mach Speed. pic.twitter.com/RIDCWkKaDD

— Andrew Lind (@AndrewMLind) November 14, 2018
Those are decidedly not what Ohio State wore.
Its rather odd Ohio State would have Nike make and deliver throwback uniforms and commission retailers to create 1968 National Champions gear to then wear their standard home look.

— Andrew Lind (@AndrewMLind) November 24, 2018
I sincerely mean this w/ all due respect, @Birm, but I don't think anyone has the right to tell others how to root for their team. If a theoretically likely butt-kicking could hurt a program's chances to recruit & improve longterm, is that worth a ~5% chance to win it all? https://t.co/JI0gXr5VCG

— Land-Grant Holy Land (@Landgrant33) November 19, 2018
They had the abysmal #take that they didn't want Ohio State to go to the College Football Playoff and lose. And they were doubling, and tripling down.
Interesting! A new study shows marrying your first cousin is not as bad as it seems. https://t.co/7nDlcH5ORr pic.twitter.com/v3G4q2i4za

— WSYX ABC 6 (@wsyx6) March 7, 2018
Interesting!
Shot:
If you don't have Virginia in your Final Four you probably haven't watched them. I have watched this team live many times over the last few years and multiple times on TV. You're gonna get one wrong if you don't have them in the Final Four

— The Torg (@TorgRadio) March 13, 2018
Chaser:
Not only did I pick #UMBC over stinky #Virginia but I picked #Buffalo over U of A. Do t be a hater because I picked the upsets #NCAATournament2018 pic.twitter.com/WzxhLN4pVR

— The Torg (@TorgRadio) March 17, 2018
Our 2016 Michigan team was the best Michigan team ever assembled... despite a late night in Iowa, jt being short and not having enough time in the last one but yah dont @ me

— Khalid Hill (@Thatboylid80) August 13, 2018
If that really was the best team in Michigan history, then wooooooooooof.
Rain drop
Drop top
Craft's shot?
Splish splosh. pic.twitter.com/C07L5KL9yD

— Lori Schmidt (@LoriSchmidt) July 21, 2018
Lori, please no.
The thing that annoys me is people displaying fake outrage over something so irrelevant to the cause. This fake outrage of being offended takes away from people who are trying to do the right thing and progress the awareness. Crying Woof!

— jbook (@jbook37) September 27, 2018
"Crying Woof!"
With his decision to leave #Buckeyes, Nick Bosa shows hes not a team player, says @RivalsMike https://t.co/RBr1pl3Yde pic.twitter.com/sGnwl9ssLL

— Bill Trocchi (@billtrocchi) October 17, 2018
This dude is just a bad take incubator. He also had one of the worst takes of the year:
Shaquem Griffin is a great story, but hes not worth a draft pick -- https://t.co/qTjCwr60ap pic.twitter.com/H3BSbrvQ2u

— Mike Farrell (@rivalsmike) March 6, 2018
Urban Meyer said Isaiah Pryor can appeal his targeting call he received against Penn State.

— Taylor Ashbrook (@taylor_ashbrook) October 1, 2018
That was literally the direct opposite of what Urban Meyer said.
This is a must-read (and watch) story/video on Burrow! https://t.co/9LktRi7z8T

— Dave Biddle (@davebiddle) April 16, 2018
"The story I wrote is an absolute must-read!"
Former Ohio State football coach Earle Bruce dies at 87 #GoBucks https://t.co/GVN3TJdhFO pic.twitter.com/qHFuPvtjGw

— Landof10 Ohio State (@Landof10OSU) April 20, 2018
Maybe not the best time for a #GoBucks hashtag.
Anything you want to say to Browns kicker Zane Gonzalez today? Keep it clean, please. Photo: Josh Gunter, https://t.co/a4YA4W2Cro pic.twitter.com/S1D7fOkrNI

— clevelanddotcom (@clevelanddotcom) September 16, 2018
If you read the comments, you'll see this was a predictably terrible idea.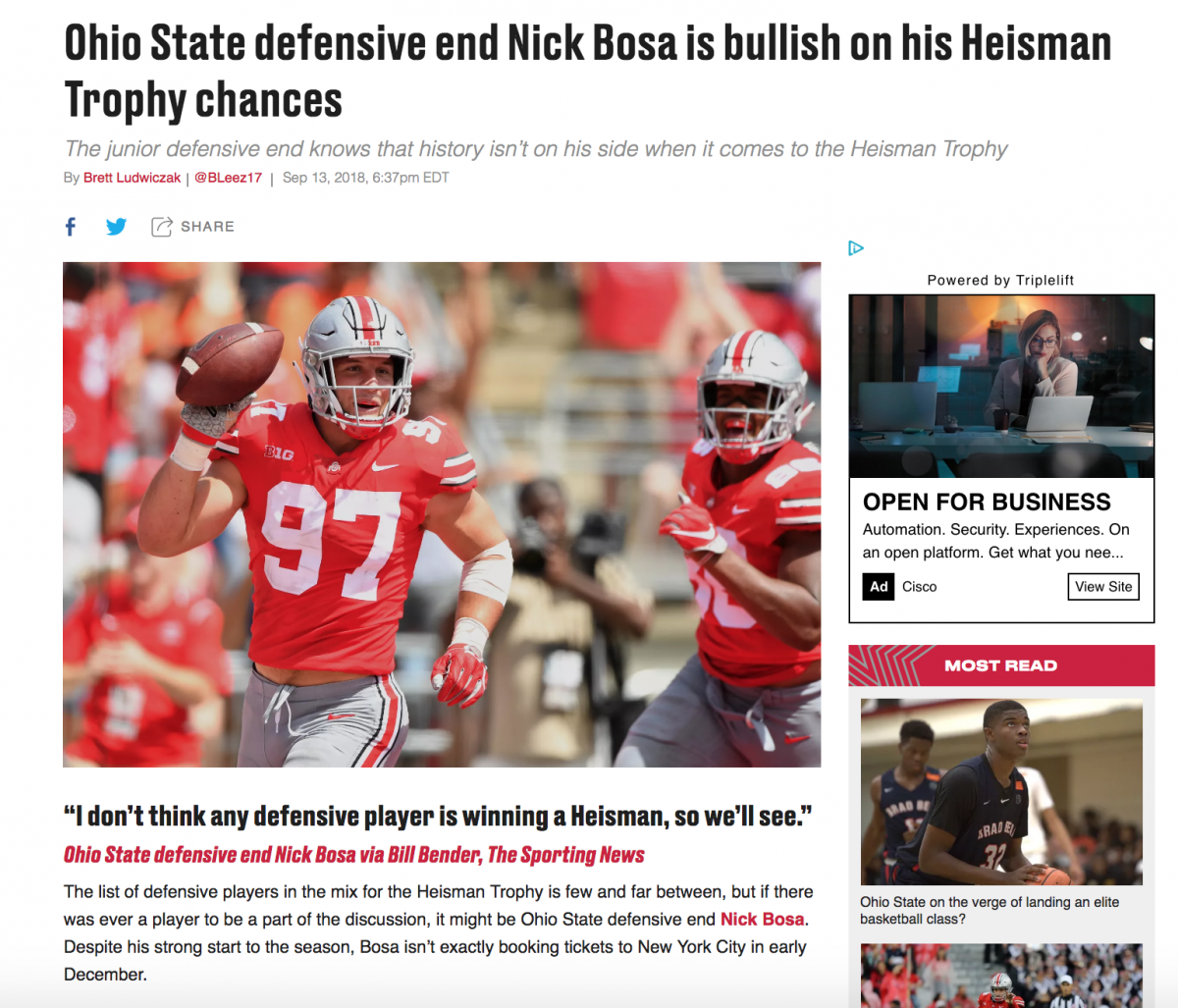 A headline, coupled with a sub-header, a quote, and a lede that directly contradict the headline. Looks like somebody doesn't know what the term "bullish" means.
Jeff Heuerman https://t.co/akeRhRUaQM

— Marcus Hartman (@marcushartman) May 7, 2018
I get where he's coming from, but I could think of at least 20 players who would have helped this team more than Jeff Heuerman, especially in hindsight.
Here comes the fourth quarter, which I saw little of because of deadline on Saturday night.

— Bill Rabinowitz (@brdispatch) September 17, 2018
Bold to admit that you barely watched the most important part of the game while you were writing a story about that game. Also, being on deadline is not a unique situation. Pretty much everyone in the press box is writing on some sort of deadline, and most have to publish something right as the clock hits zero.
.@ISUMattCampbell u up

— Land-Grant Holy Land (@Landgrant33) October 21, 2018
I don't even have commentary for this one. Create your own.
Thoughts and prayers with Bengals TE Tyler Eifert who appeared to suffer a gruesome injury to his lower leg against the Falcons https://t.co/UmCwypIfxg pic.twitter.com/bdqGlcNRLe

— Sports Illustrated (@SInow) September 30, 2018
Feigning concern to farm clicks using a photo taken of a television screen. What the hell even is Sports Illustrated in 2018?
If Josh Gordon lands with an AFC North team or the Patriots or Jets I will drink bleach for 1,000 days.

— Marc Sessler (@MarcSesslerNFL) September 15, 2018
Well?
Then there's this Big Ten Tournament Preview from Taylor Ashbrook: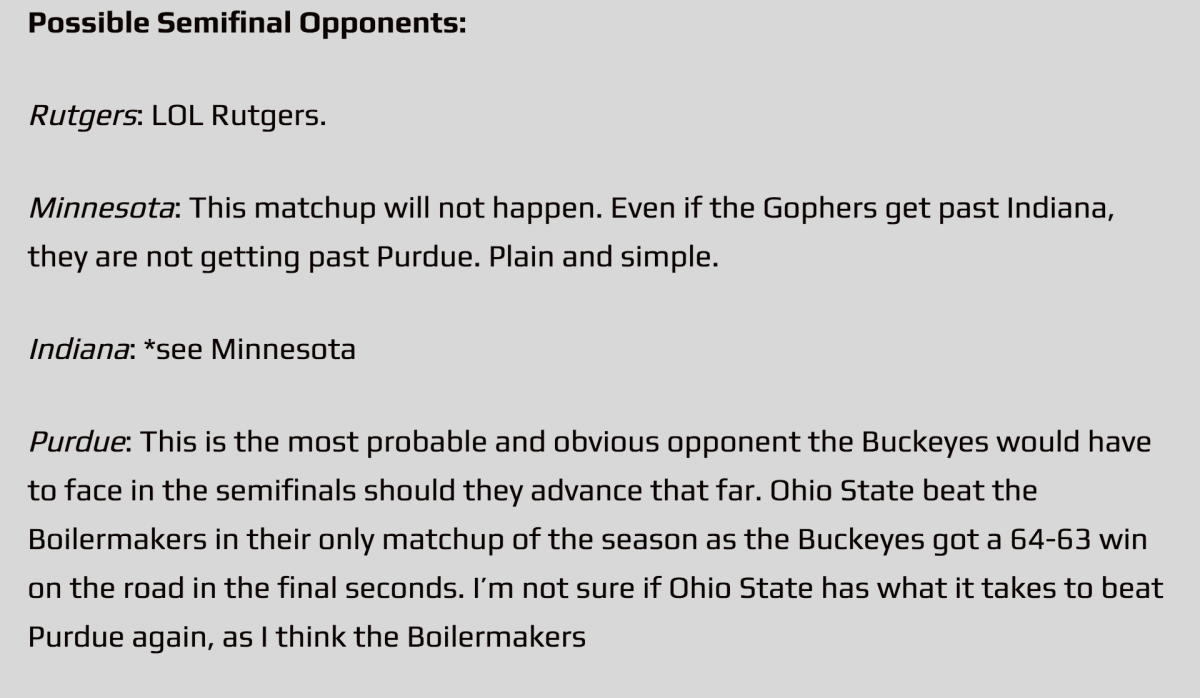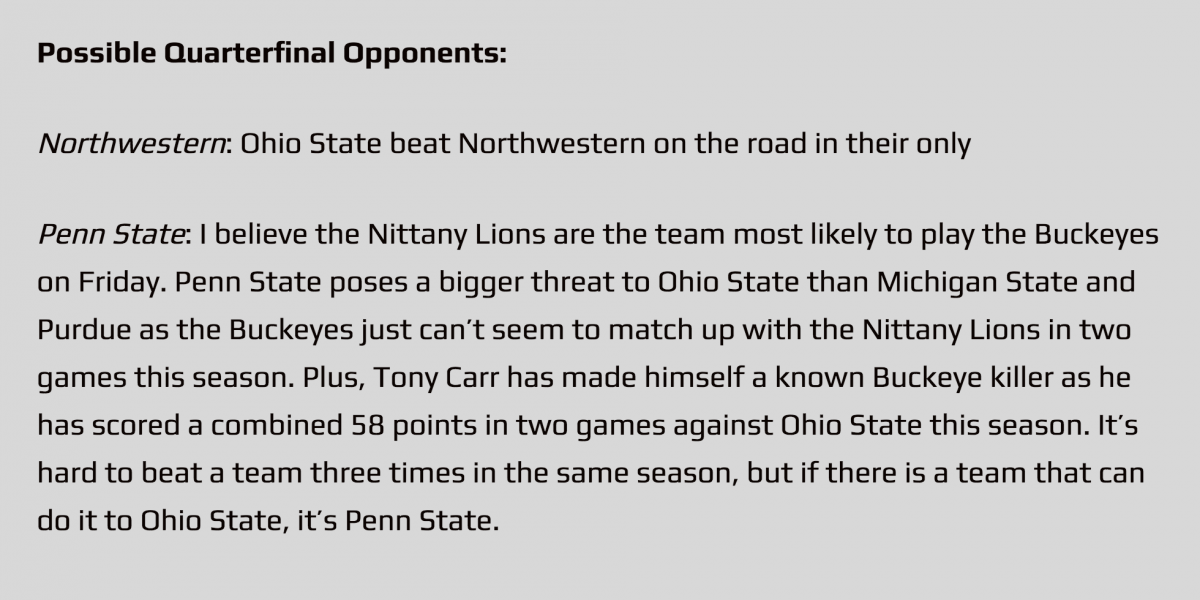 An entire section was "LOL Rutgers" and somehow it was better than the Purdue and Northwestern sections.
Today is Urban Meyers first practice since serving month-long suspension. But dont expect any sightings. OSU media relations staff has asked that all reporters wait in a cramped hallway while the team exits the practice field.

— Kyle Rowland (@KyleRowland) September 4, 2018
I promise it's no that bad.
The East this. The East that.@JLeman47 feels it's West power @BadgerFootball's year to take the @B1Gfootball crown. pic.twitter.com/GMYcPQVuZI

— Wisconsin On BTN (@WisconsinOnBTN) August 16, 2018
I was wrong last year, but I'll try it again: Wisconsin will win the Big Ten. https://t.co/3C51KeID0O

— Brent Yarina (@BTNBrentYarina) May 15, 2018
Hi, Wisconsin did not win the Big Ten.
FOR IMMEDIATE RELEASE

cc: @LSUfootball pic.twitter.com/0xLG6fcedF

— Block O (@OSUBlockO) September 19, 2018
Block O, what are you doing?
Is Benny Snell better than Herschel Walker? #CFB pic.twitter.com/Nlm2aFqHZC

— Paul Finebaum (@finebaum) October 4, 2018
Maybe that's just a bit of a stretch. 
Ohio State QB Dwayne Haskins "is not even a GOOD player." -M. Francesa pic.twitter.com/6EtECofobS

— unhouse (@BackAftaThis) November 24, 2018
I think NFL scouts would beg to differ.
who do you guys think is gonna replace Urban Meyer after his health problems force him to retire after this season

— Ryan (@B1G_Ryan) October 21, 2018
Quotes to imply he's faking things. From a former member of the Ohio State beat.
Next job interview show up in your headband and see how it goes

— Pete Prisco (@PriscoCBS) March 14, 2018
Show up in your suit and tie to a pro day and see how that goes.
This has got to be terrifying for OSU fans #TheDon pic.twitter.com/c0pp69vxvN

— jbooty (@JakeButtTE) November 24, 2018
Imagine knowing that the guy that just engineered the 62-point offensive performance against you is now the head coach. 
To Ohio State Buckeye fan who expects prospective NFL 1st rounder Dwayne Haskins to play for no pay in an exhibition game while risking financial security for life: How do you sleep at night?

— Sports by Brooks (@SportsbyBrooks) December 8, 2018
A new trend is to not only have opinions, but be absolutely aghast at someone having a differing one. "How do you sleep at night if you think differently than me?"
This shouldn't be a surprise if you've read the tea leaves over the last few months. Meyer's plan, desire, etc. is to coach but health situation has gotten untenable. I know detractors will mock it, but that's the truth. https://t.co/gz4Iccfhnz

— Jeremy Birmingham (@Birm) December 4, 2018
That isn't a bad take, but it doesn't really align with Birm's colleague, Austin Ward's response to a Football Scoop report: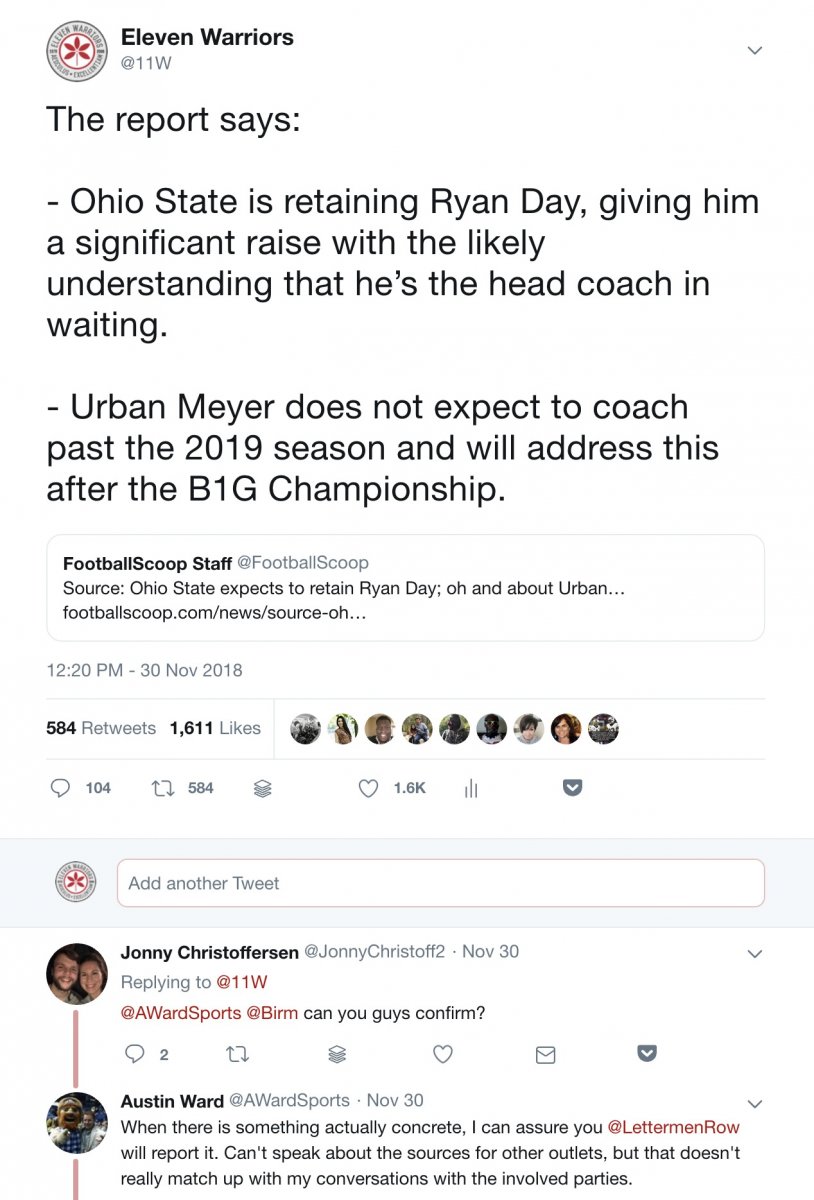 And finally, this wouldn't be a collection of atrocious takes without Stephen A. Smith and Skip Bayless.
This is incredible...Stephen A. Smiths 3 players to watch:

1. Spencer Ware (out tonight)
2. Hunter Henry (who has had a great season according to him lmao)
3. Derrick Johnson (not currently in NFL) https://t.co/uz8E4swx3R

— Jon Ledyard (@LedyardNFLDraft) December 13, 2018
Nick Saban can recruit, but I dont think hes the best coach. I think Jim Harbaugh has proven to be. @RealSkipBayless pic.twitter.com/NqE4dmA7T2

— FOX Sports (@FOXSports) August 22, 2018
Did I miss anything? The comments are open. And feel free to bomb on me – I ain't immune!