It used to be called the "Big Ten." Prior to that, Big Nine.
It was actually Big Nine twice, and that's both Michigan's fault and not all that interesting. Today the B1G contains two Big Nines. And it's western, again. But like, actually western.
Got it? What we're trying to say is our least favorite song ever - The Victors - is veering toward its highest level of lyrical accuracy for the first time in 121 years, emphasis added.
Hail! to the victors valiant
Hail! to the conquering heroes
Hail! Hail! to Michigan
The leaders and best!
Hail! To the victors valiant
Hail! to the conquering heroes
Hail! Hail! to Michigan
The champions of the west!
You thought conference realignment was disturbing. You didn't realize how disturbing.
Nearly 130 years before all of America's Pacific Ocean-bordering states joined the federation originally known as the Western Conference, Purdue president James Henry Smart scrambled a bunch of proximate universities to create a union conceived out of the need to regulate the burgeoning college football business don't call it that.
Smart died before the league began calling itself the Western Conference. That name was justified - the only alliance west of the Western was the Colorado Football Association, created just 14 years after Colorado gained statehood. That's new west; the real west was still the future Midwest.
That tag hung around even after it morphed into the Big Nine, when Nebraska - objectively west of Western - made its first overtures to join. Thanks but no thanks, the conference said. A year later it welcomed Ohio State, which would become the Western's easternmost bank for 80 years.
Pittsburgh, Iowa State, Marquette, Michigan State, Nebraska, Notre Dame and Marquette were candidates to step into the void left by Chicago when it put the brakes on athletics after WWII. Michigan was okay with any of those except one. You can guess.
After years of filibustering Little Brother, Sparty filled the vacancy. That was 1950.
the Western Conference of 1902 now contains all three states among the lower 48 where American soil touches Pacific beaches.
And that's what normal always was to me. I was born into an America containing 50 states and a Big Ten containing numerical accuracy. Then while I was in undergrad, my school suddenly began playing Penn State in conference games.
That didn't feel normal. Eleven schools in the Big Ten. The name didn't change.
It's only gotten weirder in my lifetime - which is all that matters, since the most intimate and important history of the world is the sliver you're doomed to experience firsthand. There were just 44 stars on our flag when Smart called for that first meeting. West was both relative and mysterious.
Adding schools close to the other ocean, accessible either by covered wagon or an incomplete set of train tracks would have been viewed as a crazy land grab. Well over a century later, it feels like crazy has finally descended.
Like, imagine a conference with LSU, Texas, Clemson, Georgia, Alabama - upwards of 20 schools. In a single conference! That's crazy. You may even call this expansion inevitable.
And by inevitable we mean it happened over a century ago and then un-happened. 
Those schools were all in the same conference the year those annoying lyrics to The Victors achieved their highest recorded level of accuracy. The old heads who aspired to get ahead of the burgeoning business sport of amateur football have all either died or relented to the inevitable.
They wanted more, and with less consideration to the downside than the upside, they took it. That's how America and amateur athletics have both expanded and contracted. The Philipines and the Panama Canal zone no longer fly American flags. Clemson isn't part of the SEC anymore. Texas was then wasn't and now will be again.
That's where we are today, and it's a position of arrogance to believe that any of these sales are ever going to be final just because they're taking place during our sliver of living history. This isn't the final chapter for college athletics. Chances are we'll all miss when that's published.
As for today, the Western Conference of 1902 has all three states among the lower 48 where American soil becomes America's Pacific beaches. Two Big Nines for the math heads.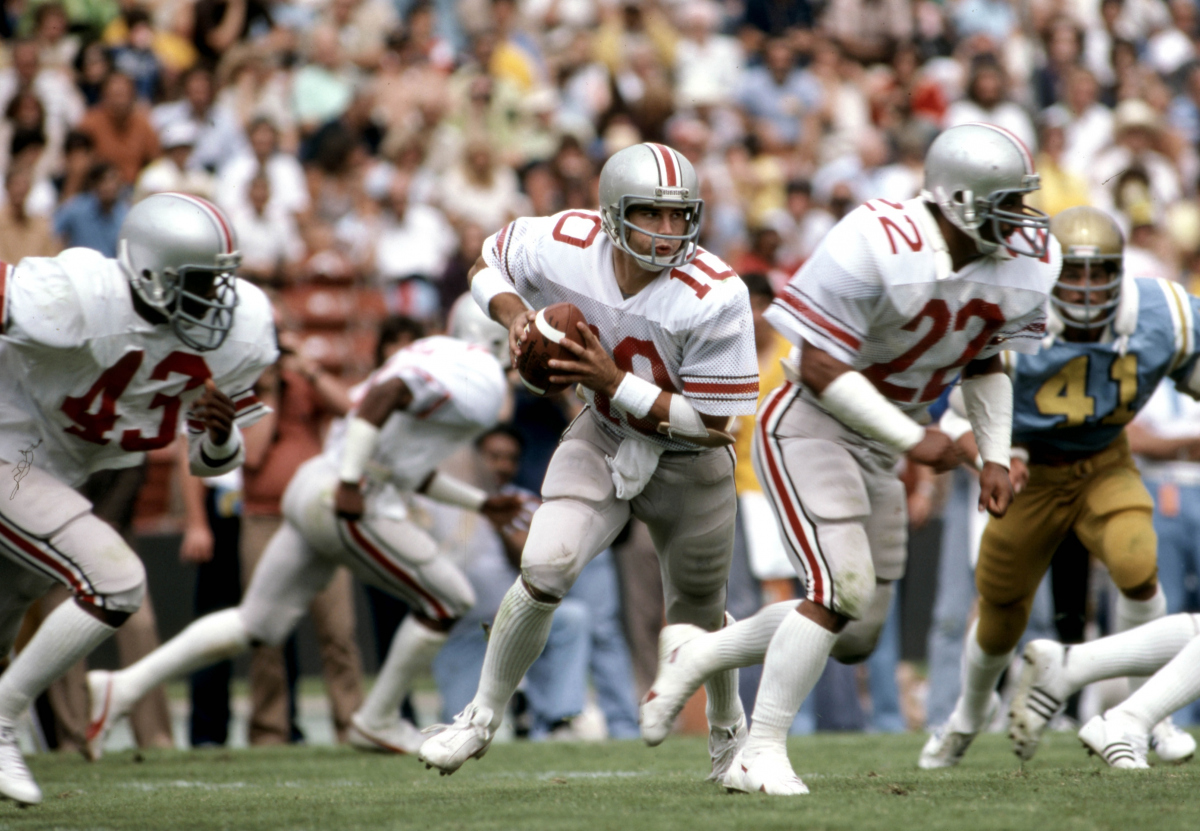 Oregon, Washington and the two Los Angeles schools comprise the Western Conference's second-ever westward creep - relenting and adding Nebraska was the only other one.
This was not a Smart idea. It seemed like a shrewd football-oriented power move at the time, though - expansion is kind of like draft picks in that you only think you know what you've signed up for when the pick is made.
Nebraska felt like a strong B1G pick in 2011, but a decade later the Huskers are a spotty non-revenue sports contender only. Maryland was iffy at acquisition and has performed like its scouting report suggested it would.
America's westward creep has delivered similar judgements. The Louisiana Purchase was a supremely challenging integration exercise at the time where there were definite winners and losers. The Western Conference never would have existed without it.
The idea of expanding into Alaska was branded Seward's Folly by opponents. Ultimately that acquisition secured America's 49th state for 42 cents an acre in 2022 dollars. Alaska's GDP was nearly $50B that year, so just imagine if Rutgers had joined the conference and then run the table in both football and men's basketball.
That's not why Rutgers was added, though. As with that meeting Smart scrambled in his twilight years, the motivation was the simple and undying American quest for more. That's how the modern B1G was conceived, it's how the United States extended from sea to shining sea and it's how we reached another consolidation phase in the story of college athletics.
Currently, we're experiencing the prevailing symptom of vacated Federal governance in an NCAA which existed - sure, I'll use past tense - as a vehicle for old men to have no-show jobs they could hire their mediocre friends into once that got too tiring.
SEC commissioner Greg Sankey, on with Paul Finebaum, says of the SEC: We are in an enormously healthy place and not in the middle of the movement efforts.

— Ross Dellenger (@RossDellenger) August 8, 2023
Mr. Sankey was accurately speaking on a Tuesday. Check back on a Thursday.
The quest for more without regard to downside consequences does not pause for extended periods. Winning and losing remains a fluid exercise without constraints. If this seems like a precarious moment for the sport we all love, you're right. If it doesn't because you're committed to never caring about how the sausage is made, you're also right.
As for the real consequences of the Western Conference capturing the entire Pacific shore, in two years its Eastern Time Zone teams will play consequential games during the semester at 11pm body clock time while its western members may find out what Madison and Minneapolis feel like in November. 
This wasn't done to manufacture a novel football experience. Members were locking in sustainable revenue under current distribution arrangements and making moves ahead of rival federations or at the expense of poorly run and weakened ones, like Oregon, Washington, USC and UCLA's former league. B1G wanted more, and so did its new members.
So the details behind whatever more is aren't consequential in any round of what's a continuous evolution. A grand total of zero original Western Conference games were streamed on Paramount, a company founded the year Ohio State joined league play.
It has always been about the quest for more - the most American endeavor America has. The only constant since the Western Conference was conceived has been Ohio's undying wish for the lyrics to The Victors to remain as inaccurate as possible.
And that endeavor, at least to a lot of us, will permanently be the ultimate quest for more.