Ohio State would be replacing John Cooper with Bob Stoops.
Everyone knew it. The rumor mill was screaming it into existence, while merely whispering the names of other candidates who were merely for show. It was a little too perfect to be untrue.
Ohio State had missed out on Stoops - all of the Stoopses, actually - coming out of high school in Youngstown, but they would not miss Bob this time. He left the state to play at Iowa, came back to coach at Kent and left again to serve under his college coordinator at Kansas State before checking the final candidate boxes in Gainesville and in Norman.
And he was only 40. Same age as Coop when he had arrived. Too perfect to be untrue.
Buckeye fans weren't the only ones who saw how ideal this pairing was. Oklahoma AD Joe Castiglione did too and got out ahead of it, refusing to give Ohio State permission to talk to his prized coach.
I was writing about Ohio State's candidate search in early 2001, studying to get smarter about the guys I didn't know all that well and found myself getting curious as to how Stoops had gotten it done at Oklahoma so quickly.
If you don't know or remember, the 1990s were a lost decade for OU. Dozens of forfeited scholarships, multiple bowl bans and a television ban (!) only begin to describe how down the program was when Stoops was hired.
Two years later they were BCS champions. He was just sort of anointed as a miracle worker who retapped into the excellence the Sooners had left behind while Reagan was still in office.
Stoops inherited the Big XII's worst offense and turned it into the conference's best unit in one season with the same players.
Stoops had spent his entire football career on the defensive side of the ball. He took his first head coaching job and promptly guided a moribund program which hadn't experienced a winning season or anything worth remembering in six full years to seven wins.
His first defense was just okay. But he had inherited the Big XII's worst offense, and in exactly one season turned it into the conference's best unit. One of the best in the country.
Worst to first with the same players. A defensive coach did this? It didn't make sense.
It turned out Stoops' first offensive coordinator lasted only one season before another program decided it had seen enough and hired him away. And that guy was even younger than he was.
He did have a year of head coaching experience, leading the Pori Bears of the Suomen Amerikkalaisen Jalkapallon Liitto, a Finnish American football league. You know how they determine their champion? The Spaghetti Bowl. That's the title game. This is the rabbit hole I fell down while writing a column about who was going to replace Coop in 2001.
Aside from that year in Finland, this guy was also a lawyer who never practiced law. He became a college football coach who never played college football. It was Mike Leach. Texas Tech had hired him away.
Seemed like a young football Einstein with a long runway, to me. No way Texas Tech would be able to keep him around very long - that was just a starter job for a guy with unlimited upside.
So Oklahoma's dramatic single-season offensive turnaround was the result of Stoops hiring well, not a miracle. I was excited to see what Bob would be able to do with Ohio State's resources.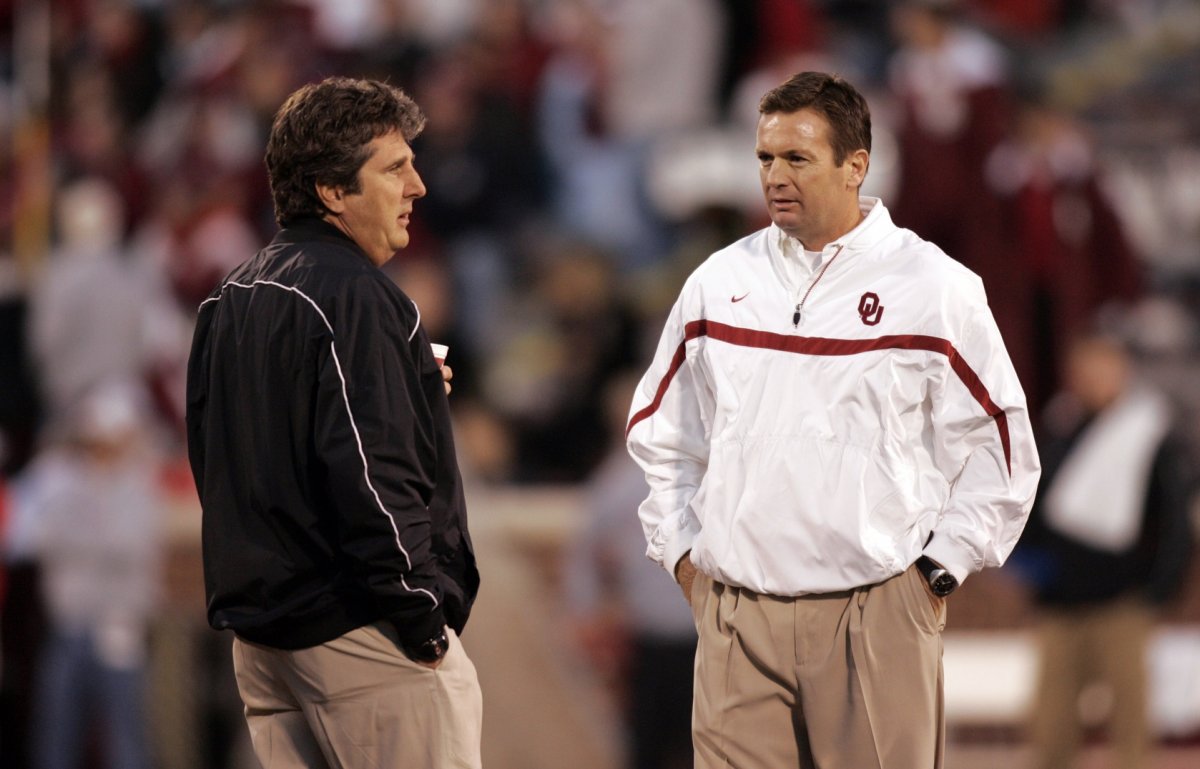 Almost exactly one year later, the final edition of the Pigskin Classic was announced, and Ohio State would be hosting it. The visitors would be from Lubbock, TX. Two years after discovering who Leach was, I would get to see him coach a game.
I had not really thought about him since my wasted Stoops diligence. He had replaced the retiring Spike Dykes - Tech's all-time winningest coach and a Texas coaching legend dating back to the 1950s. Leach overtook Dykes in an embarrassingly short amount of time.
Spike's son is TCU's current head coach, but Sonny Dykes is a branch on Leach's coaching tree. If you don't believe that then you probably don't realize Sonny never played for his father, because he never played college football. Just like his mentor.
If you still think the father-son bond is stronger, watch some TCU games from this season. Or SMU from last season. Or California prior to that. Leach doesn't appear on the screen, but you've seen those movies in other stadiums where he's been the director.
Air Raid took the huddles and rest periods out of drives, erased route tendencies and transferred the debilitating mental anguish of the game from the smaller and slower guys to the bigger and faster ones.
That Pigskin Classic is remembered as Maurice Clarett's splashy debut in what would become a 14-0 season for the coach Ohio State did hire to replace Coop. The 2002 Red Raiders are barely a footnote, though no other opponent scored more points in regulation that season.
Not even the defending national champion two-touchdown BCS title game favorite Miami Hurricanes.
The first opponent each season gets several months of attention for a sport that never really sleeps. I grew up on Big Ten football and only had passing knowledge of the Run n' Shoot/Fun n' Gun styles from which Leach and Hal Mumme had drawn their Air Raid concepts.
It turned out Air Raid was 100% shotgun, 75% passing plays and four receivers who lined up wherever and changed their routes mid-play based on what defenses were showing after the snap. Backyard-ish football, but more importantly, a schematic equalizer.
Seemed like a completely different sport to me. Wide-open spread football in my worldview was what Walt Harris briefly brought to Columbus in the mid-1990s, probably because his quarterbacks were throwing to field-stretchers like Terry Glenn and David Boston.
And Harris was from California, so he must have been prescribing West Coast football, or something. After his Ohio State days, he famously called punts on 3rd down while coaching at Pittsburgh and seemingly forgot he had Larry Fitzgerald on his roster on occasion.
That's what I thought a wide-open offensive strategy looked like in 2002. While Harris was at Ohio State, Leach was running Air Raid at Valdosta State, which only picked up football as a varsity sport in 1981. Winning on talent alone would have been a luxury.
Football innovation in the modern era largely takes place among the sport's have-nots, who are forced to manufacture strategies to minimize competitive disadvantages. Air Raid took the huddles and rest periods out of drives, erased route tendencies and transferred the debilitating mental anguish of the game from the smaller and slower guys to the bigger and faster ones.
And that last part is both crucial and the whole damn point of it, because defending against Air Raid is exhausting. It's nearly impossible to truly put away a team that runs it efficiently, especially for conservative ones who shift from point-scoring to clock-running when they have a lead.
Which is what happened a few years later in the 2006 Insight Bowl, when Minnesota - coached by Ohio State alumnus and Coop-succession finalist Glen Mason - led Texas Tech 38-7 halfway through the 3rd quarter. The Red Raiders ended regulation on a 31-point run and won in OT. Mason was fired two days later and never coached again.
Eight seasons earlier, Leach brought what he and Mumme had workshopped at Iowa Wesleyan, refined at Valdosta State and polished at Kentucky to Oklahoma, which had not been winning too many recruiting titles in the 1990s. The Sooners still had better players than he had ever coached, with notable exceptions like Tim Couch.
And entering 2002, he had three years of recruiting his system guys at Texas Tech, which would arrive in Columbus to face a 7-5 team that was conservative to its core, blowing huge leads at State College and in Ann Arbor the previous season (while losing only one of those games; you might remember the one they won).
When the Pigskin Classic finally arrived, Ohio State pushed the Red Raiders around and Clarett did his thing as the Buckeyes won 45-21. Here's your QB comparison from that afternoon:
OHIO STATE vs. TEXAS TECH | AUGUST 24, 2002

| QB | COMP | ATT | % | YDS | Y/A | TD | INT | RAT |
| --- | --- | --- | --- | --- | --- | --- | --- | --- |
| CRAIG KRENZEL (OSU) | 11 | 14 | 78.6 | 118 | 8.4 | 0 | 0 | 149.4 |
| SCOTT MCMULLEN (OSU) | 2 | 3 | 66.7 | 42 | 14.0 | 0 | 0 | 184.3 |
| KLIFF KINGSBURY (TT) | 26 | 44 | 59.1 | 341 | 7.8 | 3 | 1 | 142.1 |
Two offenses playing different sports. Jim Tressel inherited a strong roster predicated on NFL recruiting, and his 2002 defense is still one of the program's all-time best, featuring a dozen players among the back seven who had NFL careers. Tech had its hands full.
The visitors never quit, though. Wes Welker caught two long, late 2nd half touchdowns in what most Ohio State fans dismissed as garbage time. Except that with Air Raid, there's no such thing. Mason was an unfortunate witness to how Air Raid treats garbage time four years later.
Ohio State won 14 games in 2002, which for a program that had never won 12 was quite a leap. As for Leach's Red Raiders, they won nine. Their highest win total as a member of the Big XII.
America's cult of college football fanatics figured out how consequential Leach was to the sport almost immediately, and it wasn't just because of the innovation he brought to offenses.
He was a nationally-esteemed antagonist in college football's soap opera. Leach was aloof, unconventional, looked like he cut his own hair and slept in his clothes. His face was drawn like a Dali painting and he sounded like a character you'd hear philosophizing in Moe's Tavern on The Simpsons.
Leach always spoke softly but was never muted. He made no secret of his admiration for pirates, who function as a team on the outskirts of society while focusing exclusively on securing the loot, wherever it may be.
Which made his career stops entirely predictable. Ohio State's spring game attendance brings together more people than populations of Pullman and Starkville combined. Lubbock, a relative metropolis, is still smaller than Fort Wayne.
He was a captain on those outskirts, in places that are all kind of far from anywhere, which enjoy reduced scrutiny along with a high tolerance for low polish. Leach operated on his own schedule, was overtly political without the consequences most of his active peers would face - and never appeared to be uncomfortable about any of it.
Leach made his indelible impression and legacy at three football programs lagging the bagmen, infrastructure and blue blood heritage which allow others to become and stay elite.
And that's because he and his employers understood the nature of their transaction. Texas Tech had five bowl wins in 68 years of football prior to Leach's arrival. His teams won six in a decade. The Red Raiders haven't won eight games since, as they've been mired in trying to regain pieces of what seemed to come so easily back when he was on the sideline.
Washington State had gone eight seasons without a bowl game. Leach got them six postseason trips, along with eight, nine and 11-win seasons. Mississippi State was just rounding into form above its historic average when he passed away earlier this week.
Leach made his indelible impression and legacy at three football programs lagging the bagmen, infrastructure and blue blood heritage which allow others to become and stay elite.
A traditional power would have gently required him to be a different version of himself. But that's just not how pirates roll, even if the degree of difficulty for securing the loot is lower at those places.
As a fan who never cheered for - or, with the exception of a single afternoon in 2002 - against any Leach teams, I don't have words like beloved or endearing to eulogize him. It would be disingenuous for me to pretend. But he was innovative, goofy, enchanting and consequential for a sport I love that demands all of those elements to evolve and avoid becoming stale, or worse.
You don't have to have an opinion on what kind of person he was. Football lost a giant this week.
This sport figured out well over a century ago it would go extinct if it never became anything more than just bodies mashing into each other. Rugby, but dumber isn't a winning pitch.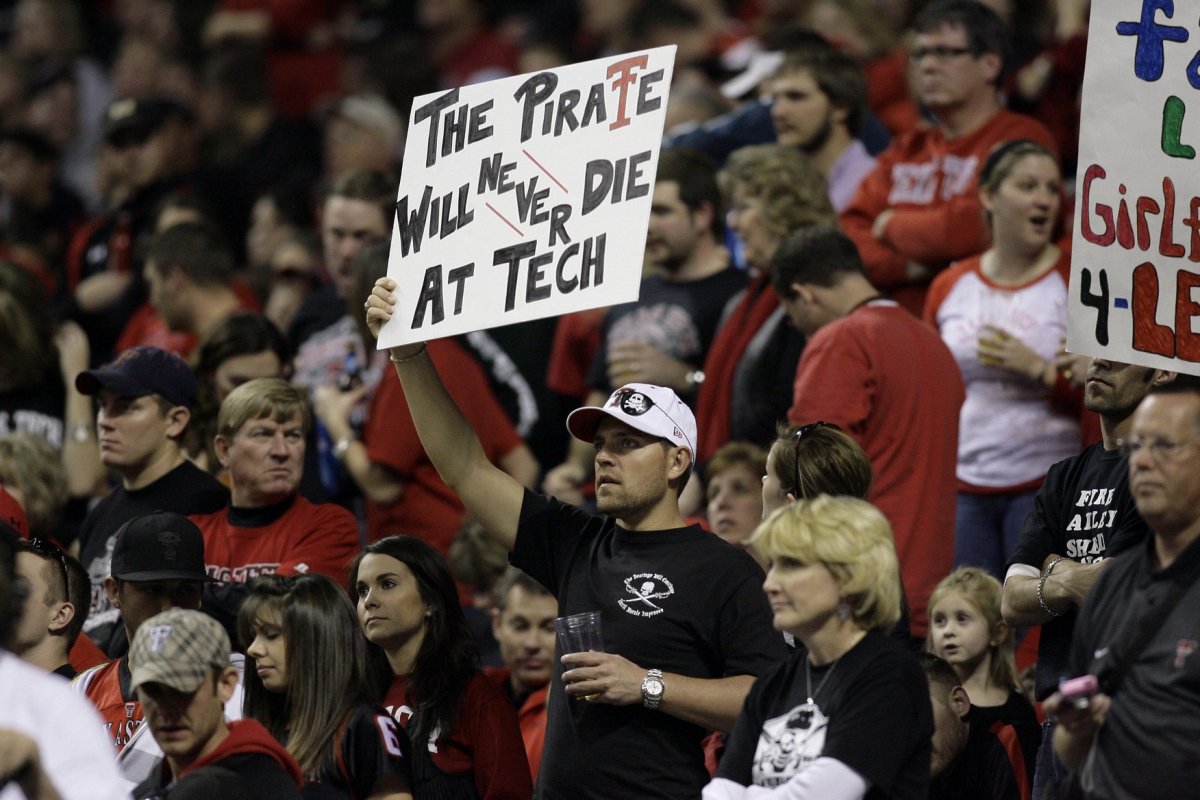 Leach resides in the pantheon of college football innovators like Pop Warner, Bud Wilkinson, Jimmy Johnson and LaVell Edwards. You either don't or barely know what any of those guys were like in front of a microphone when they were coaching. You don't know or care what their politics were. But you can see the marks they left behind in games that are played today.
Warner injected deception and formations into the strategy. Wilkinson created the first hurry-up offense. Johnson shifted his roster priority from size and strength toward speed and agility, adjusting to his recruiting footprint while creating new disadvantages for opponents.
And Edwards took Don Coryell's passing schemes and deployed what Leach eventually took and packaged into Air Raid. They can be seen every weekend, including at Ohio State.
The next time the Buckeyes run a play featuring shallow crossing routes/mesh, 4 Verts or a quick bubble screen (r e l a x) you can thank Leach for lifting those concepts out of obscurity and installing them into mainstream football. Sure, Ryan Day played for Chip Kelly. But by the time Kelly got the reigns to his first offense, Leach had already been bombing defenses for a decade.
What was originally intended to level the playing field for have-nots is now featured in the strategic arsenals of programs who win recruiting titles. Like every useful innovation, Air Raid has been lifted and repurposed by the titans of the sport to maintain their perches.
Which is to say Ohio State would look a lot different if not for an innovative, goofy, enchanting and consequential coach who visited the Horseshoe only one time. RIP, Captain.