The inaugural College Football Playoff was a fairytale affair.
This was especially the case for enthusiasts of this web site, but also for advertisers and financial stakeholders. The suits were thrilled with the results of this experiment, which had been decades in the making and arrived with the death of the Bowl Championship Series.
Here's how the BCS finale compared with the new system that replaced it.
TV RATINGS: BCS 2014 vs. CFP 2015

| YEAR | TITLE GAME | RTG | ROSE BOWL | RTG | SUGAR BOWL | RTG |
| --- | --- | --- | --- | --- | --- | --- |
| BCS 2014 | FSU vs. AUB | 14.8 | MSU vs. STAN | 10.2 | OK vs. BAMA | 9.3 |
| CFP 2015 | OSU vs. ORE | 18.6 | ORE vs. FSU | 14.8 | OSU vs. BAMA | 15.2 |
Let's not get into the weeds with how to quantify TV ratings and just say they skyrocketed.
The Rose and Sugar Bowls served as CFP semifinals in the first shot at an FBS title tournament, and they were both preserved in their traditional Jan 1 slots. Jim Delany's love affair with the Rose Bowl was the bargaining chip that finally allowed this experiment to take place
His chip mandated that Pasadena and New Orleans were contractually guaranteed to keep their preferred TV real estates as part of the CFP, so when it was their turn they'd get Jan 1 billing. This broadcasting setup, interesting teams and wild storylines did the easy lifting.
But as we all know, the CFP schedule and sites aren't static. The sophomore edition of the CFP brought a new configuration to the event. Those semifinal games were held on New Year's Eve.
TV RATINGS: CFP YEAR ONE vs. CFP YEAR TWO

| YEAR | TITLE GAME | RTG | SEMI NO.1 | RTG | SEMI NO.2 | RTG |
| --- | --- | --- | --- | --- | --- | --- |
| CFP 2016 | BAMA vs. CLEM | 15.0 | BAMA vs. MSU | 9.6 | CLEM vs. OK | 9.1 |
| CFP 2015 | OSU vs. ORE | 18.6 | ORE vs. FSU | 14.8 | OSU vs. BAMA | 15.2 |
Viewership plummeted nearly 40% from the inaugural playoff, and not because Ohio State eliminated itself after failing to take out the worst team in CFP history en route to a title defense.
Those ratings were abysmal because Very Smart People insisted on shoehorning college football's premier event into America's only secular evening holiday. There are many things to do on the final night of the year, but paying attention to sporting events has never been one of them.
Here are the bowls held during the world's thirstiest evening prior to 2015, when the CFP abruptly decided December bowl games should start being important (bolded with the setting sun).
2014: AdvoCare V100, Sun, Liberty, Chick-Fil-A

2013: Music City, Sun, Liberty, Chick Fil-A

2012: Armed Forces, Pinstripe, Music City, Insight

2011: Meineke Car Care, Sun, Liberty, Chick-Fil-A
New Year's Eve is a television wasteland. Ryan Seacrest, if you're reading this: You monster.
Americans are either watching the ball drop at home, judging their neighbors' kitchen tiles or are out creating a slow-motion catastrophe through a series of unfortunate decisions - which is precisely what the CFP planning committee did when scheduled its semifinals in television purgatory.
ESPN, which is in the business of making money begged the CFP to not do it, but Executive Director Bill Hancock was hell-bent on creating a new New Year's Eve tradition of watching college football (he actually said this). Once he saw the terrible ratings that ESPN saw coming in advance, he made the brave decision to move the next set of NYE games up by one whole hour.
Out of respect for the money you paid your therapist, here's a redacted version of how that went.
TV RATINGS: CFP YEAR THREE vs. CFP YEAR TWO

| YEAR | TITLE GAME | RTG | SEMI NO.1 | RTG | SEMI NO.2 | RTG |
| --- | --- | --- | --- | --- | --- | --- |
| CFP 2016 | BAMA vs. CLEM | 15.0 | BAMA vs. MSU | 9.6 | CLEM vs. OK | 9.1 |
| CFP 2017 | BAMA vs. CLEM | 14.2 | BAMA vs. WASH | 10.7 | [REDACTED] | 9.8 |
It took a second ratings disaster for Hancock to finally realize New Year's Eve was a bad night for important college football games, but since the Rose and Sugar Bowls were back on the semifinal clock, no adjustments were necessary in Year Four.
TV RATINGS: CFP YEAR FOUR vs. CFP YEAR THREE

| YEAR | TITLE GAME | RTG | SEMI NO.1 | RTG | SEMI NO.2 | RTG |
| --- | --- | --- | --- | --- | --- | --- |
| CFP 2018 | BAMA vs. UGA | 15.6 | UGA vs. OK | 13.7 | BAMA vs. CLEM | 11.4 |
| CFP 2017 | BAMA vs. CLEM | 14.2 | BAMA vs. WASH | 10.7 | [REDACTED] | 9.8 |
A sizable bounce with the OG playoff format. Could it be that a century of American tradition of watching bowl games on New Year's Day and night created the perfect scenario for holding the CFP semifinals? Don't think too hard about it. The playoff bosses clearly didn't.
And this is where our dataset gets muddled, because the three most recent CFP semifinals were scheduled around New Year's Eve as a result of those two ratings bombs. Instead, they were held on Dec 29, Dec 28 and During a Pandemic in Empty Stadiums, respectively.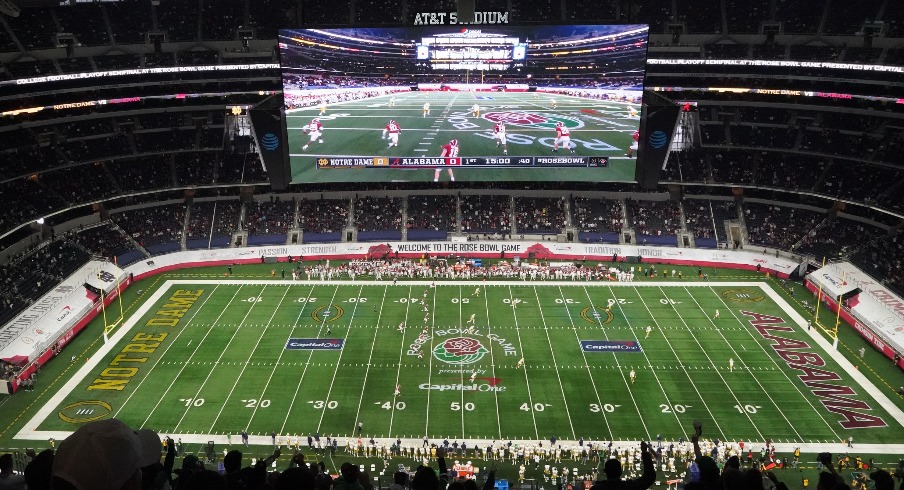 The Buckeyes faced Clemson in a virtually empty Superdome while Alabama played Notre Dame in the "Rose Bowl" at Jerryworld. Jan 1 didn't feel much like a new year to anyone. It's impossible to take stock from how this past season transpired as virtually every sport took a ratings nosedive due to COVID.
Apparently fans and communities - quarantined all year - are critical to creating market demand.
But with the virus now on the ropes and stadiums opening back up, the opportunity for a glorious return could only be squashed again by dumb planning. New Year's Eve Eve Eve and New Year's Eve Eve didn't create a Seacrestish conflict in 2018 and 2019, but neither is prime TV real estate either - and those semifinals both failed to approach the ratings of the optimal broadcast setup.
America took New Year's Eve off entirely in 2020 due to the virus, so this coming Dec 31 should serve as its triumphant return. It will be thirstiest NYE since Prohibition was repealed.
And since the CFP only learned its scheduling lesson twice, it's shoehorning the upcoming semifinal games back into New Year's Eve again. The ratings will suck out loud, though they'll likely outpace the ones from 2020 when absolutely everything sucked. CFP PR will sprinkle any positive COVID comparator data points onto their decision, because pigs are always sexier when they're wearing rouge.
With the next evolution of the college football postseason looking like a 12-team playoff, we'll be looking at regional and quarterfinal games ahead of the semifinals. Those would still have to contend with conference championship games and final exams, which means there's still going to be a Christmas and New Year's scheduling conundrum.
If and when that materializes the CFP will have finally learned its lesson. That said, the 2022 semifinals are also scheduled for New Year's Eve. Perhaps the fourth time will be the charm.