"We define ourselves, and the College Football Playoff does its job with a four-team field."
That is not at all what Ohio State fans hoped to hear from the Big Ten commissioner. Not after winning the Big Ten, again, while spending another season living on the tantalizing boundary of where the College Football Playoff Does its Job.
Jim Delany is one of the most powerful figures in American sports, and there he was being absolutely tepid about his conference's flagship football program's championship aspirations. That's a political job he's held for 30 years now, and he chose the worst possible moment to abruptly become apolitical. It's offensive.
Ohio State football does so much of the conference's heavy lifting, from merchandise to Delany's precious television ratings and reach. Its gigantic, rabid and unreasonable fan base has a short and humble list of demands in 2018:
Beat Michigan
Beat Everyone Else
Win the National Title
That's the list. The first is ritual. The second, eh, they always find a way to make that more interesting than it should be. The third is going to require a little political savvy, which is why having one of the most powerful figures in American sports is supposed to be an asset. But's it's not, and there's a very well-known reason why.
Delany declining the opportunity to go with a full-throated, arrogant, prideful and truthful, bloviating diatribe about the national interest of putting his champion in the Final Four was disappointing - but it wasn't surprising. Not if you've paid attention to anything he's said or done in the decades he's been running the Big Ten.
From the early days of the Bowl Coalition to the genesis of the Bowl Championship Series to his final relenting and green lighting of the College Football Playoff after years of obstructing its creation for exactly one Southern-California-on-New-Year's-Day reason, Delany has publicly defended exactly one priority for his conference's postseason demands.
He's heading back to Pasadena. That's it. He got exactly what he wanted.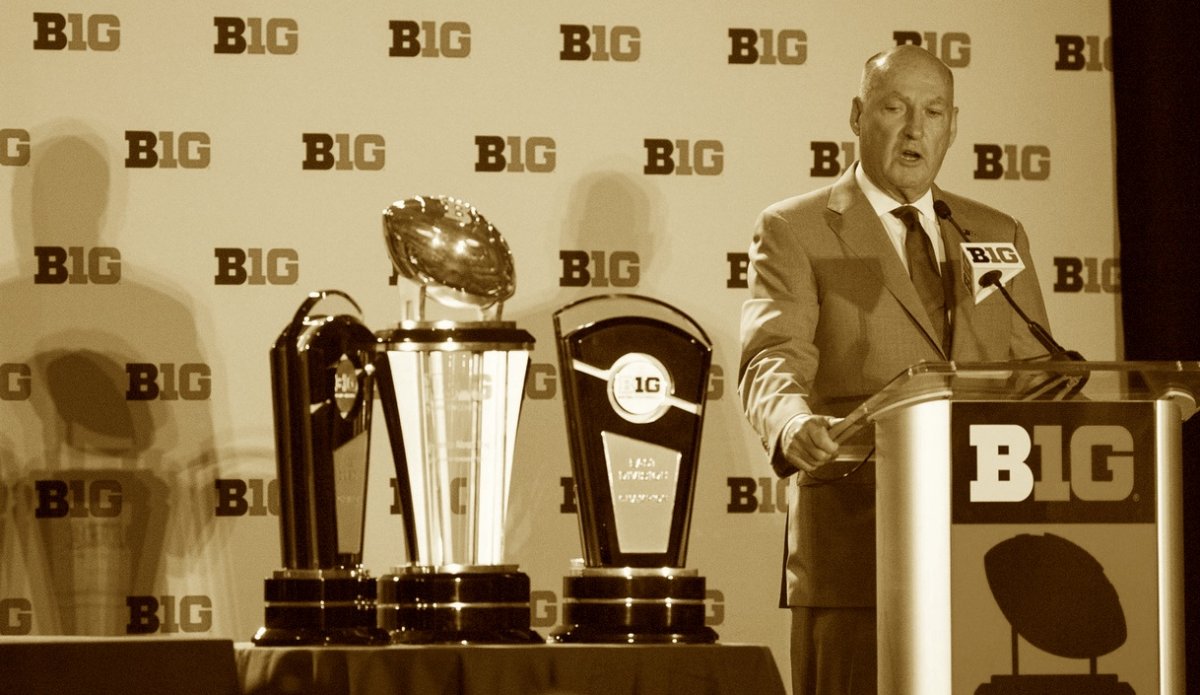 In case you forgot, Gene Smith and Urban Meyer are on a short list of athletic directors and head coaches who have taken unpaid suspensions this year. Their position for politicking is historically weak this season for that reason. Neither was in position to make noise about the Buckeyes being treated fairly.
Delany did not pick up the slack for the 12-1 Buckeyes, and for the second year in a row Ohio State gets to pretend it doesn't feel bad about only winning the Big Ten.
It does get to posture about the goals and accomplishments it did achieve, and promise to learn from the very bad, high-profile mistakes it made that prevented the team from having a shot at even more goals and accomplishments. This time it gets to pretend it doesn't feel bad about only playing in the Rose Bowl, to which you might say "well, I don't feel bad; it's the best bowl game."
Sure, it's wonderful. I've been. Superb. Best setting and best stadium America has to offer. When you walk into the Woody Hayes Athletic Complex, the first thing you see among the trophy cases are CFP-branded couches. The video monitor shows CFP highlights. There are no Rose Bowl couches. There are no Rose Bowl highlights. There are no Cotton Bowl highlights. There are no Fiesta Bowl highlights. It's all about the playoff. All the time.
So Pasadena is no longer the top destination, as 2018-19 is not the Rose Bowl's turn in the CFP rotation. This is precisely the reason Delany couldn't even pretend to care about his conference champion's playoff aspirations.
Last year it hosted Oklahoma and Georgia, which bumped the traditional Rose Bowl matchup over to the Cotton Bowl and deprived Delany of his Pasadena plans. The 2017 Big Ten champs had one more loss than the 2018 ones ended up with, but they did not score 62 points on the best defense in the country in a rivalry game, nor did they hand the Big Ten West champions their worst loss of the season. The case for the 2018 Buckeyes was stronger.
So let's check in with Delany one year ago when the only bowl game he has ever loved was in the CFP rotation:
Big Ten commissioner Jim Delany was among those lobbying for Ohio State, telling the Tribune on Saturday: "I feel we can make an argument that we're the strongest conference. We had the most FBS wins; we had the fewest FCS games. We challenged ourselves in every way. I think our efforts to play more conference games, to schedule up to a reasonable degree, to reduce the number of mismatches, should serve us well."

Delany also hoped that Ohio State, as a conference champ, would get the nod. It did not.
A year later: We define ourselves, and the College Football Playoff does its job with a four-team field.
Shorter version: 
Delany: As long as I can go to the Rose Bowl, I'm OK without the automatic bids.

— Ralph D. Russo (@ralphDrussoAP) December 8, 2011
Check the date on that one. Nothing's changed. Everything is expendable for Pasadena's sake.
The Big Ten plays more conference games, does not have a Chickenshit Saturday arrangement in late November to clear any landmines and replace them with FCS layups for title contenders - and does not have a commissioner advocate for its best teams in most seasons - because that advocate does not care about anything except for the Rose Bowl.
The Southeastern Conference, which is an organization geared entirely toward winning national championships, is more likely to place two teams in the CFP than Delany's conference is to get one. That's as much of a function of football quality as it is of commissioner priority.
---
Delany's argument against compensating players is the same as his argument against a playoff. It's an odd two-word defense of tradition, heritage, culture, legacy and other sepia-tinted dime store words Baby Boomers like him throw at the rest of us too young to have grown up with actual dime stores: Rose Bowl.
The head of the Big Ten painted a dire picture Friday of what college sports would look like if players were paid. He said his conference likely would cease to exist and the Rose Bowl probably would not be played.
That's Delany testifying at the Ed O'Bannon trial. He invokes the sanctity of the Rose Bowl at every opportunity, even at a trial involving a former college basketball player challenging the concept of amateurism.
We have a playoff now because the rest of the sport capitulated to Delany's insistence that Pasadena a) be part of the rotation, and b) stay unmoved from its traditional Jan 1 date and starting time in off-years, as it's his most prized television property on the most prized college football day.
Every other bowl game may shift dates a bit, but the sun is going to set on the San Gabriel mountains in the 3rd quarter on New Year's Day during a live football game, which is why the Big Ten champions received no CFP energy from their conference commissioner. He had them where he wanted them - scheduled to bask in that glorious sunset.
Delany made the case for the 2017 Buckeyes to be in the playoff only because Pasadena was a possibility.
Delany abandoned the Buckeyes' title dreams because of his decades-long relationship with and affinity for the Rose Bowl. He will retire someday soon, leaving his multi-billion dollar bet on cable television's future in someone else's hands (along with Rutgers and Maryland) and those sepia-tinted words will accelerate their fade, albeit slower than in title-contending conference footprints to the south.
Eventually, someone - probably Millennials - will finish burying former commissioner Delany's love affair with Pasadena faster than they killed Applebees. Ohio State fans spent conference championship weekend watching their team team win another regional crown but with no shot at an upgrade. Sure, the Purdue game was a catastrophe. Yes, the Buckeyes defense was not good this year either. We know. Everyone knows.
But Oklahoma's is and was objectively worse. The Big Ten had an opportunity to make a loud if not powerful case for its champion's inclusion in the playoff. Unfortunately, Delany's three-decade love affair with a dying tradition was the only priority that mattered.