Like a yeti or sasquatch, the mythical Michigan Man is a creature that really only exists in the minds of the hopelessly deluded. Michigan Man isn't just a Wolverine fan or former player, it's the embodiment of Mike Hart and Lloyd Carr and Charles Woodson and Bo Schembechler and every cranky Midwestern dad who wants to play The Right Way, but in the form of a coach that actually wins championships.
Michigan football fans only kind of know what that looks like. They'll give you some business about "values" and "character" or whatever, but they're so far removed from relevance and nationally recognized success that they can only describe actual coaching competence like how you'd describe the Loch Ness Monster or the Jersey Devil.
"It was kind of dark, I got a blurry photo, if you look in the corner you can kind of see" blah blah blah whatever dude, we know you just want to win an Alamo Bowl. That's fine. Just don't pretend that chasing unicorns is rooted in anything but fantasy.
Here's some dumb things that happened with Michigan during their bye week.
JOSH GATTIS IS JUST KIND OF OKAY WITH ALL OF THIS
"On drives where we've been stopped, we've stopped ourselves more than anything," said the Michigan offensive coordinator, which was extremely accurate but somehow still missing the point.
Gattis seems convinced that Michigan will be good if they stopped being bad, but their chief issue is that being bad is oftentimes the number one obstacle in not being good. From USA Today:
"When you look at it over the past two games, we've got seven turnovers – we've got seven fumbles," Gattis said. "We had 10 penalties. And we also had seven drops. You go back and look at all those plays in critical situations – they're killing us."
Yeah. Sounds bad.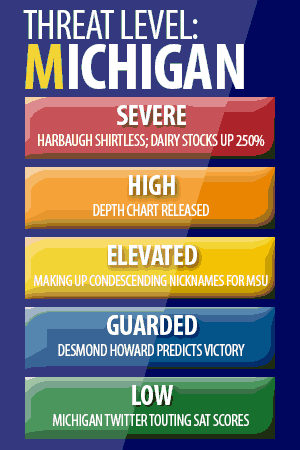 HERE'S SEVERAL HUNDRED WORDS ABOUT THE GREAT INJUSTICE OF MICHIGAN DROPPING ONE SPOT IN THE AP POLL
I'm so, so tired.
THE MICHIGAN WOLVERDOGS
Wisconsin has opened up as a small favorite over Michigan for next weekend, which honestly should only grow as the week goes on. Let this serve as a small reminder that the Badgers have given up zero points in two games, and the Wolverines have given up 42. Michigan is weirdly bad on offense like 75% of the time, and Wisconsin is not. The Badgers have the best running back in the United States, and Michigan has a freshman who is talented but utterly doomed. Should be great!
HERE'S MGOBLOG'S REVIEW OF THE MICHIGAN OFFENSE AGAINST ARMY
It's like 6000 words long. Imagine doing this every week. I'm impressed (in the way you're impressed by watching someone eat a styrofoam plate) and concerned for Brian's health (in the way that you're concerned for someone's health by watching them eat a styrofoam plate).
Michigan is still dumb and boring. They're going to lose to Wisconsin by 30. The Threat Level is GUARDED!