Michigan beat Michigan State 21-7. We'll talk about that in a second. More importantly for this article, Ohio State lost to Purdue. That's, uh... bad! For a few reasons.
First, it takes the Buckeyes out of the driver's seat in the Big Ten East. Michigan is now at the top of the standings, and has a bit of wiggle room against Penn State. Ohio State has to win out if they want to reach the conference championship game, and the Wolverines do not, although at this rate they still probably will.
Secondly, the way in which Michigan has been winning games almost perfectly mirrors the way in which Ohio State just lost one. The Wolverines have been brutally efficient defending 3rd down and against the run, and making the Buckeyes completely one dimensional is something they've done all by themselves, which is basically just teeing up the ball for the Michigan defensive line and handing them a nine iron.
And finally, it's bad because there's pretty much no way for the Threat Level to budge after this, barring a Wolverine loss (unlikely, but possible) or a wholesale Ohio State transformation (uhhh probably not).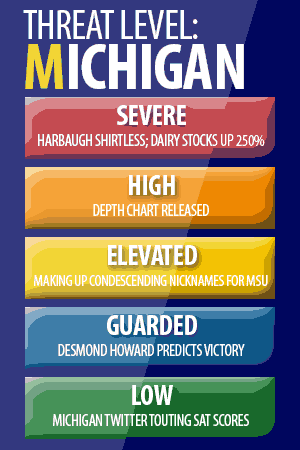 THREAT LEVEL
Michigan frankly didn't look particularly watchable against Sparty, but that's kind of their lane and they're happy in it. There was a really dumb sequence in the second half where Michigan State and Michigan traded several fumbles, the first of which led to a seven yard Spartan touchdown (their only touchdown of the game). But despite the omnipresent threat of Mark Dantonio black magic, this game was Michigan's from the jump.
Michigan State simply couldn't produce anything at all offensively. Quarterback Brian Lewerke is no great shakes, but going 5 for 25 and a grand total of 66 yards through the air isn't exactly his M.O. either. One telling stat is that Ohio State allowed more offensive yards from Purdue on a single drive (98) than Michigan allowed from Michigan State during the entire game (94).
Offensively the Wolverines were just average, but as I keep emphasizing weekly, that's 100% okay. It'd be pretty ridiculous for an Ohio State fan over the age of 25 to attempt to torch a team for being amazingly great on D and no more than average on offense, given how much mirth the Jim Tressel era gave us.
After the prerequisite jawing and shenanigans, Michigan and Jim Harbaugh took out a persistent rival on the road and in a tough environment. They have the best defense in the country, and are led by an experienced quarterback.
Ohio State lost to Purdue.
The Threat Level has been raised to SEVERE.