Ohio State didn't just trail TCU early. The Horned Frogs held an eight-point lead in the third quarter.
The Buckeyes seemed in jeopardy of not being able to escape AT&T Stadium with a win. But a four-minute stretch midway through the third quarter that featured a 63-yard touchdown pass to Parris Campbell, a rare interception returned for a tackle by a defensive tackle and a touchdown strike from Dwayne Haskins to K.J. Hill allowed Ohio State to capture a two-score lead that led to a 40-28 win.
There were a lot of positives about the Buckeyes' performance in Ryan Day's final game as acting head coach. As for the rest of the Big Ten? We'll get to that later. Rutgers, I'm talking to you.
Stock Up
Dre'Mont Jones, Redshirt Junior Defensive Tackle
It took just one game for Dre'Mont Jones to accrue more sacks than he picked up in the prior two seasons combined. And on Saturday, not only did Jones add a third sack, but he scored the first touchdown of his career.
Shedding a block, Jones lunged in front of TCU's Sewo Olonilua and snagged the ball out of the air. Using the athleticism that usually leads him to beat blockers, Jones slipped Olonilua's tackle attempt and used a Malik Harrison block to complete the 28-yard fumble return for six points.
With Nick Bosa ruled out for Saturday's game against Tulane and his status going forward uncertain, Jones must step up for an even larger role. His six tackles, including two for losses, showed his potential for disruption. He's been a force both as a pass-rusher and while defending the run. It was Bosa who, in the spring, was one of the most excited Ohio State players to watch Jones in an expanded role that included a spot on the Rushmen package. Now, the pressure will be on Jones, a fellow potential first-round pick in the spring, to bring the heat that Ohio State will miss with Bosa sidelined.
J.K. Dobbins, Sophomore Running Back
After rushing for 74 yards in the season opener and 73 yards in Week 2, J.K. Dobbins exploded for 121 yards on 18 carries. The shifty, strong runner bounced off would-be tacklers for eight rushes that gained at least 10 rushes.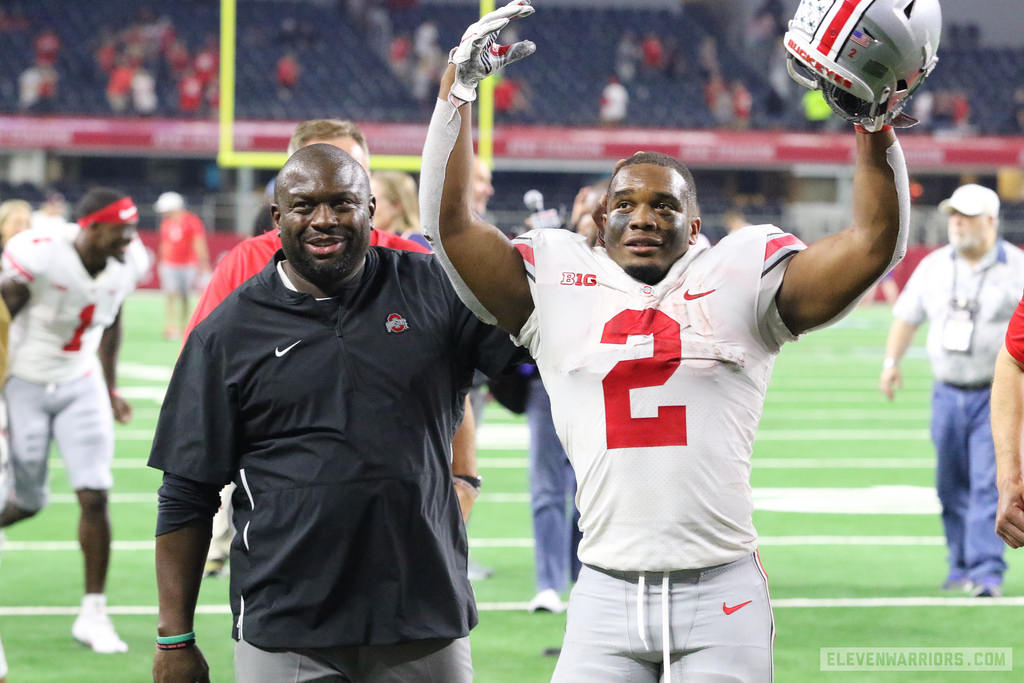 Even though his touches are limited due to him splitting series with Mike Weber, Dobbins made the most of his time beside Dwayne Haskins in the backfield by carrying the ball four times on two drives and rushing six times on another drive. 
Weber's season-opening 186-yard performance, during which he averaged 9.3 yard per carry, ensured both he and Dobbins would continue splitting series. But Dobbins' dominance in the most competitive game of the season to date certainly proved no one should forget about the back who set the program's freshman single-season rushing record.
K.J. Hill, Redshirt Junior Wide Receiver
It can be easy to overlook K.J. Hill.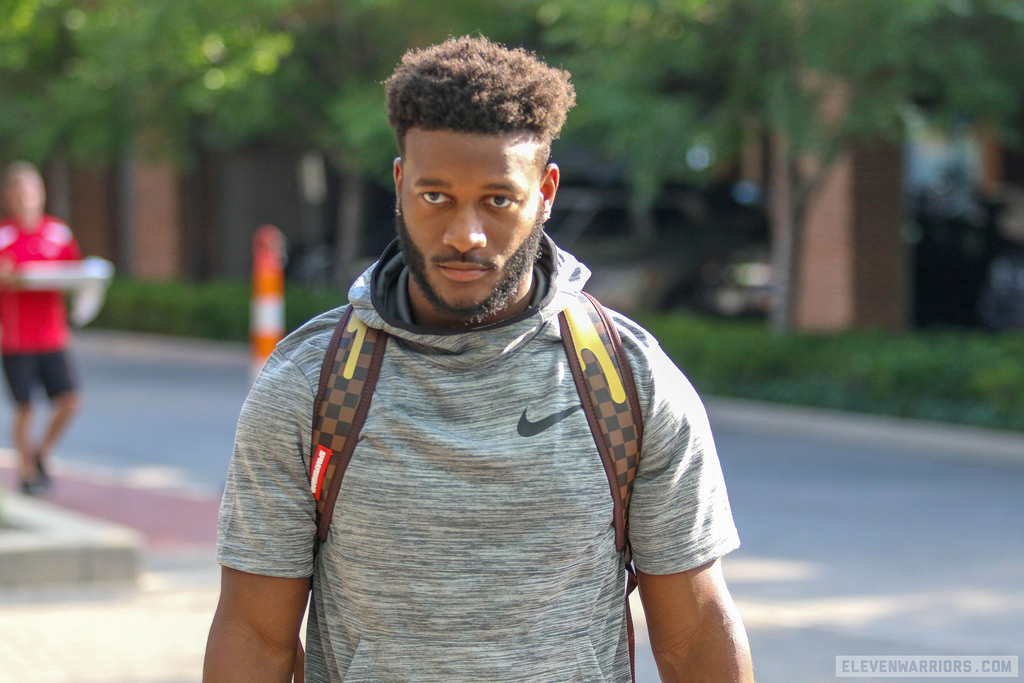 He's not as fast as Parris Campbell or as tall as Binjimen Victor. Nor does he have the blocking acumen of Terry McLaurin or the story of overcoming injuries that Johnnie Dixon has. He's not a roommate of Dwayne Haskins, like Austin Mack.
But, Hill quietly had the most catches on the team last season and, once again, proved to be an explosive weapon in Ohio State's win against TCU. The 6-foot, 198-pound wideout had a team-high six catches and led the Buckeyes with 95 receiving yards. Hill's back-shoulder 24-yard touchdown reception gave Ohio State a two-score lead. He might not be the most explosive wideout, but he always seems to be in the right place at the right time.
Hill now has a team-high 17 catches (at least five receptions in every game). He also leads Ohio State with 202 receiving yards. 
Stock Down
Austin Mack, Junior Wide Receiver
The first two times Haskins targeted Mack, the quarterback's roommate came down with receptions, including a 48-yard connection that brought the ball to the 2-yard line. Then, disaster ensued.
The typically sure-handed wideout dropped at least four passes, including one that should have capped off the first drive with six points. Mack has not had issues with his hands before, so it's hard to imagine this will be a reoccurring problem. But it cost the Buckeyes points on Saturday, so it will be something to track going forward.
The Safety Opposite Jordan Fuller
No one has been able to lock down the second safety spot.
And once again on Saturday, both Isaiah Pryor and Jahsen Wint had their lowlights. Pryor took a poor angle that led to Darius Anderson racing for a 93-yard touchdown, the longest play ever against the Buckeyes' defense. Wint then allowed a 51-yard touchdown pass to hit with 1:06 remaining in the third quarter to cut it to a one-score game.
Wint has stood out in kick coverage on special teams, but he has also stood out for the wrong reasons on defense. Pryor, too, has seemed to be in the wrong position at times, which led to big gains again on Saturday.
Half of the Big Ten
It was not a banner week for the Big Ten, despite Ohio State's win over then-No. 15 TCU — and that's an understatement.
Wisconsin (24-21 loss to BYU), Rutgers (55-14 loss to Kansas), Maryland (35-14 loss to Temple), Nebraska (24-19 loss to Troy), Illinois (25-19 loss to South Florida), Purdue (40-37 loss to Missouri) and Northwestern (39-34 loss to Akron) each suffered defeats in Week 3. Most of those teams weren't expected to be in contention atop the Big Ten, but Wisconsin's upset loss put its College Football Playoff hopes in a dire situation.
Stock Somehow Even Further Down
Rutgers
I'm not sure whether a third category has ever been created for this article, but I went ahead and created one for this special occasion. I mean, what is there to say?
Ohio State rolling to a 52-3 win against the Scarlet Knights had an easy explanation. The Buckeyes have, and will always have, a massive talent advantage.
Fun fact: Ohio State has played Rutgers five times and has outscored the Scarlet Knights a combined 271-27. OK, one more fun Ohio State-Rutgers fact. In Chris Ash's two seasons as Buckeyes defensive coordinator, the defense scored more points in Ohio State's pair of matchups against Rutgers (an Eli Apple fumble recovery for a touchdown) than the Scarlet Knights have scored against Ohio State since Ash was hired as their head coach three years ago (a single field goal).
But, Kansas? Kansas? KANSAS? 
It's one thing to lose to the hapless Jayhawks. It's another to suffer a blowout loss to a team that had not strung together back-to-back wins against FBS teams in nine years. Kansas running back Pooka Williams Jr. looked like a Heisman candidate.
"Pooka Williams is loose!"

At it again. Worth a watch, we promise. #KUfball vs. Rutgers on FSN pic.twitter.com/detGwKmBXI

— Kansas Football (@KU_Football) September 15, 2018
Had Rutgers not played Texas State in the first week of the season, it might be staring at a winless season.
Unsurprisingly, Rutgers opened as a six-point underdog to Buffalo on Saturday. If Ash can't miraculously steal a few wins the rest of the season, he likely won't be patrolling the Rutgers sideline much longer.