The Big Ten's East Division is once again expected to be one of the best in college football. Ohio State and Penn State were both hit hard by the NFL Draft, but should again compete for the College Football Playoff. Michigan State bounced back last year with a 10-3 campaign following a horrendous 2016 season.
The folks in Ann Arbor are giddy because – after three years – Jim Harbaugh has finally found "his guy" in Heisman frontrunner and offensive sorcerer Shea Patterson. But in all seriousness, a new quarterback and a stingy defense is reason enough for some excitement. 
Overall, the East seems very much up for grabs, but most pundits expect yet another solid season from its top programs. 
The outlook for the West Division is quite different. Wisconsin is coming off its second-straight division title, and most have the Badgers pegged for a three-peat. Paul Chryst returns the bulk of his offense – including his quarterback, star tailback, and all five offensive linemen – but there is some work to be done for a defense that lost seven starters.
Since the conference was divided into the East and West Divisions back in 2014, the Badgers have captured the crown three times; with the lone exception coming in 2015 when Iowa took home that honor. 
Wisconsin went unblemished in regular season conference play last year. Can anyone present a challenge in the West for 2018?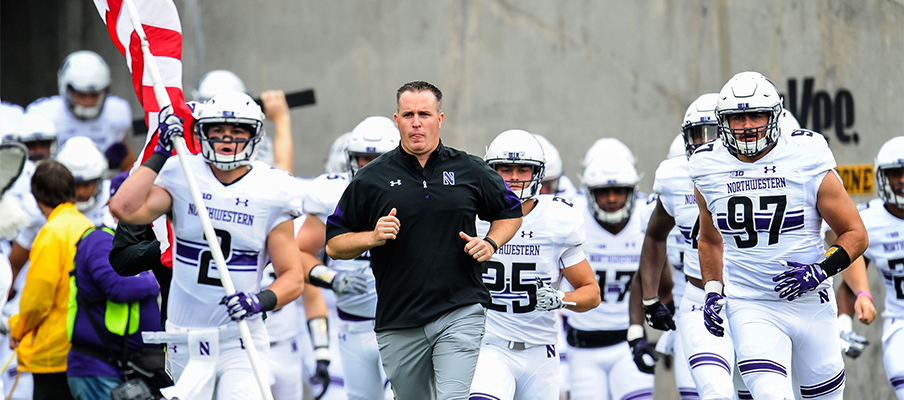 Northwestern Wildcats (2017 Record: 10-3)
A lot of my faith in Northwestern stems from the fact that I'm a pretty big Pat Fitzgerald fanboy, but it certainly doesn't hurt that Clayton Thorson is coming back (eventually) to lead the Wildcat offense. Thorson tore his ACL while executing a trick play in the Music City Bowl victory over Kentucky, and there's still no timetable for a return. Fitzgerald has said that he expects him to play in 2018.
Justin Jackson left Evanston as the school's all-time leading rusher, and now Cincinnati's Jeremy Larkin (La Salle) is expected to shoulder the load in the backfield. Defensively, the Wildcats will have to replace a couple starters in the secondary and they've already been hit with some injuries; including linebacker Nate Hall, the second-leading tackler from 2017.
Northwestern has two huge back-to-back games starting in late October. They'll host Wisconsin on Oct. 27 and head to South Bend the following week (odd timing, I know). 
Outlook: Probably Wisconsin's biggest challenger, but it may depend entirely on Thorson's health.
Iowa Hawkeyes (2017 Record: 8-5)
The Hawkeyes were one of the most unpredictable teams in the country last year. Kirk Ferentz lost a close one at home to Penn State and in East Lansing but then looked unbeatable against a hapless Buckeye squad in early November. The season was capped off on a positive note with a win over Boston College in the Pinstripe Bowl.
Iowa is known for its tough defense and strong offensive line play, and it's fair to expect much of the same in 2018. Akrum Wadley is gone at tailback, and the top priorities on offense will be finding a replacement in the backfield and two new starters in the trenches. Defensively, the Hawkeyes lost two great ones in cornerback Josh Jackson (Round 2 to Green Bay) and linebacker Josey Jewell (Round 4 to Denver).
Ohio State fans don't want to hear this, but tight end Noah Fant is back in 2018. Some pundits already have the junior slated as a first-round pick for the 2019 NFL Draft.
The conference opener is at home against Wisconsin, so that should be a crazy environment at Kinnick. The Hawkeyes also host Northwestern on Nov. 10, and an October road trip to State College will be a tall task. 
Outlook: A win over Wisconsin on Sept. 22 could set the tone for the season.
Nebraska Cornhuskers (2017 Record: 4-8)
The Cornhuskers were not good a season ago, but an atrocious 2017 brings new hope in the form of Scott Frost. The Nebraska faithful is thrilled to have its former signal-caller at the helm, and there's reason for excitement considering the electricity he brought to UCF. The Knights went 0-12 under George O'Leary in 2015, won six games in Frost's first season, and then went unblemished a season ago. 
Nebraska's biggest issue is likely going to be inexperience at quarterback; though Tanner Lee didn't exactly set the world on fire last year. It's a three-man race under center, but I've had my eye on Adrian Martinez ever since he enrolled early in January. The Buckeyes showed some interest in the California native, but a shoulder injury was cause for a bit of concern. The true freshman was the star of the spring game last month. 
Adrian Martinez has FOUR touchdowns today. #Huskers pic.twitter.com/KPYI0wlHQ7

— Derek Peterson (@DrPetey15) April 21, 2018
The Husks have recruited better than any team in the West, so the roster definitely has some talent. It's probably going to take some time for the new system to get settled in, however.
Outlook: Sunny skies are ahead in Lincoln, but it's a bit too early for division title aspirations.
Purdue Boilermakers (2017 Record: 7-6)
Jeff Brohm had what we'd have to consider a successful debut season in West Lafayette. With Darrell Hazell leading the way from 2013 to 2016, the Boilermakers won a total of three conference games. That's three wins in four seasons. In Brohm's first season, he went 4-5 in Big Ten play. Many are surprised that the former Western Kentucky maestro wasn't picked up by a program like Arkansas or Tennessee. 
Purdue bounced back and forth between David Blough and Elijah Sindelar in 2017, and Brohm will look to narrow things down this summer. The quarterback derby has been delayed a bit as Blough recovers from ankle surgery and Sindelar bounces back from a torn ACL. 
Outlook: Probably just a dark horse.