Welcome, my fellow heathens. The gray & darker gray got absolutely ruthless last Saturday. Jimbo Franklin found out who he was playing against. It's Iowa week, here's 10 reasons to hate the Hawkeyes.
10. Iowa Wrestling Fans
Iowa wrestling has a storied history. Ohio State head wrestling coach Tom Ryan spent his collegiate career in Iowa City. Dan Gable is arguably the most legendary coach NCAA history — they have 23 career national championships in the sport. But the history makes Iowa wrestling fans feel the entitlement of a champion statewide. With that comes an arena full of expert sideline officials, and a penchant for stalling calls against anybody but Iowa wrestlers.
Leaving tomorrow to wrestle in carver hawkeye arena and I am just going to assume that I am already stalling

— Luke Pletcher (@LukePletcher) January 26, 2017
9. The Black Jerseys
I'm very surprised by Iowa's move to roll out alternate uniforms in the first place. Not because I thought that Iowa didn't have the capability, I just figured they'd want them for a game they were actually capable of winning.
But linebacker Josey Jewell's favorite part of the uniforms? Wearing them and then watching the film after they dump the Buckeyes! The grit on this guy, folks!
From the Cedar Rapids Gazette:
It also helped that their cellphones were collected before the shoot.

"I think it's a little bit cool," Jewell said.

What's your favorite part?

"Win and then watch it on tape," he added without missing a beat.
8. Perpetual Stank
Iowa stinks. In actuality, figuratively and literally. The place smells. I'm hoping that the travel squad doesn't bring back the collective stench of the state of Iowa early Sunday morning. Hate Iowa more if they do.
Between the fertilizer, abundance of methane-producing heifers and steers and the Maid-Rite sandwiches that the state holds dear, Ohio State is essentially heading into the Midwestern United States version of Chernobyl. Here's to hoping that the Buckeyes make it back okay.
7. Iowa Gives their players kidney disorders
Iowa does not care about the welfare of their players. Does a team that sent 12 of its players to the hospital with kidney conditions have any real substantiation of whether or not their workout practices can be considered ethical?
I mean, yeah, if one dude's pee is just straight dark lager color than maybe it's just a hydration thing, but 12 (TWELVE!) athletes getting sent to the hospital because myoglobin was releasing into their bloodstream due to excessive workouts is another. One would think that the head of the regime that does this kind of thing to his players may face some kind of reprimand or dismissal, no? No.
He's under contract until the 2026 with a $17 million buyout clause that Iowa has nowhere near enough gall to pay for.  
6. The 2004 Game
Iowa has given Ohio State the hands one time in the last 25 years. Ohio State has won 24 out of the last 25 times.
I didn't realize the series was this lopsided. Iowa has beaten Ohio State just once in 25 years. pic.twitter.com/iNH733fe5r

— Matt Brown (@MattSBN) October 30, 2017
But the Iowa loss in 2004 was probably one of the most embarrassing during the early stages of the Jim Tressel era in Columbus. Tress was still trying to roll with Justin Zwick at quarterback, the season was just a mess at that point and Ohio State didn't feel the need to put Troy Smith behind center. 
Talked to Drew Tate today about Iowa's 2004 win over OSU. Told me he started thinking about the bars they'd go to after the game in 3Q

— Courtney Baumann (@cbomb12) November 1, 2017
It was to the point that Drew Tate was already contemplating which Iowa City watering hole the boys were going to hit up after the game.
Things even out in the long run, and Iowa went just 17-12 overall for the rest of Tate's career after that October 2004 dismantling of the Buckeyes.
5. BERT
December 4 will mark the five-year anniversary since Bret Bielema left Wisconsin and started ducking-and-dodging the annual spanking at the hands of the Big Ten. 
Well Bret, we'll let our friends from the SEC continually walk you up and down the ringer week after week, but Saturday afternoon is a walk down memory lane. That's right, Fayetteville's finest played college foosball in the black and yellow. It's a significant validation for wanting to double Yahtzee the Hawkeyes Saturday afternoon.
Bielema was a captain of the Hawkeyes his senior year in 1992. That same year the Hawkeyes also welcomed the Buckeyes into Iowa City, where this quarterback named Kirk Herbstreit wrecked Bielema and Iowa, going 7-9 for 81 yards of superb game management.
Saturday will be a prelude of what's to come to Bielema's other former Big Ten team.
Also, here's a reminder that Bret Bielema is sporting around this back-alley Iowa tattoo. Believe, achieve (nothing,) underachieve!
4. Kirk Ferentz
Hello — welcome to the section in the story about the dictatorial leader of the Iowa football program.
There is nothing more annoying about playing Iowa than continually year after year after year getting into 28-17 battles with the Hawkeyes. Their offense is never good enough to get them over the top scoring-wise, but their offense being bad allows for their always stout defense to make things close.
Playing Iowa and Ferentz is like waiting for a mosquito bite to heal. If you scratch it, it's only going to get worse and will eventually burst. You just have to wait the bite out until it eventually fades like they always do.
Anyways, after getting ethered by Stanford 45-16 (16 points, shocking) in the 2016 Rose Bowl, Ferentz signed a contract extension with the university that will last Ferentz through the 2026 season. So in other words, Iowa has now locked itself into that terrible offense and a coach who never smiles for the next nine years. 
3. Herbert Hoover
If you (if so, you're pretty old my friend) or your loved one suffered during the onset of the Great Depression or anytime throughout, you may be entitled to compensation. You have Herbert Hoover to thank for it, and Iowa to hate for it.
Hate Iowa because their greatest president is also coincidentally the worst president in the history of our nation. Anybody who claims my mans Warren G. Harding to be the worst obviously didn't have to live within the confines of a shanty down in Hooverville, no matter how small or tall.
And sure, Hoover moved away to the woods of Oregon after becoming an orphan, didn't graduate high school but graduated from Stanford with a degree in mining engineering.  Yes, I know. But yet, the formative years help make the man. But yet, his perpetual legacy lives in the state of Iowa giving those native Hawkeyes a reminder of their social standing in the minds of collective America.
2. Iowa Corn is garbage
Jimmy Crack Corn here to tell you that Iowa corn gets fed to the lowest status mules on the farm here in the great Buckeye state. Ohio sweet corn is the most underrated delicacy within the Buckeye state. That and Iowa's is garbage, if we're being honest. We are being honest.
Not only is it lacking in quality to the Ohio corn kernel, native Iowans are responsible for the misconception that ethanol was the fuel of tomorrow and not just an environmental hazard.
The only corn/ethanol product that Iowans legitimately translate into actual fuel is facing an entire bottle of gas station whiskey on top of a 1970s RV before the American Ethanol E15 250 held annually the Iowa Speedway.
1. Brad Banks was not good and neither was iowa in 2002
Throughout the year during the 2003 title run for Ohio State, there was another team resembling ankle-biters at the heels of the Buckeyes the entire year. That team was Iowa. Hate. 
The 2002 Iowa Hawkeyes Iowa football team was the computer on rookie mode while Ohio State was at All-American status on the old NCAA Football games (RIP.) The 2002 Iowa Hawkeyes football team was the participation medal while Ohio State was the goldest of gold medals. The 2002 Iowa Hawkeyes: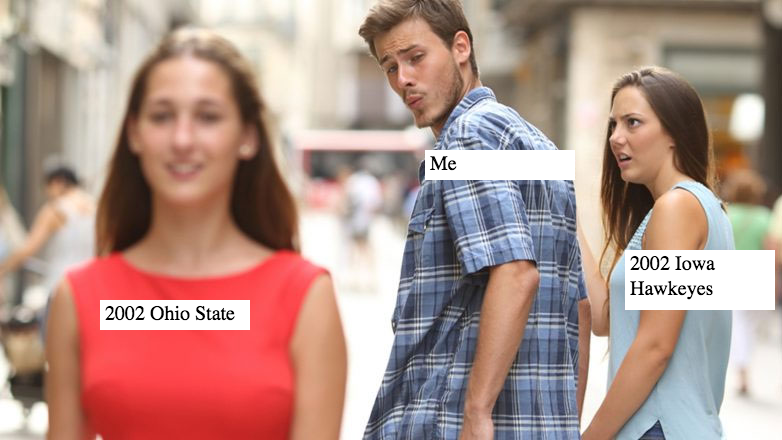 They weren't in the same class as Ohio State. Brad Banks finished as the runner-up for the Heisman despite only having a completion percentage of 57.8. It's alright though, their true colors got shown when 'ole boys got waxed 38-10 in the Orange Bowl by an emerging USC dynasty.
It was and will be nice doing bidness with you, boys.