Last week I took a look into the crystal ball to predict the 2014 All-Big Ten offense. This week let's read the tea leaves for the other side of the pigskin. Here are my way-too-early picks for the 2014 All-B1G defense.
DL: Shilique Calhoun – Michigan State
There's no such thing as a "sure-thing" on a list like this, but Calhoun is about as close as you can get. The Spartan terror was a consensus All-B1G selection last season, was named the B1G defensive lineman of the year, and was selected as a Second Team All-American. The kid has a nose for the football, tying for first in the nation with three defensive touchdowns and second in the nation in fumble recoveries with four (two of which were returned for touchdowns). Calhoun finished the season with 37 tackles and 7.5 sacks. Look for him to build on those numbers in 2014.
DL: Noah Spence – Ohio State
Despite his suspension for the first two games of 2014, Spence is still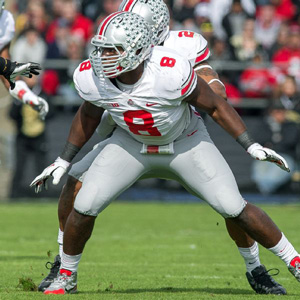 expected to be one of the best defensive linemen in college football. Noah lived in the backfield last season tallying 8 sacks (first on the team) and 14.5 tackles for loss (second on the squad). Against Penn State Spence went off notching three tackles for loss, two sacks and one forced fumble. The Buckeyes' defensive line is predicted to be one of the best in the country this season, and Spence will absolutely be a leader on the unit.
DL: Joey Bosa – Ohio State
It's hard to call a player rated the fourth-best defensive end prospect in the country a "surprise", but that's exactly what Bosa was last season. The Fort Lauderdale product started his freshman campaign as a backup but quickly proved his worth after an Adolphus Washington injury propelled him into the lineup. Bosa seized the opportunity and never looked back to the tune of 39 tackles, 12.5 tackles for loss (third on the team) and 6.5 sacks (third on the team). Bosa only got stronger as the season went on, notching 4.5 sacks over the last five games of the year. With a second offseason in the Buckeye system, Bosa could be scary good in 2014.
DL: Randy Gregory – Nebraska
Gregory had a gang-buster sophomore season in 2013. The Indiana native finished the year with 66 tackles, 10.5 sacks (first in the conference and 15th nationally), and 19 tackles for loss (second in the conference). The performance earned him a first team All-B1G selection and a semi-finalist nod for the Hendricks Award given to the nation's best defensive end. Against Michigan Gregory was unstoppable, notching 3 sacks and four tackles for loss. Those are the kinds of numbers that will get you noticed.
LB: Jake Ryan – Michigan
Big things were expected out of Ryan before the start of last season, but an ACL injury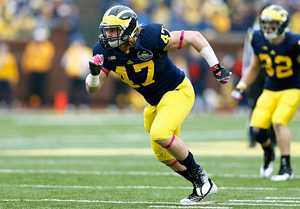 in spring practice sidelined the team captain until the Wolverines' sixth game. Despite the late start, Ryan tallied 30 tackles and 4.5 tackles for loss. With a full offseason to get back into form, many expect Ryan to have a year similar to 2012 when he led the team in tackles (88), tackles for loss (16), and sacks (4.5).
LB: Mike Hull – Penn State
Hull had a solid 2013 notching 78 tackles (second on the team) and 4.5 tackles for loss despite missing two games due to injury. He's already earning rave reviews from new Nittany Lions' defensive coordinator, Bob Shoop, who called him the "undisputed quarterback of the defense". It's easy to see why. Hull's a smart kid who's got a nose for the football and the speed to get to it. In fact, he's so fast former coach Bill O'Brien played him as a nickel back in certain formations. With three-year starter, Glenn Carson, moving-on Hull will have every opportunity to make plays. If he does, look for his name on this list at season's end.
LB: Steve Longa – Rutgers
As a redshirt freshman in 2013 Longa started all 13 games at middle linebacker and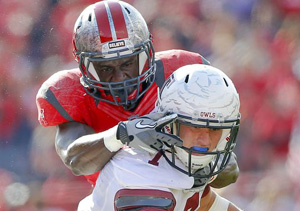 did not disappoint. He led the team in tackles with 123 while also tallying 7.5 tackles for loss and 3 sacks. The performance earned him a First Team Freshman All-American nod and a ton of hype heading into this season. It's hard to say if he'll generate similar numbers in the B1G, but if he does he's an All-Conference lock.
DB: Blake Countess – Michigan
Countess was named an All-B1G first teamer last season after tying for first in the conference with six interceptions including two against the Fighting Irish (a career high). In addition, Countess tallied 46 tackles, 2 tackles for loss and one interception returned for a touchdown. The Wolverines will look to Countess to be a leader on the defense in 2014.
DB: Trae Waynes – Michigan State
With the departure of All-American, Darqueze Dennard, the keys to the Spartan "No Fly Zone" will be handed over to Waynes. By the end of last season, Waynes was splitting coverage responsibilities with Dennard on opposing teams' top receivers. This year that weight will fall solely on Waynes' shoulders, and he appears to be up to the challenge. Trae tallied 50 tackles last season and three interceptions including one against Stanford in the Spartans' Rose Bowl appearance. Teams will attempt to challenge him early. It's up to Waynes to prove that's a terrible idea.
S: Kurtis Drummond – Michigan State
Drummond earned first team All-B1G honors last year after tallying a career high 91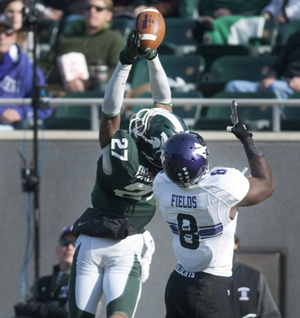 tackles including 3.5 tackles for loss. His four interceptions tied for the team lead and pegged him third in the conference. The kid is a pure athlete as evidenced by this disgusting interception against Western Michigan last season. There's no reason Drummond wont make this list if he has a season similar to 2013.
S: Sean Davis – Maryland
As a sophomore, Davis started all 13 games and recorded a team-high 102 tackles, averaging nearly 8 per game (ninth in the ACC). Davis saved his best for the best, notching 12 tackles against eventual national champion, Florida State. Anytime a player goes over 100 tackles in a season it's a special year. If Davis does it again he'll be an all-conference selection in Maryland's inaugural B1G season.
P: Cameron Johnston - Ohio State
The Buckeyes didn't punt a lot last season, but when they did it was solid. Johnston (an Australian Rules Football vet) punted 49 times for an average of 44 yards (first in the conference and 14th in the country). With the departure of Purdue's first team All-Conference punter, Cody Webster, this honor is Johnston's to lose.