As a follower of Ohio State football, it's certainly nice to know the names that will be seen in Columbus for the next 3-5 years. Also, as a follower of Ohio State and Big Ten football, it's good to be up to speed on the new faces that our rivals will be bringing in for the 2016 season — even if there will potentially be 30-35 of them.
Jim Harbaugh's first full recruiting cycle at Michigan hasn't gone by without its share of controversy. For now — at least momentarily — we will look beyond the forced decommitments and awkward slumber parties and instead focus on what should finish as one of the nation's top classes. 
---
On the offensive side of the ball, Tim Drevno and Jedd Fisch have already welcomed in Brandon Peters, the nation's sixth-ranked pro-style quarterback. A pair of former Buckeye targets/commits also enrolled early in hopes of bolstering the Wolverine offense. One-time Buckeye pledge Kareem Walker made the flip in mid-December following a senior campaign that saw the former five-star's stock plummet on every recruiting site. Despite a subpar season and disappointing performance in Orlando for the Under Armour All-America Game, he still checks in as the nation's fourth-best back.
The Buckeyes had some interest in four-star wideout Ahmir Mitchell at one point, too, but elected to focus on Austin Mack and Binjimen Victor instead.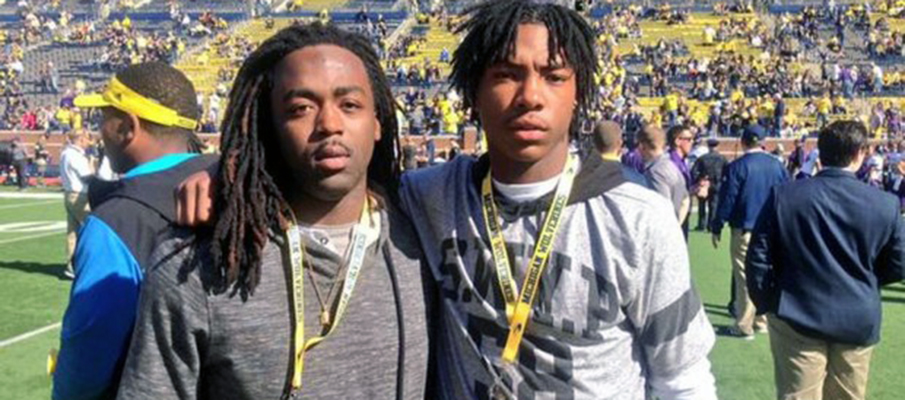 The wide receiver class got a boost this week when one-time Oregon commit Eddie McDoom pledged to the Maize and Blue. Other skill-position players include Dylan Crawford, Brad Hawkins, and Indianapolis athlete Chris Evans. Crawford was an impressive pull out of California, and the four-star wideout could very well see playing time as a true freshman. Ohio State offered Evans a few weeks back, but the all-purpose player elected to stick with the Wolverines. It will be interesting to see how he's used at the next level.
Michigan's offensive line haul looks to be set with four commitments, including a trio of four-star prospects. Leading the way is Hartland, Wisconsin's Ben Bredeson, the nation's fifth-ranked offensive tackle. Detroit's Cass Technical High School has turned into a bit of a pipeline for Kerry Coombs and the Buckeyes, but they were unable to snag Michael Onwenu away form the in-state Wolverines. A pair of Baltimore teammates — tackles Devery Hamilton and Stephen Spanellis — round out an impressive group. 
---
On the other side of the ball, the crown jewel (thus far) of the class is Los Angeles cornerback David Long. The No. 65 player in the country had offers from coast to coast and the former Stanford commit ultimately sided with Harbaugh over the Washington Huskies. On Wednesday, the Wolverines beat out the Nittany Lions for Pennsylvania safety Khaleke Hudson. Hollywood, Florida, teammates Devin Gill and Josh Metellus committed shortly after the 'Summer Swam' satellite camp tour. 
At linebacker, the Wolverines were able to snatch three players from SEC territory. The biggest win had to be early-enrollee Devin Bush Jr. At 5-foot-11, 226 pounds, the four-star is a bit undersized, but beating the Seminoles — his father's alma mater — was a big recruiting win for Harbaugh and Co. Ellenwood, Georgia's Elysee Mbem-Bosse pledged to the Wolverines after last weekend's official visit. The three-star is a high school teammate of longtime Buckeye target Antwuan Jackson. Prattville, Alabama's Dytarious Johnson — another Summer Swarm commit — rounds out the linebacker haul. 
Wednesday, Michigan suffered what was their first "real" decommitment in what seems like forever as four-star defensive tackle Jordan Elliott announced that he would be looking elsewhere. The Longhorns are the presumed favorite for the Houston product who had previously been committed to the hometown Cougars. At defensive end, Camden, New Jersey's Ron Johnson has been committed since June and last Sunday the Wolverines beat out the Gators for Miami's Joshua Uche.
---
With six days left until national signing day, things are hardly winding down for the nation's No. 5 class. The biggest and most obvious name left is the top-ranked player in America, New Jersey's Rashan Gary. Gary took an unofficial visit to Ann Arbor last weekend and will check out Clemson (and possibly Bama) this weekend. A decision will then come on signing day, and if you haven't prepared yourself yet for the Wolverines landing the best player in the country, now may be the time to start doing so. 
A handful of targets still remain in the secondary, including Detroit cornerback Lavert Hill who will decide between the Wolverines, Spartans and Nittany Lions. The Buckeyes are hoping to win out in the Jordan Fuller sweepstakes, which will come to an end Monday night. Four-star safety Isaiah Simmons is currently in the Mitten State for a midweek official visit. 
At wideout, Keyshawn "Pie" Young appears to be coming down to Louisville and Michigan. Donald Stewart, another Jersey product, was in town last weekend and is considering Stanford as well. Tight end Nick Eubanks is currently on campus for an official and Chase Allen will be announcing his decision – which is expected to be Michigan – on Friday.
With 25 in the fold already, the class is expected to end up in the 30s. As for more potential "decommitments," Dytarious Johnson and wide receiver Nate Johnson are both possibilities to end up elsewhere. 
---
Overall, Harbaugh — despite his peculiar ways — has put together a heck of a class; a class that is poised for some additional fireworks on signing day. The Chris Partridge hire is certainly paying dividends as the allure for New Jersey's top prospects seems to be stronger than ever before.
Urban Meyer and Greg Schiano will look to buck that trend on Monday night.