When Urban Meyer was hired at the Ohio State football coach in 2011, he knew that he was walking into a torpid, sluggish conference with a reputation nationally of being completely stuck in its ways and unwilling to embrace the kind of change necessary to make a dent in the top tier of college football. Ohio State, for its part, was generally doing well, but virtually no other Big Ten program was willing to start thinking outside the box to win games.
So when Urban Meyer showed up with a Sister Hazel greatest hits CD and a willingness to blow up everything about the staid decorum that had apparently governed Big Ten recruiting for, oh, the last quadrillion years or so, some people took offense:
During his National Signing Day press conference, Bielema hinted that Meyer was using "illegal" recruiting practices. He said as much again Thursday when contacted by Sporting News, and without getting into specifics offered this:

"I called Urban and we spoke about it," Bielema said. "We talked about it, and he said it would stop and it did. I'll let our commissioner deal with anything else. That's not who we are (in the Big Ten). We settle things among ourselves as coaches."
Bret Bielema said that in 2012. He is now the head coach at Arkansas. Urban Meyer won a national championship within a few years and just signed one of the greatest recruiting classes in Ohio State history. He's still the head coach of Ohio State.
In case it wasn't abundantly clear by now, Meyer is the villain of this story. He blew up a gentleman's agreement forged in a time of mail order catalogs and good Simpsons episodes, and in the chaos that followed, the Big Ten had to rebuild itself into something meaner, leaner, a little slimier, and a whole hell of a lot more competitive.
Though the Big Ten still has a slew of coaches who aren't quite convinced that we're closer to the inevitable robot uprising than Shakespeare in Love, overall the conference took steps to hire coaches who would emulate Meyer's aggressive recruiting approach. There is no better example of this than James Franklin and Penn State currently sitting as the top ranked recruiting class for 2018, with two five star players already committed.
With the conference struggling to gain any kind of respect nationally as key programs are in the middle of a multi-year panic attack, Big Ten men's basketball needs to find someone, anyone, to drag these programs into the mid 2010's and be the villain that the conference so desperately needs. Are any of the current crop of coaches up to the task of being the Urban Meyer for Big Ten basketball? Let's find out.
TIM MILES, NEBRASKA

Tim Miles has been around for a long time, but Nebraska was his first major college gig, and it has shown. He's given the Huskers diminishing returns every year that he's been their coach, and his charisma is somewhere between "one of those dogs that can't put their tongue back in their mouth" and "a guy at a restaurant aggressively slurping his soup."
IMPORTANT VILLAINOUS MOMENT

Almost popped Tom Crean in the face during a game, which isn't really villainous at all.
CAN HE BE THE HEEL THE BIG TEN NEEDS?

Unlikely; Nebraska would have to be worth paying attention to and... they're not.
MARK TURGEON, MARYLAND

Maryland is pretty good this year, and that's in no small part due to the efforts of Turgeon. He's spent the last six seasons getting Maryland to the point where they're a consistent presence in the NCAA tournament again, and they'll be a dangerous team in March.
IMPORTANT VILLAINOUS MOMENT

Possibly this heated exchange with the coach of Rhode Island, which is funny because it's freaking Rhode Island.
CAN HE BE THE HEEL THE BIG TEN NEEDS?

Maybe! If Maryland can keep winning, all that it would really take is some super shady recruiting and some trash talk to cement his role in this for the Big Ten. Let's hope he goes for the gold.
JOHN BEILEIN, MICHIGAN

On paper, Beilein has an important leg up on villainy simply by coaching at Michigan. However, three consecutive mediocre or worse seasons with the Wolverines threatens any kind of bad guy persona he may wish to cultivate.
IMPORTANT VILLAINOUS MOMENT

Beilein is all about greyshirting players or encouraging them to seek greener pastures when it suits his needs.
CAN HE BE THE HEEL THE BIG TEN NEEDS?

Probably not. As it stands, Michigan is just too mediocre to really force the rest of the Big Ten to take notice, although being generally insufferable as a university might pick up some of that slack.
FRAN McCAFFERY, IOWA

On paper, Fran McCaffrey is probably the best candidate for this job. He's overly emotional, complains constantly, gets into beefs with tiny schools over inconsequential BS, and kind of looks like a country club bad guy from Caddyshack.
IMPORTANT VILLAINOUS MOMENT

Shrugging his shoulders as Adam Woodbury performed digital optic surgery on half the conference.
CAN HE BE THE HEEL THE BIG TEN NEEDS?

He has potential. Iowa has been nothing more or less than good for the past several years, but if Fran can have them elevate their game just a teensy bit and start recruiting better, he might be the catalyst for other schools to step up in opposition.
RICHARD PITINO, MINNESOTA

Pitino has a famous dad and doesn't completely suck as a coach, so you'd think that he could potentially be pretty high up on this list. But Pitino in general seems more concerned with enriching himself than dominating Big Ten basketball, and that knocks him down a peg.
IMPORTANT VILLAINOUS MOMENT

His players have landed in serious legal trouble, but Richard himself was also perfectly happy to far overspend on plane travel over the past several years.
CAN HE BE THE HEEL THE BIG TEN NEEDS?

Nah. He's got the whole "trust fund baby" thing going for him, but in truth "doesn't completely suck as a coach" seems to be his ceiling.
CHRIS COLLINS, NORTHWESTERN

Collins has the Wildcats on the cusp of their first NCAA tournament bid ever, and for that he'll be lauded as a Big Damn Hero. He's improved the team every year he's coached there, and says all the right things about the mythical student athlete that Northwestern fans want to hear.
IMPORTANT VILLAINOUS MOMENT

One guy who won't be cheering on Collins is Johnnie Vassar, a former player who said that Collins engaged in "a campaign of harassment, pressure, and deception" against him.
CAN HE BE THE HEEL THE BIG TEN NEEDS?

Well, he's from Duke, so there's always a chance. But it's Northwestern, and they'll never exert the kind of pressure on the rest of the conference for Collins to qualify for this role.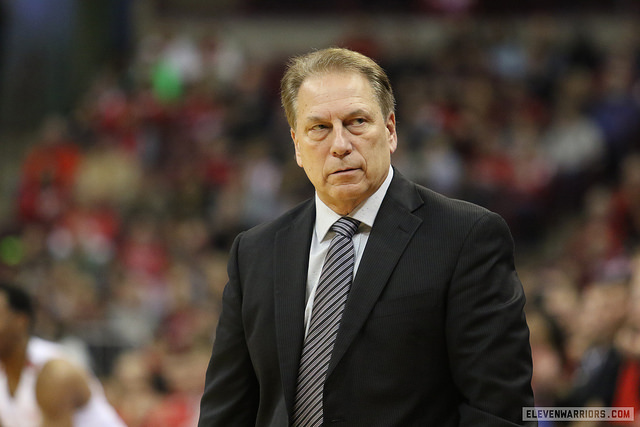 TOM IZZO, MICHIGAN STATE

Izzo is the best coach in the Big Ten by a pretty far margin at this point, and also one of the most entertaining. He has 13 Sweet Sixteen appearances or better under his belt, and at 62 he's got probably another 10-15 years of coaching left to do.
IMPORTANT VILLAINOUS MOMENT

I'm sure Izzo has done some reprehensible stuff somewhere down the line, but I'm an unabashed Izzo fan and refuse to be made aware of any of them. Coaching Draymond Green, maybe?
CAN HE BE THE HEEL THE BIG TEN NEEDS?

Nope. Aside from being cool as hell, Izzo just isn't the kind of guy willing to make the rest of the conference collapse underneath his boot.
GREG GARD, WISCONSIN

Greg Gard has some ridiculous shoes to fill in terms of general douchebaggery, having taken over for the departing Bo Ryan at Wisconsin. He led the Badgers to the Sweet Sixteen last season after Ryan abruptly retired in the middle of the year.
IMPORTANT VILLAINOUS MOMENT

He's new, but on the other hand coaching for 23 years under Ryan as an assistant is it's own kind of villainy in a way.
CAN HE BE THE HEEL THE BIG TEN NEEDS?

Anything is possible, but Gard will likely just continue the Wisconsin tradition of fielding a team of competent, gawky, buzzcut, corn-fed Midwesterners and not a whole lot more than that.
STEVE PIKIELL, RUTGERS

He took Stony Brook to an NCAA tournament bid. That's all I know about Steve Pikiell.
IMPORTANT VILLAINOUS MOMENT

I think as long as he doesn't go full Mike Rice, he'll be fine.
CAN HE BE THE HEEL THE BIG TEN NEEDS?

Anything is possible at Rutgers, except being consistently good at basketball. So probably not.
MATT PAINTER, PURDUE

Painter has been at Purdue for far longer than I had thought, and maybe that's because in some ways he still projects himself as the new and exciting young coach on the scene. Or maybe it's because I only pay attention to Purdue basketball once every five years. That seems more likely.
IMPORTANT VILLAINOUS MOMENT

There aren't a ton, but do back-to-back March Madness collapses by his team count? Can you be villainous against your own fanbase?
CAN HE BE THE HEEL THE BIG TEN NEEDS?

In recruiting, maybe. Painter has shown the desire to go after top talent at Purdue, and has no compunctions about flipping a committed recruit. But the Boilermakers have been decidedly meh for the past five seasons. They need to win a lot more if Painter wants to become Meyer-esque.
PAT CHAMBERS, PENN STATE

In six seasons at Penn State, Chambers has never won more than 18 games. That is all you need to know about Pat Chambers.
IMPORTANT VILLAINOUS MOMENT

Chambers got fined a whole bunch of money for saying this:
Pat Chambers' full quote on the Jordan Dickerson offensive foul call/officiating in general. pic.twitter.com/l24PL5bFW2

— Ben Jones (@Ben_Jones88) February 15, 2015
CAN HE BE THE HEEL THE BIG TEN NEEDS?

No. He's not a good coach.
JOHN GROCE, ILLINOIS

Groce is a former Matta assistant and was great as the head coach at Ohio University, but at Illinois his teams have gotten worse over time. Illinois, some might remember, was pretty damn good for a hot minute about 10 years ago. That time has passed.
IMPORTANT VILLAINOUS MOMENT

Tons of arrests and outbursts have not helped Groce's image, and that would actually help him for the purposes of this article if he were actually good in a Bob Huggins kind of way. He's not.
CAN HE BE THE HEEL THE BIG TEN NEEDS?

The whole Matta protege angle would've been really kickass, but it turns out that Groce just isn't very good at his job.
TOM CREAN, INDIANA

This entire article could've been about Crean. He styles himself as a John Calipari-esque genius who takes no prisoners and wins with elite talent and wins at all costs and blah blah blah. He sought to turn Indiana into a national powerhouse by using its name and his own, and has utterly failed in doing so. The Hoosiers have never advanced past the Sweet Sixteen during his tenure there.
IMPORTANT VILLAINOUS MOMENT

So, so many. But my favorite is nearly getting the entire Ohio State men's basketball reporting corps killed by a snowstorm because he didn't want to talk to the press until almost two at night.
CAN HE BE THE HEEL THE BIG TEN NEEDS?

Crean is not an awful coach, but he's never lived up to the hype that he brought with him from Marquette. As one of the few legitimate basketball blue bloods in the conference, it's possible that Indiana becomes dominant again in the Big Ten, but it seems unlikely under Crean.
---
Which leads us to Thad.
Thad Matta once was the heel of the Big Ten, despite being so likeable as an individual. His initial recruiting classes threatened to blow the doors off the conference, and for a while it did, as it transformed into the best in the nation.
That was years ago, and now the Big Ten is finding itself in need of another shake-up, to help pull it out of the malaise that it currently finds itself in. As we've seen, however, that is unlikely to come from within. It's going to take some creativity and one hell of an individual at coach to get them back to that point.