Buckeye fans may have said "goodbye" to Lenzelle Smith Jr. and the angelic Aaron Craft in person, but there's still, at least, two more weeks to celebrate their careers. 
Indianapolis is the next stop on the Craft farewell tour, where Big Ten fans from all 12 schools will assuredly treat him with the respect he deserves. Or not. Well, Craft doesn't need the rest of you. He can still feel Ohio State fans' love. Nothing, nothing but that love.
Our player of the week is not Craft, but is someone on our top ranked team. On to those rankings:
1. Michigan (23-7, 15-3)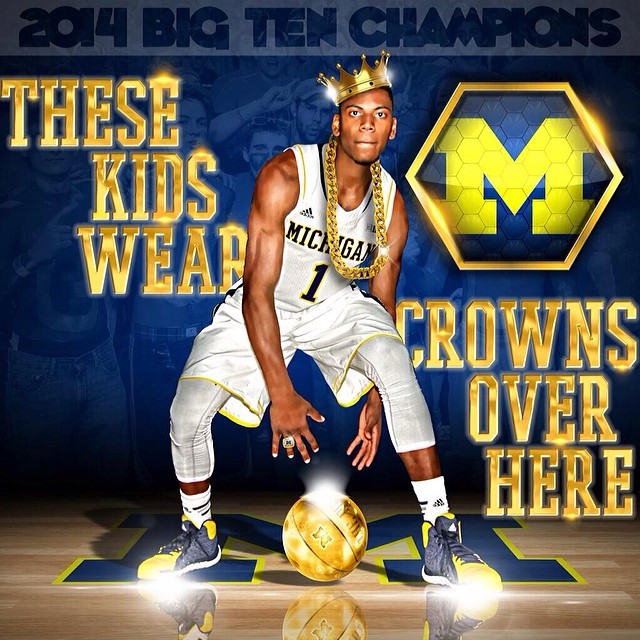 Last week (1): 84-53 win at Illinois, 84-80 win vs Indiana
This week: TBD (No. 1 seed in the Big Ten Tournament)
Two weeks after declaring themselves the conference champions, Michigan earned a real banner following their blow out victory in Illinois.
That means the Wolverines will head to Indianapolis as the top seed in the Big Ten Tournament, where they'll play the winner of Indiana-Illinois. 
Michigan would be a lot easier to deal with if not for Glenn Robinson III's resurgence. He's our player of the week, and during their five game winning streak, he's averaging 15.4 points while shooting 55 percent from the field.
He hasn't hit many from three, but he nailed a clutch one to put away Indiana. Overall, Robinson III is maintaining some sort of offensive consistency for the first time since December.
2. Wisconsin (25-6, 12-6)

Last week (2): 76-70 win vs Purdue, 77-68 loss at Nebraska
This week: TBD (No. 2 seed in the Big Ten Tournament)
Despite their loss to Nebraska, Wisconsin stays at No. 2 in the rankings.
I'll forgive them for losing the most important basketball game in the history of Lincoln, Neb., and say that it was a minor blip on what was a stellar run to end the regular season. One troubling thing is: the Badgers are, somehow, worse defensively after their 8 game win streak. They went from giving up .966 points per possession (as of Feb. 1) to .982, slipping from No. 74 to No. 87 nationally. 
Wisconsin will play either Minnesota or Penn State, Friday. 
3. Nebraska (19-11, 11-7)

Last week (6): 70-60 win at Indiana, 77-68 win vs Wisconsin  
This week: TBD (No. 4 seed in the Big Ten Tournament)
A puzzling, double-digit road loss to Illinois raised concerns about Nebraska's ability to win away from Lincoln. If Michigan State wasn't a good enough road win, the Huskers certainly brushed any questions aside after taking down Indiana in Assembly Hall.
For a team that started out 1-5 in conference, just getting back to .500 would be considered a good way to end the season. It took six more games – including the win in East Lansing – to get back to that point, but they didn't give up then. So, Nebraska decided to end the Big Ten slate by winning eight of their last nine games. Ask head coach Tim Miles, and he'll tell you they're not done yet. 
4. Ohio State (23-8, 10-8)

Last week (4): 69-67 win vs Michigan State
This week: (No. 5 seed in the Big Ten Tournament) vs Purdue 
Swept by Penn State, a loss to an Indiana team missing its only post threat – Ohio State is dead, right? Nope. 
It's never pretty, particularly at the free-throw line, but the Buckeyes got a major confidence boost after Sunday's win. Will they regress immediately after, as has been the tendency all year long? Probably, but let's enjoy the victory before addressing such philosophical questions. 
Out of habit and necessity, Amir Williams and Trey McDonald will use up all ten of their fouls against Purdue, as A.J. Hammons is their only major threat. Boilermakers turnovers should lead to easy points, but then again, is it ever that easy for OSU to score?
By the way, Thad Matta has won at least 10 Big Ten games in each season at Ohio State, except his first. 
5. Michigan State (23-8, 12-6)

Last week (4): 86-76 win vs Iowa, 69-67 loss at Ohio State
This week: TBD (No. 3 seed in the Big Ten Tournament)
I'll let a more credible person tell you why the Spartans won't make a run in March:
Tom Izzo also hinted at the lack of depth on his team, with a bench that is largely ineffective at the defensive end. 
Offensively, MSU better hope their hot three-point shooting carries over into the postseason. The Spartans are finding it difficult to string together consistent offensive possessions, especially in the half court. Since Feb. 1, they've seen a one percent jump in the amount of turnovers per possession.  
6. Illinois (18-13, 7-11)

Last week (8): 84-53 loss vs Michigan, 66-63 win at Iowa
This week: (No. 9 seed in the Big Ten Tournament) vs Indiana
After an eight-game conference losing streak, the Illini, seemingly, didn't have much left to play for. If the cliché is true, they now have something to build on for next year.
Illinois wrapped up the regular season by winning four of their last five games, including road wins at Michigan State and Iowa. Two players graduate – Jon Ekey, featured above, and Joseph Bertrand – but neither of those seniors were in the starting lineup at the end of the year. 
Their incoming freshman class isn't as good as it could've been, but there's plenty of young talent to keep them out of the Big Ten's cellar.  
7. Iowa (20-11, 9-9)

Last week (3): 86-76 loss at Michigan State, 66-63 loss vs Illinois
This week: (No. 6 seed in the Big Ten Tournament) vs Northwestern 
Head coach Fran McCaffery has a message for his team after they lost on a buzzer-beating shot to Illinois, Iowa's fifth loss in six games:
Giving up would be easier than trying to figure out how to get his Hawkeyes to play something resembling defense. Iowa is giving up .05 more points per possession in the last month, and opponents are making their defense look like some sort of tragic misstep in evolution. 
8. Indiana (17-14, 7-11)

Last week (7): 70-60 loss vs Nebraska, 84-80 loss at Michigan
This week: (No. 8 seed in the Big Ten Tournament) vs Illinois
The Hoosiers' surge to make the NCAA Tournament lasted about a week.
Noah Vonleh's foot injury didn't help, with Nebraska forward Walter Pitchford and Michigan's Jordan Morgan taking advantage of his absence or limited capabilities. 
Anyhow, here's to Tom Crean cutting down the nets at Madison Square Garden! (note: not following the East Regional final). 
9. Minnesota (19-12, 8-10)

Last week (9): 81-63 win vs Penn State
This week: (No. 7 seed in the Big Ten Tournament) vs Penn State
Last week, ESPN's Joe Lunardi listed Minnesota as a 12-seed and one of the last four in.
Knowing how difficult it is to beat Penn State, that has to be a good enough win to keep them in the tournament. Well, CBS "Bracketology Expert" Jerry Palm lists the Gophers as one of the "first four out."
If they beat the Nittany Lions again and knock off Wisconsin, Friday, that should seal their invite to the NCAA Tournament. 
10. Penn State (15-16, 6-12)

Last week (10): 59-32 win at Northwestern, 81-63 loss at Minnesota
This week: (No. 10 seed in the Big Ten Tournament) vs Minnesota
Want to know how close we were to an Ohio State-Penn State rematch in the Big Ten Tournament?
According to HawkeyeDrive.com, a Buckeye loss to the Spartans and an Iowa win over Illinois (games separated by a total of five points) would've meant OSU-PSU in the 6-11 game. 
11. Northwestern (13-18, 6-12)

Last week (12): 59-32 loss vs Penn State, 74-65 win at Purdue
This week: (No. 11 seed in the Big Ten Tournament) vs Iowa
Can we talk about how it's possible to only score 32 points in a 40-minute game?
They hit only 10 field goals, shot 23 percent from the field, went 3-22 from three and put together a 1:2 assist-to-turnover ratio. 
Yet, in their next game, Northwestern still beat the next team in our rankings. 
12. Purdue (15-16, 5-13)

Last week (11): 76-70 loss at Wisconsin, 74-65 loss vs Northwestern
This week: (No. 12 seed in the Big Ten Tournament) vs Ohio State
Their losing streak has now hit six games, their longest such skid since the 2004-05 season.
Head coach Matt Painter has identified the problem: 
#Purdue coach Matt Painter: 'I haven't gotten guys to play hard enough or smart enough. That's my fault.'

— GoldandBlack.com (@GoldandBlackcom) March 7, 2014
---
Check out the full Big Ten Tournament bracket here: