The only time you'll see Tom Izzo climbing a ladder, this year, is in the above picture. I believe he is also pantomiming "going in reverse" and is in danger of falling off. 
Michigan State isn't the only Big Ten team struggling at the exact wrong time. The middle of the conference is as convoluted as it ever has been, thanks to MSU, Iowa and Ohio State slipping towards the rest of the pack. The last week of B1G regular season action will assuredly not sort any of this out.
The player of the week is Indiana's Will Sheehey, who scored a career-high 30 points in a win over Iowa and filled a huge void against OSU with his 19 points.
On to the rankings:
1. Michigan (21-7, 13-3) 

Last week (1): 77-76 OT win at Purdue, 66-56 win vs Minnesota
This week: at Illinois, vs Indiana
Michigan hasn't given fans much to complain about these last two years, so where have they directed their misguided and haughty anger? Towards Glenn Robinson III, of course.
Sure, his efficiency statistics are down across the board (by eight percent from the field, six percent from three, committing almost 1.5 turnovers per game) and the declaration to pull his name from NBA Draft consideration had been reaching Mark Titus levels of irony, but he's totally redeemed himself. 
Not only did he save the Wolverines from a huge upset in West Lafayette, he's starting to finally contribute consistently. Robinson III has scored in double figures in four straight games – two of which came against ranked teams – and is hitting 57 percent of his shots. 
2. Wisconsin (24-5, 11-5)

Last week (2): 69-58 win vs Indiana, 71-66 win vs Penn State
This week: vs Purdue, at Nebraska  
The only thing keeping Michigan from clinching an outright title (not that they won't, eventually) is how ridiculously hot this Wisconsin team is. They won't share the Big Ten crown, but the Badgers might top the Wolverines in terms of NCAA Tournament seeding.
A 19-point first half at Indiana was perplexing, but this is a vastly different Wisconsin team in the past month. They roared out of the locker room and dropped 50 on the Hoosiers in the second half, led by (this is foreign to Buckeye fans, stay with me here) hitting 22 of their 24 foul shots. 
3. Iowa (20-9, 9-7)

Last week (3): 95-89 loss at Minnesota, 93-86 loss at Indiana, 83-76 win vs Purdue  
This week: at Michigan State, vs Illinois
Ideally, Iowa would be about 5 slots lower than where they're currently ranked, but this is the Big Ten and we can't have nice things.
The Hawkeyes busted a three-game losing streak with their win over Purdue, but that doesn't mean we can all jump back aboard their bandwagon. Iowa has given up 77 points per game in the last month, which would rank No. 315 in the country if averaged out over the course of the entire season.
Nothing personal, but I'm not backing Iowa in to make a deep postseason run. I say "nothing personal" because I know how easily offended Iowa players get when certain things are said on the internet: 
The only thing worse than the start of this Iowa State vs TCU game is Zach McCabe's tweet from earlier...whiner pic.twitter.com/9NBXUsWdxJ

— Zach Seifert (@cyfert26) February 22, 2014
4. ohio State (22-8, 9-8)

Last week (5): 65-63 loss at Penn State, 72-64 loss at Indiana
This week: vs Michigan State 
After getting swept by Penn State and losing on the road to another non-tournament team, of course they deserve to move up a spot. According to KenPom.com's ratings, Ohio State is the fourth best team in the conference (No. 14 overall) so this is not a stretch.
Seriously, though, blame the rest of the Big Ten because I didn't want to do this. OSU's offense is as tremendously inept as it has been all season long, meaning they have to play a near flawless game on the defensive end in order to win. LaQuinton Ross fouled out against Indiana (officially 36-percent of the offense on Sunday, unofficially 100-percent of the offense on the season) which made Ohio State's offense less entertaining than an Ellen Degeneres monologue. 
In their last four games, the Buckeyes are 8 of 42 from three-point range, and, Sunday, failed to hit one in a game for the first time since 2004. Seriously, look at the monster you've created, Thad: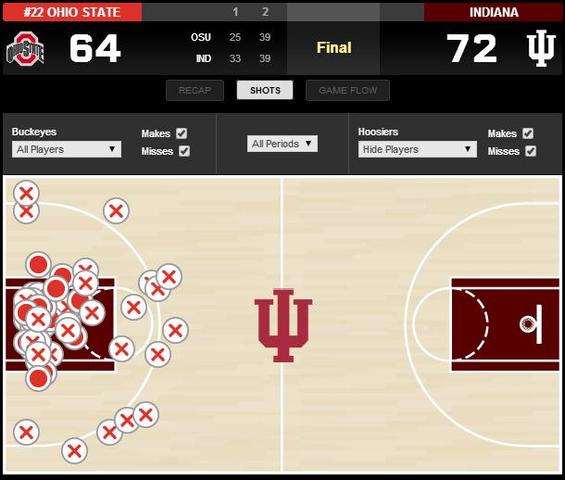 Other than Amir Williams and Trey McDonald combining for six fouls per game over their last 11 contests, the defense is still at an elite level (allowing .89 points per possession, No. 2 in the nation). Which is more than I can say about the next team in our rankings.
5. Michigan State (22-7, 11-5)

Last week (4): 53-46 loss vs Illinois
This week: vs Iowa, at Ohio State
Play both of those videos embedded above at the same time. You won't be disappointed.
On the court, you should be disappointed. The Spartans have lost six of their last 10 games, which includes losses to bubble teams, such as Georgetown and Nebraska, as well as a recent loss to one-time Big Ten doormat Illinois. 
Now that Branden Dawson is back, MSU can't hide behind the "not fully healthy" excuse for the rest of March. To a degree, it's true. Keith Appling hasn't looked confident in his abilities on offense since his wrist injury and, not coincidentally, Sparty is turning the ball over at an alarming rate. Still, that doesn't excuse the lack of movement and flow from the other four guys on the court. The three-point barrage against Purdue was a mirage, clearly. 
6. Nebraska (17-11, 9-7)

Last week (6): 60-49 loss at Illinois, 54-47 win vs Northwestern
This week: at Indiana, vs Wisconsin 
The Huskers were legitimately a win against Illinois away from jumping all the way up to third in these rankings. Of lesser importance, they would have a better shot of making the tournament without that blemish.
A loss the Illini must not go unpunished in the power rankings. Well, that and a 2-8 conference road record. Even though Pinnacle Bank Arena gets the opposing team's heads ringing, it doesn't make up for Nebraska's poor performance away from Lincoln.
Not only will they need a win against Wisconsin, they'll need to win in Indiana, be it at Bloomington or in the Big Ten Tournament. 
7. Indiana (17-12, 7-9)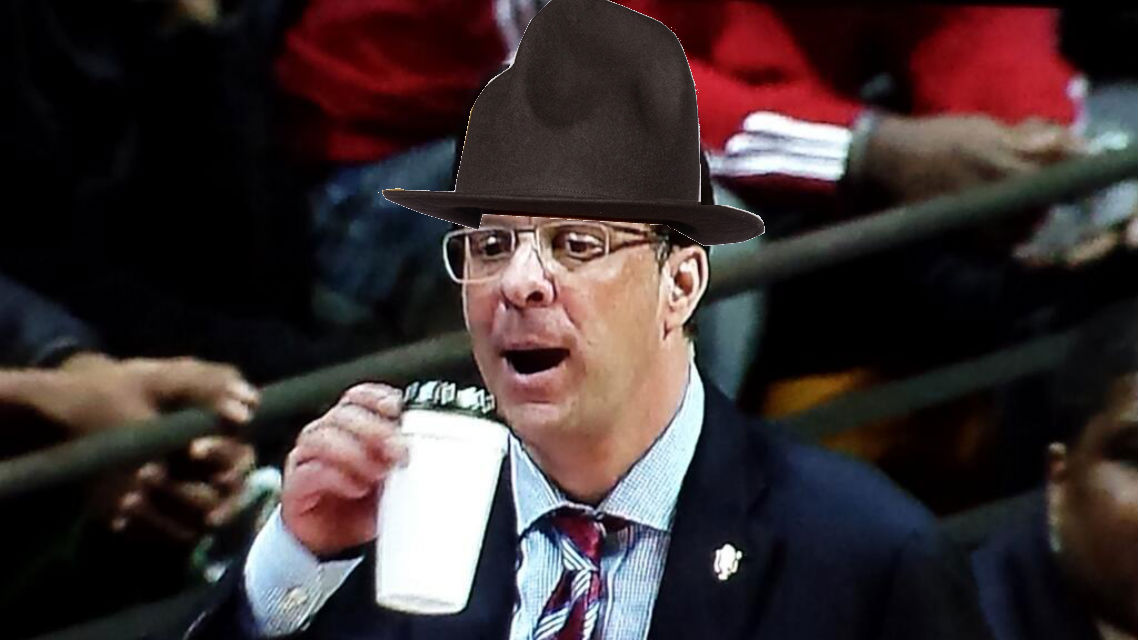 Last week (7): 69-58 loss at Wisconsin, 93-86 win vs Iowa, 72-64 win vs Ohio State
This week: vs Nebraska, at Michigan 
What's the only thing that can contain Tom Crean's ego? Pharrell's hat, of course! (this concludes the useless, pop-culture non-sequitur for the week, brought to you by Bill Simmons). 
Anyhow, the Hoosiers are gaining momentum, winning three of their last four games. Is IU's résumé good enough to merit bubble consideration? Absolutely not, but they are Indiana, so the conversation is already starting.
8. Illinois (17-12, 6-10)

Last week (10): 60-49 win vs Nebraska, 53-46 win at Michigan State
This week: vs Michigan, at Iowa
I've kicked Illinois around since the initial rankings came out, placing them as high as 10 and as low as last (multiple times) because they earned it.
John Groce inserted freshmen guards Kendrick Nunn and Malcolm Hill into his starting lineup following their eighth straight loss in conference play. Since that point, the Illini have played well, going 4-2. Illinois has also held their opponents to fewer than 50 points in each of their past four games, while the Illini defense has jumped up to No. 14, overall, in KenPom's defensive efficiency rankings.
9. Minnesota (18-12, 7-10)

Last week (8): 95-89 win vs Minnesota, 66-56 loss at Michigan
This week: vs Penn State 
The Gophers smoked a scuffling Iowa team, Tuesday, thanks to a career high from Austin Hollins and a team total 11 three-pointers.
They traveled to Ann Arbor in the hopes of achieving a résumé bolstering win, but were never really in that game. So, Minnesota is facing a scenario in which they'll probably have to win their next two games. According to ESPN.com's Joe Lunardi, Minnesota is a 12-seed and one of the last four in.
10. penn state (14-15, 5-11)

Last week (12): 65-63 win vs Ohio State, 71-66 loss vs Wisconsin
This week: at Northwestern, at Minnesota
Despite having two home games to cap off the season, Penn State decided to designate the first game of the week as "Senior Day." 
Guess PSU just needed a way to reinforce their Napoleon complex when it comes to Ohio State. Naturally, they didn't just leave it at that. This year and this sport, at least, the Nittany Lions can flex on Ohio State. 
Good news for opposing coaches: Tim Frazier will be gone after next week's road games. The conference will still have to deal with D.J. Newbill for another year, but it's better than having to match up against both.
11. purdue (15-14, 5-11)

Last week (9): 77-76 OT loss vs Michigan, 83-76 loss at Iowa
This week: at Wisconsin, vs Northwestern
For the second time this season, Purdue is in the midst of a four-game, conference losing streak.
Once consolation: the Boilermakers are generating more offense during their recent skid. Not a consolation: a solid chunk of that is coming from leading scorer Terone Johnson, a senior.
12. NOrthwestern (12-17, 5-11)

Last week (10): 54-47 loss at Nebraska
This week: vs Penn State, at Purdue 
Does anybody remember when Northwestern was .500 in conference and hovering above Ohio State in the standings?
That was before they went on to lose six straight games and fell back to the comfortable obscurity of the Big Ten's basement.