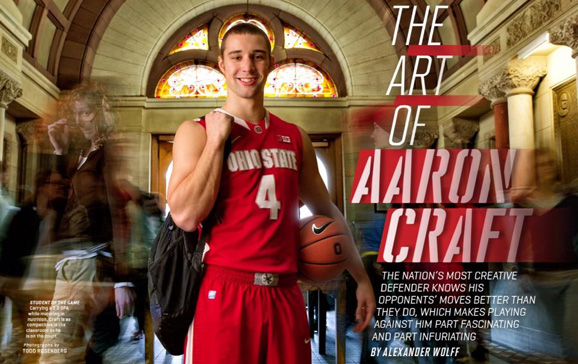 Sports Illustrated's Alexander Wolff spent some time with Aaron Craft last week and the result is a fat profile of Ohio State's star guard in the newest issue of SI.
Buckeye fans know No. 4's story pretty well by now, but even the biggest Craft fans will learn something new about the "nation's most creative defender." Take his burgeoning film career:
Ohio State video coordinator Greg Paulus fields so many requests for a Craft-on-defense teaching tape—"on the ball, off the ball, steals, help, multiple efforts"—that he keeps an edit on his desktop, ready to burn on request.
Or his alpha status on campus:
[Director of basketball operations David] Egelhoff says he can track Craft's movements around campus on Twitter, thanks to breathless updates of female students.
Or his massive brain:
After the Big Ten Network filmed him doing a Rubik's demo last season, Craft mock-complained that the athletic department treats him like a novelty act—"Just your monkey on a unicycle, to be trotted out." Nonetheless, in honor of Pi Day, March 14 (or 3.14), he memorized the familiar mathematical constant to 68 decimal places, one for each team in the NCAA tournament.
Yes. Our monkey on a unicycle, locking up opposing point guards.