Fans think writing about sports is fun and easy, which is why every one thinks they could do it if given the chance.
But it's not. It's a lonely path analyzing and predicting a field enjoyed in large part due to its unpredictability, and it's not like pay comes in gold bars delivered to the vault of your estate every Friday afternoon.
Sports fans also crave content 24/7. There are no weekends. There are no holidays. There is no satiating the 324-comment thread at your door demanding to know if there is any truth to the rumors about the third-string quarterback's pinkie finger.
And thanks to social media, we're free to share our unedited, insipid opinions with hundreds of thousands of people at the click of a pocket keyboard. It's perhaps our greatest folly.
It's amazing any good comes from the wasteland, yet flowers grow from the toxic soil every year. We must still account for the bad, however, in order to do better in 2018.
This is not a "gotcha" click-grab. I want to make it very clear, I too am terrible at my job and amazed nobody has fired me yet. 
I almost made it one month before my first big social media goof, which was probably a record for me:
VIDEO: Jon Diebler shoots 85% from three-point land as Galastray S.K. dumps Maccabi Tel Aviv in Euroleague action. https://t.co/iIXZj1qzxe

— Eleven Warriors (@11W) January 26, 2017
You might say, "That looks fine to me." Thankfully for me, most Americans aren't familiar with the Turkish club Galatasaray S.K, which is a far cry from Galastray.
Then there was this tweet, which stood for nearly an hour and led to my charred corpse being dragged through the streets of Columbus and hanged from the Lane Avenue bridge.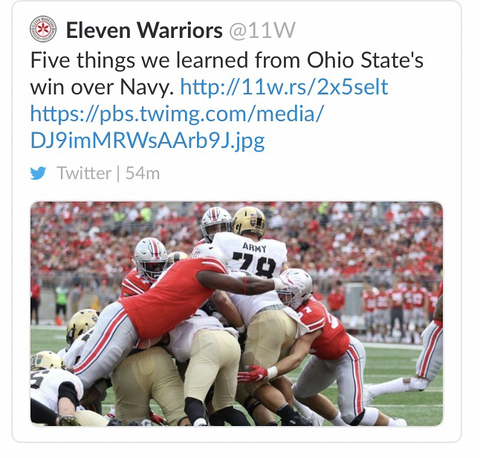 Here's another gem from the first quarter of the Iowa game, which aged like a carton of milk on a 107º day:
There are no more J.T. Barrett haters in Columbus. They're all dead now. pic.twitter.com/6fJOF0bhQS

— Eleven Warriors (@11W) November 4, 2017
Though I deleted my old Twitter two weeks ago, I also had a preposterous string of tweets (redundant, I know) minutes before CFP Selection Show kicked off that went something like: "Ohio State called a press conference at three. Doubt it'd do that if it weren't in. Haters better make sure a barf-bag is within arm's reach, because it's about to get turbulent."
After the selection, I spent five minutes staring at the TV screen like the dumb, broken man I am.
---
Now that I've expiated, let's move on to the year's lesser shenanigans.
It's almost 2018, the year and sportswriters are still taking photos of their computer screens. Remember, kids, an angel loses its wings every time this happens.
Oh, Wikipedia. pic.twitter.com/WRjWgi1zEi

— Bill Rabinowitz (@brdispatch) June 8, 2017
Our message board is still buzzing 2 days after the Penn State win. Come join the fun. pic.twitter.com/OC5Mq4sXbc

— Marc Givler (@MarcGivlerBG) October 30, 2017
OSU leads 38-0 at half has 358-43 edge in total yardage over Illinois pic.twitter.com/8djXBJHJkm

— Steve Helwagen (@SteveHelwagen) November 18, 2017
Halftime stats OSU Michigan tied at 14 Mich 146 yds OSU 117 pic.twitter.com/X9kYVc0IgP

— Steve Helwagen (@SteveHelwagen) November 25, 2017
2017 didn't end with Fake Urban imprisoned in a 6x8 cell for 23 hours a day. Will our national nightmare ever end? I'm not holding my breath.
.@CurtisSamuel4__ - they just discussed your private parts on ESPN.

— Fake Urban Meyer (@FakeUrban) January 10, 2017
Deep Throat, he was not:
Source told https://t.co/KzRLFlxr7u Ed Warinner is staying on staff but his role is unclear https://t.co/KLO2rWooc6

— Ari Wasserman (@AriWasserman) January 3, 2017
Targeting reform is a controversial topic in college football. Never heard it framed like this, though.
College football has to get rid of this "targeting" rule...it's way too subjective to call...any shorter player ducking has huge advantage.

— Michael Wilbon (@RealMikeWilbon) January 3, 2017
When you're trying to do your job but also want to mask your horniness with a glib topical joke:
USC Song Girls are the real Champions at Life.

— Kevin Noon (@Kevin_Noon) January 3, 2017
#Blessed for this insight into the terrible diet of sportswriters. We're killing ourselves to provide you crucial info, people. Show some dang respect.
Kidney stone, out. Stent, out today, finally and mercifully. Anesthesia, mostly gone but might make any #CFP tweets looper than usual.

— Bill Rabinowitz (@brdispatch) January 10, 2017
When mother is mad you slacked on your chores for the third weekend in a row and is threatening to demand rent next month:
The trash truck has never been through earlier than 12pm around here, got the can down to the street by 10am and somehow I missed pickup?

— Kevin Noon (@Kevin_Noon) January 6, 2017
I like to pretend my former Ohio State roommate tweets after having just ingested psychedelic drugs for the first time:
Wow.

— Kyle Rowland (@KyleRowland) January 10, 2017
When you suddenly remember you work with an AP voter but still want to get a take off:
I swear, the absolute dumbest people in America are AP college football voters. Delete your account, all of you. (Not you Landis)

— Doug Lesmerises (@DougLesmerises) January 10, 2017
Ari, thanks:
PSA to Ohio State fans Tweeting crazy stuff at a child. Seeing his face as it was happening was really eye-opening. They are kids.

— Ari Wasserman (@AriWasserman) January 11, 2017
Not to go against the Godfather of Recruiting, but Tate Martell was one of the top dual-threat prospects in the country:
Who are 5 sleepers in 2017 rankings? @RivalsMike likes Tate Martell and a few others. https://t.co/caCW6Ruxj0 pic.twitter.com/9CAPSFet0I

— Bill Trocchi (@billtrocchi) January 17, 2017
I don't remember, but Antonio Brown either live streamed after a Steelers win or provided damning information about his Mafia cohorts to the FBI.
Antonio Brown a snitch. What happens in the locker room supposed to stay in the locker room.

— jbook (@jbook37) January 16, 2017
They say journalism died before 2017. Don't listen to those critics.
With Rome trip upcoming, Michigan equipment manager asks Pope for his shoe size https://t.co/u6iLOJhqed pic.twitter.com/xbeGUldDT0

— Land Of 10 (@landof10) January 24, 2017
One good trick to inflate traffic numbers for corporate overlords in Atlanta is making content out of other outlets' subjective lists:
ESPN: 2016 Ohio State draft class best in NFL history https://t.co/CS2eAk2ld7 pic.twitter.com/oymMyBotaZ

— Land Of 10 (@landof10) January 24, 2017
As you can see, it's a trick that works.
The Game, Rose Bowl, Orange Bowl listed in top 5 of SB Nations top 100 games of 2016 https://t.co/91t8XiT60w pic.twitter.com/Y8dRMHQekA

— Land Of 10 (@landof10) January 24, 2017
This, however, is still not Marshon Lattimore:
.@LanceZierlein's Mock Draft 1.0:

1. CLE: Myles Garrett
2. SF: Mitch Trubisky
3. CHI: Jonathan Allen
4-32: https://t.co/DoH2UBz3yg pic.twitter.com/MnvuRTppgB

— NFL (@NFL) January 31, 2017
Who in the hell is Joe?
Joe! Joe! Joe!

— Kevin Noon (@Kevin_Noon) January 31, 2017
Smarmy blogger microwaves laptop in sad publicity stunt to showcase anger over intentionally obscure tweet.
Ohio State Signee Baron Browning Had A Hilarious Reaction To Marvin Wilson Picking FSUhttps://t.co/bbRopUILXm

— The Spun (@TheSpun) February 1, 2017
Why clickbait an article by with-holding Kerry Coombs' name while also including his picture? Another deep hit from the corporate carbetbagging social media guideliness:
Ohio State assistant named https://t.co/YChIpmRijWs recruiter of the year https://t.co/totQSMi31N pic.twitter.com/Wxf2btIgg0

— Ohio State Buckeyes (@Buckeyes) February 2, 2017
How are those mushrooms treating you, Rowland?
Wow.

— Kyle Rowland (@KyleRowland) February 6, 2017
Even the G.O.A.T. of the Ohio State beat can make a bad tweet, which shows the mortality of the rest of us:
Major development in Super Bowl LI.

— Tim May (@TIM_MAYsports) February 6, 2017
Love to watch sports:
Final Four, NBA Finals, World Series, College Football Playoff, Super Bowl -- hell of an exciting stretch for sports. Drama at its highest.

— Kyle Rowland (@KyleRowland) February 6, 2017
If only there were a news organization to discern Twitter rumors from fact.
Chip Kelly To Alabama Rumors Are Heating Up On Twitter https://t.co/n5pvn2aZAM

— The Spun (@TheSpun) February 7, 2017
I thought Wowza died in IRC chatrooms in 1996.
Wowza. Ouch.

— Ross Fulton (@RossRFulton) February 7, 2017
Poor Michael missed the month where everybody on Twitter memed Young Pope into the ground.
I haven't heard a single person talk about "young pope" on HBO but it's a pretty good show. I thought it was supposed to be a big deal

— Mike Bennett (@mike96bennett) February 8, 2017
Keep in mind this is coming from the first man in history to eat P.J.'s sober: 
Every campus pizza place is vastly overrated. https://t.co/d2i2TxEj9B

— Andrew Lind (@AndrewMLind) February 9, 2017
When you're trying to do your job but you're also horny and hungry:
I get way too wrapped up in watching Top Chef instead of doing my job and watching college basketball. #TeamBrooke @ChefBrookeW

— Kevin Noon (@Kevin_Noon) February 10, 2017
This man claims he had an all-time favorite horse:
My all-time favorite horse :( https://t.co/vzXLjg0Zi0

— Kyle Rowland (@KyleRowland) February 20, 2017
2017 was not the year one man stopped manually RT-ing takes with painfully obvious observations:
Michael Brantley took a big step in his effort to come back, as Tom Withers writes. https://t.co/SrgmBnfRvp

— Buster Olney (@Buster_ESPN) February 25, 2017
Huge step for Brantley this week. https://t.co/wEFD6qmDnI

— Brandon Castel (@BCastOhio) February 25, 2017
Please don't take a screen cap of a video that includes the play video. I just clicked it. For like 30th time.
WATCH: @baronbrwnng and @Jkdobbins22 send a message to recruits with an old-school jam (FREE)https://t.co/TyBs82VVho pic.twitter.com/I2pxDu71PD

— Bucknuts (@Bucknuts247) March 20, 2017
Dean! Everything alright over there?
March 21, 2017
Biggest way to get dumped in your office:
Upset alert: It's time to dump March Madness office pools https://t.co/08GxrFlwZS. My latest Chicago Tribune column.

— robert reed (@Reedtribbiz) March 20, 2017
I'm not going to lie... this is my favorite tweet of the year. I am laughing as I type this.
Former 49ers great WR Dwight Clark reveals he has ACL #NFL https://t.co/s2VTX5ztcH

— Michael Carvell (@Michael_Carvell) March 20, 2017
Hell, Rowland is rolling again. Watch out, folks!
What an absolute choke by Arizona. Wow.

— Kyle Rowland (@KyleRowland) March 24, 2017
Wow.

— Kyle Rowland (@KyleRowland) March 25, 2017
Wow!

— Kyle Rowland (@KyleRowland) March 25, 2017
My biggest guilty pleasure is media feuds... but especially those between local television personalities over stories about carpooling to work:
https://t.co/Sw9MiMwZ7p Ever wanted to try carpooling to work, but afraid of being stranded w/o car? Here's something that can help! @nbc4i

— Courtney Yuen (@courtyuen) March 29, 2017
Same story I did 2 days ago. They even talked to those I quoted in my story. It's proof they know who does the best news first. U R welcome. https://t.co/hlbS7LWTKY

— Kimball Perry (@kimballperry) March 30, 2017
I guess we have a different opinion on the meaning of the word "good."
The Hokies are getting a good one, as former OSU wideout James Clark will reportedly transfer to Virginia Tech https://t.co/b3qo3Mfy1e

— Land-Grant Holy Land (@Landgrant33) March 31, 2017
Wild scenes in downtown Columbus back in April:
I have never seen this before I am going east on I 70 from downtown Columbus in there are six separate cars pulled over for speeding

— Steve Helwagen (@SteveHelwagen) April 10, 2017
When you're still hungry for the clicks but also need #content to shoehorn into your new Big Ten-centric site during the offseason:
2017 Masters: Leaderboard, updates, TV schedule, Sunday tee times, pairings for final round https://t.co/C6Q5wADOJC pic.twitter.com/1bmX4U5eNH

— Land Of 10 (@landof10) April 9, 2017
2017 NBA Playoffs: Scores, live updates, results, schedule for Friday (4/21/17) games https://t.co/TIrKem9ABz pic.twitter.com/BDu8RsLwNm

— Land Of 10 (@landof10) April 21, 2017
Hard to believe the worst truck in the world involves a Penn State fan.
@IAmSpilly I found it. The worst truck in the world pic.twitter.com/GTsRvzLDMf

— David Shucosky (@ColHapablap) April 21, 2017
Let's check in on Skip Bay—okay, okay. I've seen enough.
Aaron Hernandez had it "all," from national title to potential HofF career for dynasty. But nothing made him happier than being a gangster.

— Skip Bayless (@RealSkipBayless) April 19, 2017
I'm the same guy that once tweeted "Bruce Earle," and I feel terrible when I see this stuff but I still need to get these laughs, and the imagery of draft boars is delightful.
John Elway says Broncos draft boars is pretty much set https://t.co/npTQ2pxNVJ pic.twitter.com/lQxUQI9vSB

— All 22 (@all22) April 24, 2017
What's the worst adjective you could use to describe Olive Garden?
I'm at the Olive Garden, which is lovely.

— Timmy Hall (@TimHall971) April 28, 2017
The only two tweets I sent to the Pulitzer committee this year:
Nick Saban Will Be Paid A Lot Of Money This Season https://t.co/NghJ1zzeLm

— The Spun (@TheSpun) May 2, 2017
Darren Rovell drops 2 mind-blowing facts on Nick Sabans new contract https://t.co/FObuMOavpI

— Michael Carvell (@Michael_Carvell) May 2, 2017
I wish I could delete this from my memory:

Dean! Dean! Are you with us, baby?
I i###### https://t.co/BPcaBIFZzx

— Bill Kurelic (@Bill_Kurelic) May 3, 2017
Lavar Ball and Zach Smith: The worst feud of 2017. I'm still angry this happened:
What if you can't afford a logo and marketing design team?? Are you THEN, not a BIG BALLER? https://t.co/kIlvDadWWM

— Zach Sith #Zone6 (@CoachZachSmith) May 5, 2017
Some of us have genuine, original work to do... so I'm going to bed to catch this flight in the AM-New AVI tho...
 

— Zach Sith #Zone6 (@CoachZachSmith) May 5, 2017
Noon stays ready to rumble. As a Marionaire, I can respect it.
People making truck stop Popeyes so difficult about ready to get throat-punched.

— Kevin Noon (@Kevin_Noon) May 6, 2017
Two things:
That's not a bar.
Unsolicited P.R. advice: No reason to shit on a Buckeye national title in any sport.
BUCKEYES WIN THE NATIONAL TITLE IN VOLLEYBALL!! The bar goes crazy!!! pic.twitter.com/ghyeVzUc8r

— Kirk Barton (@Kirk_Barton) May 7, 2017
Ummm...
Has Urban asked you and Stacy to try and have any more sons yet?

— Jeremy Birmingham (@Birm) May 7, 2017
You don't have to do this. We have families. Please. If we asked for NHL content, we wouldn't follow a Big Ten site.
2017 NHL Playoffs: Schedule, scores, live updates, results, games for Tuesday (05/09/17), second round https://t.co/sAKj5UZbgg pic.twitter.com/Bx7fHk7YNG

— Land Of 10 (@landof10) May 9, 2017
Is that source Kyle Rowland?
Source on UM Rome visit: If you ran Harbaugh down one side of street and the Pope down the other, not sure who would draw biggest crowds."

— Dennis Dodd (@dennisdoddcbs) May 11, 2017
And this year's "Life comes at you fast award" goes to...
Since I've gotten a few people asking, I'll reiterate: JaQuan Lyle is NOT transferring from the #Buckeyes. The rumors can stop.

— Adam Jardy (@AdamJardy) May 2, 2017
At the hospital where my nephew was just born, can confirm that JaQuan Lyle quit the team April 11.

— Adam Jardy (@AdamJardy) May 13, 2017
Bill Simmons aged worse than my "J.T. Barrett haters are dead" tweet from the first quarter of the Iowa game and apparently thinks Larry Bird is better than LeBron James.
I'm not going to Game 2 tonight but believe it's crucial for C's fans to loudly chant "You're a ba-by!" every time LeBrob bitches at a ref.

— Bill Simmons (@BillSimmons) May 19, 2017
I think LeBron is 1 of the best 5 players ever, but he bitches for calls more than any great player I've seen in 40+ years of watching hoops https://t.co/lAJuOgBQ7A

— Bill Simmons (@BillSimmons) May 19, 2017
It speaks to Pitbull's powers that he wasn't cyber-bullied into deleting this:
Today we remember those who made the ultimate sacrifice for America #MemorialDay pic.twitter.com/yrnGIdB2St

— Pitbull (@pitbull) May 29, 2017
I took no pleasure out of seeing Thad Matta walk the plank, but I'm glad Mark wasn't in charge of the search committee to replace him.
June 9, 2017
Bet you won't talk that shit down in Dayton, Hooley.
Gene says he and Holtmann met at "an incredible place" in Dayton. Been there many times. No such place exists.

— Bruce Hooley (@BHOOLZ) June 12, 2017
Imagine if the Cavs scored more points? They'd be winning the game. We're just asking the questions here.
Durant the only way the Warriors win this series. Imagine them without him right now?

— Brandon Castel (@BCastOhio) June 13, 2017
The worst headline of the year (again, you're a Big Ten site):
Oh, you thought we were doing bad takes and it wasn't going to involve Bert? The 2038 recap will include Bert.
Bret Bielema said his wife didn't want to use any painkillers when she delivered their daughter. "She wanted to do it a la carte."

— Andy Staples (@Andy_Staples) July 10, 2017
Then why are you reporting it?
#OhioState has a new director of player development, but we dont know what that means yet (FREE)https://t.co/cS74XOZzhL

— Bucknuts (@Bucknuts247) July 14, 2017
Dean! Good lord he's turning purple:
July 20, 2017
Nooooope. Noooooooope. Not today, Satan:
.@kriswernowsky put together a list of the five places where you can burn your Kyrie Irving jersey when (if?) he's traded. pic.twitter.com/Dhvly2iL1V

— clevelanddotcom (@clevelanddotcom) July 26, 2017
Not sure what's worse: "talking about Iowa football again" or the graphic included only to garner more #clicks:
FOX Sports Joel Klatt, Colin Cowherd are talking about Iowa football again https://t.co/Rbxeu602nz pic.twitter.com/NzMIr6w0CD

— Land Of 10 (@landof10) July 28, 2017
Have you seen this man jump?
Could J.T. Barrett make the shift to WR?

College stars who will need to change positions to succeed in the NFL https://t.co/K39COn6rAd pic.twitter.com/78uyDyzReE

— Bleacher Report (@BleacherReport) July 29, 2017
What in the actual fuck is even going on with local news anymore?
Should you seal your penis shut with a Jiftip sticker during sex? It's risky, doctor says https://t.co/BEpzaUyoBp pic.twitter.com/BfHqoI063h

— Zanesville News (@TimesRecorder) August 3, 2017
LOL? LOL.
Photo gallery from OSU hotel check-in day for camp, there were 23 of us working as paparazzi LOL https://t.co/dZIKnX1NtP pic.twitter.com/XJmqteiOpl

— Bucknuts (@Bucknuts247) August 7, 2017
Baby Boomers will get this technology thing down in 2018:
2017-08-09-VIDEO-00000018.mp4

— Mike Leach (@Coach_Leach) August 10, 2017
R.I.P. to the fallen:
Watch: Tony Alford talks about his death at running back (FREE)https://t.co/uiJlvQdRDM

— Bucknuts (@Bucknuts247) August 19, 2017
#Huskers Developing Death at Left Tackle https://t.co/cosQTsVrzh

— Hail Varsity (@HailVarsity) August 19, 2017
Is it?
It's crazy how much he looks like his brother pic.twitter.com/LXCGa768sb

— Ari Wasserman (@AriWasserman) August 21, 2017
This is not what a doppelganger is:
Confederate General Lee doppelganger pulled from upcoming University of Virginia football broadcast: https://t.co/rRTtAmZ5lR pic.twitter.com/nEqAujm2Hk

— Reuters Top News (@Reuters) August 23, 2017
C'mon now, Dayton! Bruce Hooley is watching!
Dayton Public Schools approve 1.0 GPA minimum requirement for athletic eligibility: https://t.co/RqIcUvynmo pic.twitter.com/6bI1QsyUoU

— Local 12/WKRC-TV (@Local12) August 23, 2017
N.C. State was a remarkably bad pick back in August, so props:
My FINAL @CFBPlayoff picks:

Alabama
Ohio State
Stanford
NC State

— Cole Cubelic (@colecubelic) August 25, 2017
Define "VERY good."
Campbell, McLaurin, Dixon, Mack, Hill, and Victor have potential to be a VERY good 1-6 at WR for Ohio State this fall.

— Jeremy Birmingham (@Birm) August 25, 2017
The official mascot of ~13% of Cleveland fans:
Live from Cleveland pic.twitter.com/RYE1yJlHWO

— Chris Thomas Plante, or Christmas Plant for short (@plante) August 26, 2017
Jud Heathcote coached basketball, FYI:
Former Michigan State coach Jud Heathcote dies at 90 https://t.co/lUB8SWt0NK pic.twitter.com/mkq5Ovt8uh

— ABC6 (@wsyx6) August 29, 2017
Zoom lens on point here:
In a dark, under-construction hallway, Urban Meyer has arrived at Memorial Stadium with his Buckeyes. pic.twitter.com/hcyBjy6mmN

— Austin Ward (@AWardSports) August 31, 2017
I would like to cast my vote to kick Rascal Flatts out of Buckeye Kingdom. I'm sorry but they're terrible.
You feel that? It's football season y'all! Who you got this weekend? #UnitedWeFan #CollegeColors pic.twitter.com/ViAADJRRkW

— Rascal Flatts (@rascalflatts) September 2, 2017
Dima! Dima! Dima!
JK Dobbins feels a lot like Mike Hart.

— Dima (@suckatsports) September 3, 2017
The Pros choked this one up to UCLA, Gottlieb.
Ags won this thing in recruiting. Pros vs Joes - #SEC West is still stacked

— Doug Gottlieb (@GottliebShow) September 4, 2017
Hey Taylor Swift, how would you like to spend the night with a Toledo TV reporter/insane Michigan fan?
Oh my god. I need Michigan or Ohio State to be in that game so I can be there. Please sweet baby Jesus!!!!!! https://t.co/I2GN55dwCp

— Jordan Strack (@JordanStrack) September 5, 2017
Don't follow gambling advice from Dan Wolken. You will lose everything.
Im still kinda stunned by the Bama-Vandy line (19.5). I dont think its a slam dunk Bama will even score 19 on this D

— Dan Wolken (@DanWolken) September 17, 2017
"I thought he died a long time ago."
Jake LaMotta died today. I thought he died a long time ago. For those who don't know him, watch "Raging Bull."

— Bill Rabinowitz (@brdispatch) September 20, 2017
When you're young and swinging for the fences (which I respect):
Ohio State is important, but Michigan State is the main rival for Michigan football, from @shawnwindsor https://t.co/0T72Dvd2jh

— GreenandWhite.com (@LSJGreenWhite) October 3, 2017
This is not the time or place for a #GoBucks hashtag. But clicks!
Former Ohio State RB Brionte Dunn arrested on rape and kidnapping charges, per report #GoBucks https://t.co/bSna1UXp8o pic.twitter.com/qwdMrgxh7b

— Landof10 Ohio State (@Landof10OSU) October 4, 2017
I don't have to pay for this #content? It's really FREE? I must be dreaming.
Clay Travis calls Jim Harbaugh overrated (FREE)https://t.co/2HOFRn6VZ3

— Bucknuts (@Bucknuts247) October 9, 2017
Janet Reno passed away 11 months ago. Thanks for the @:
Shalala steps up to the plate. Where you at @JanetReno in our time of need? https://t.co/4AFjRDasYP

— mgoblog (@mgoblog) October 11, 2017
All hail internet rumors:
Rumored Ohio State alternate helmet for Penn State game. pic.twitter.com/70ffbRkmak

— Chris Emery (@Chris_Emery13) October 17, 2017
When it's your first day on the job and your boss asks if you have experience with photoshop:
Sports columnist @DBriggsBlade decrees it: The #Buckeyes will beat Penn State. The weekly crystal ball: https://t.co/2IIts0gT3u pic.twitter.com/T8MCqtgbX1

— Toledo Sports (@toledosports) October 26, 2017
The Penn State game deserved its own column. The takes reached the hottest temperatures of the year on Oct. 28th.
Hate to say it buuuuut....that's prolly ball game. Just based on the numbers.

— JAY RICHARDSON (@JayRichardson99) October 28, 2017
If JK dobbins gets 17 carries in the 2nd half, #Buckeyes win. If JT ends up leading ball carrier OSU loses.

— Matt Finkes (@MattFinkes) October 28, 2017
Surrender.

— Doug Lesmerises (@DougLesmerises) October 28, 2017
Garbage team

— Tim Jessberger (@tjessberger) October 28, 2017
Dear Ohio State. Have some pride.

— Dave Portnoy (@stoolpresidente) October 28, 2017
Dave Portnoy shouldn't even be telling a dead slug to have some pride. That slug lived more honorably than the man who shed actual tears after the Patriots lost their opener.
Somebody needs to tell Stewart Mandel his search history conjures the hot babes:
@BruceFeldmanCFB Dang, we may need to start slapping a NSFW tag on your Heisman column. pic.twitter.com/VKFR3kGy0V

— Stewart Mandel (@slmandel) October 29, 2017
I want to drink 1,000 beers with the Wagen:
I am checking to verify this rumor

— Steve Helwagen (@SteveHelwagen) October 31, 2017
So, Mrs. Lincoln, who was your favorite actor?
Who was Ohio State's offensive MVP in the Buckeyes 55-24 loss at Iowa?

— Landof10 Ohio State (@Landof10OSU) November 5, 2017
No. Just, no.
I'd actually be cool with 3-10-year sentences for shoplifting here in the USA. Who likes a shoplifter? And that long of a sentence would put a stop to it pretty quick.

— Dave Biddle (@davebiddle) November 8, 2017
If I saw this take blind, I would suspect it came from a casually racist Korean War veteran from New England:
Watched Get Out for the first time last night. Acting was bad, didnt expect it to be good. Found plot mostly boring until last 30 minutes or so. Filmmaking captured suspense. 6/10

— Jacob Myers (@Jacob_Myers_25) November 12, 2017
When you're a newspaper hip to the "me-me's." I cancelled my subscription of this tweet:












































 

— Columbus Dispatch (@DispatchAlerts) November 10, 2017
They're literally holding a volleyball:
November 17, 2017
It's amazing how many reporters refuse to crop their photos, unlike me, the guy who always crops his photos:
JOURNALISM 101
Today in photo editing, we'll explore what's known "cropping" ...@JournalistsLike #PartyLikeAJournalist pic.twitter.com/L7m4TbFK3R

— Jim Walters (@LordOfWalteria) November 17, 2017
#GoBucks!
Oklahoma QB Baker Mayfield grabs crotch, curses at Kansas after TD #GoBucks https://t.co/wmeDFNep2j pic.twitter.com/OL4EpgBqQ9

— Landof10 Ohio State (@Landof10OSU) November 18, 2017
"He's not the most talented" is too good.
It was a privilege to meet the Barretts todays and shake their hands raising such a respectable, God fearing young man. Hes not the most talented but Ill take him in my team any day pic.twitter.com/Tqzv1nOXSN

— Bobby Carpenter (@Bcarp3) November 18, 2017
The shocking thing here is somebody invited Darren Rovell to Thanksgiving:
Was the star of my Thanksgiving when I walked in with my Apple Turnover Chain pic.twitter.com/KV2lAJpDEF

— Darren Rovell (@darrenrovell) November 24, 2017
I'm still not convinced this wasn't a "guerrilla marketing" stunt, which makes me want to log off forever. 
Black Friday **** Need copy and link****

— McDonald's (@McDonaldsCorp) November 24, 2017
Turns out you might not want to blather about games you know nothing about:
Dan Dakich is off the leash now. "Miami is going to win by 625 points. I don't know who Pittsburgh's coaching staff is."

— Jacob Myers (@Jacob_Myers_25) November 24, 2017
WHY ARE YOU ASKING ME?
Question: Was Munford or Prince in there last possession? I forgot to take notice.

— Bill Rabinowitz (@brdispatch) November 25, 2017
Mark May has turned into that obscure uncle sharing conspiracy theories on Facebook:
Am I the only person that can see Greg Schiano is making all the decisions for @OhioStateFB? Urban Meyer CANNOT make a decision on offense, defense or special teams. Has Meyer lost it or is Schiano the true head coach?

— Mark May (@mark_may) November 25, 2017
Ohio State beat Michigan again, which didn't at all make MGoBlog .... aggrieved.
The largest Michigan site on the internet shutting down comments because some adults can't handle some negative posts is about the lamest thing I've ever seen

— Alex J Dull (@UMxwolverines1) November 26, 2017
it's second to your avi, registered sexhaver

— mgoblog (@mgoblog) November 26, 2017
why dont your gf fix her teeths

— mgoblog (@mgoblog) November 26, 2017
"Classy!" (Is that how a Michigan Man would use that word in this situation?)
In 132 seasons!?
Was interested so I looked it up:
In 132 seasons before Greg Schiano, Rutgers had a .511 win percentage.
In 11 seasons with Greg Schiano Rutgers had .503 win percentage.
In six seasons after Schiano .446...
Not as dramatic an uptick as I expected

— Barton Simmons (@bartonsimmons) November 26, 2017
No, Mike. No.
I've given this a lot of thought and I've decided @TBDBITL needs to add more Night Ranger to their repertoire.

— Michael Citro (@Mike36fan) December 5, 2017
This take is bad, unless Ohio State is the good, in which case it's good:
USC vs Ohio State in Cotton Bowl. A battle of good vs evil. A battle of highest integrity coach vs one who coached 37 arrested players on a squad of 85. A battle of a team that jaywalked but received the death penalty, vs. a team that committed murder and got a parking ticket

— David L. Bahnsen (@DavidBahnsen) December 3, 2017
Is that... no! No! It can't be! Kyle Rowland is back off the mat, yall!
Despite the ominous proceedings, Michigan held a four-point lead with under five minutes to play. In the final act of their 40-minute tableau, the Wolverines opted for a sequel, foundering once more and leaving Columbus with a stinging defeat. https://t.co/eipHDMmQN3

— Kyle Rowland (@KyleRowland) December 5, 2017
Ah yes, the famous Woody quote we all love to know:
#Buckeyes head coaching legend Woody Hayes said a number of great things during his tenure. Here are some of the, (FREE)https://t.co/EVubXS9Ew4

— Bucknuts (@Bucknuts247) December 15, 2017
With Dakich, it's absolutely about him.
This is absolutely not about me .
It is complete Bull$&@$ that parents of @ncaa basketball players have to pay $10 to park to watch their kid

— Dan Dakich (@dandakich) December 16, 2017
C'mon now, Ben! We both know you stole this tweet so you might as well just type the curse word. (Congrats on the RTs, though.)
Guys literally only want one thing and its fng disgusting pic.twitter.com/UlMnaE6V6v

— Ben Axelrod (@BenAxelrod) December 16, 2017
*reaches into the depths of Finkes' timeline of darkness and selects a tweet at random* This will do fine.
If I'm Commish, instead of a fine, I make JuJu fair game for next big hit. Let it be known to defenders, no penalty or fine for next hit to the head. Maybe I should be commish of #XFL @VinceMcMahon https://t.co/1dKDSkzKG7

— Matt Finkes (@MattFinkes) December 17, 2017
I like Cheerios, but only somebody with ten dead bodies in his crawl space would call them delicious.
I had some Cheerios today. Delicious. https://t.co/CwegUvyJuZ

— Ryan Ginn (@rmginn) December 19, 2017
What made Miami so hard to play were all the guys named Blake who went to private school:
Blake Bacevich (@BBacevich) signed his letter of intent to play for @GoBearcatsFB today:

"We want to make it like 'The U' in the 90's" pic.twitter.com/yJLenSBLqS

— Joe Danneman (@FOX19Joe) December 20, 2017
No, no he did not.

Lets try this again ...
ANSWER: Still, no. He was addressing me by name, which is also a city in Texas. https://t.co/yu2IyaWKVV

— Austin Ward (@AWardSports) December 21, 2017
Penn State comments continue to show the decline of our nation's critical thinking skills:
In the last month Ohio State lost 3 Five Star commits and and lost nearly every big time recruit on signing day including an in-state OL to Clemson. Something is going on behind the scenes. Major coaching staff questions, HC in latter part of career, blown out in big games.

— Nittany Nation (@BasicBlues) December 21, 2017
Honestly, this sponsored avocado toast post is the most interesting thing the Land of 10 boss man posted all year:
Tailgating Recipes in The Flavor of Football Presented by Texas Pete Muffuletta Avocado Toast https://t.co/r6rlkjda9f

— Michael Carvell (@Michael_Carvell) December 21, 2017
Feel I missed anything? Feel free to put them in the comments.