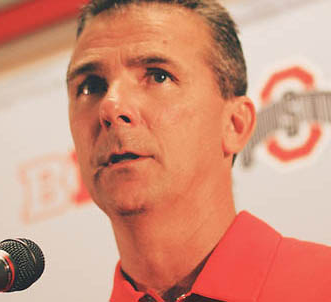 Christmas is over. The presents are unwrapped, and the man-children are rubbing their eyes sleepily as mom (Michael), dad (me), and Santa (11W's own recruiting guru Jeremy Birmingham) all sit around the fire and discuss the day's events.
Yes little ones, it's a special edition of the Eleven Dubcast. Sorry we're a little late this week, but we thought that nothing could sing you off sweetly into this cold winter's night than a signing day recap where we delve into all the thrills, chills, and of course, the spills that all were apparently wrapped up for the Buckeyes by about, oh, 10:30 am EST.
But that's cool though because Urban Meyer and company once again hauled in an incredible recruiting class, one with 16 four star players, one widely heralded five star player, and a random assortment of three star players that in four years we'll either completely forget the names of or hold up as paragons of virtue that smashed a biased ranking system with their amazing play.
SIGNING DAY! The craziest, hopefulest, weirdest, schadenfreudiest, creepiest day of the year in college football! Join us after the cut as Michael (sorry I made you the mom), Jeremy, and I break down the day that was, and talk about why it was the single most important day in Ohio State football history in at least a month.
All this, plus Ask Us Anything (which you can do by either hitting us up on Twitter or sending an e-mail to elevendubcast@gmail.com)! I talk about which animal I want to be reincarnated as, yesssssss!
0:23- Jeremy stops in to talk recruiting with yours truly and Michael, and offers up some really great insight in the the Malik McDowell situation, amoung a billion other things.
21:27- Ask Us Anything! So many great questions, I treasure them all like a foil plated Ken Griffey Jr. rookie card.
Music for the Dubcast was Back Like 8 Track by The Go! Team and Little Busters by the Pillows. And that's it! We'll be back on our regular schedule next week, and we'll see each and every one of you then.