Aside from another severe winter storm that's fixin' to blast Ohio, there's nothing that looms heavier over the landscape of Ohio State than national signing day. Tomorrow morning, fax machines all over the country will be used for the first time since last signing day and the hard work of (in some cases) two-plus years of recruiting efforts will pay off in spades for some while others remain brokenhearted and jealous, admiring the influx of talent to the tradition rich programs of college football.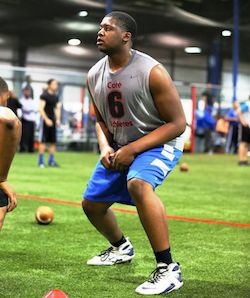 For the Buckeyes and head coach Urban Meyer, it appeared that this year's version of signing day would peaceful, but the last two weeks have thrown a sizeable wrench into that perceived serenity, and the Buckeyes will wait anxiously on two remaining targets; Jamarco Jones and Malik McDowell.
Jones, who committed to Ohio State in late June, is a four-star offensive tackle, ranked as the 4th-best tackle in the nation according to 247Sports.com. His recruitment had remained a relatively silent one until about two weeks ago when it was rumored that he'd take one final trip to Michigan State prior to signing day. The Spartans were a close runner-up to the Buckeyes when he committed in June, but by all appearances Ohio State remained in good shape with the Chicago native. This past weekend, he made the trip to East Lansing and since then has gone radio silent, leaving pontificators and analysts and coaches and players alike wondering what his next move will be. 
According to Jones' high school coach, Mike Boehm, Jones would be informing the coaches at each school of his final choice today (Tuesday) at some point, without any definitive time stated. Jones, who has never been much for the publicity that comes with recruiting, has not said if his choice would be announced via Twitter or any other medium, so it's entirely possible that the majority of us don't get the information on his decision until either Ohio State or Michigan State receive his letter of intent and the subsequent announcement from the "winning school." The Buckeyes and the Spartans have made Jones a priority since the start, so it's not a surprise that his decision has come down to such a riveting conclusion. 
"Michigan State made Jones' initial final group of three and the belief was it came down to Ohio State and Michigan State when he decided in June," MSU recruiting writer, Mike Wilson of SpartanDigest.com told 11W about their pursuit of the 6-foot-5, 290 pound Jones. "Getting an in-home visit and an official visit late in the process and close to signing day is huge for the Spartans and they surely did all they could on the visit to get Jones enamored with MSU. He was one of the top offensive line targets for MSU all along and getting him to flip would give what is a solid class a cornerstone piece it has lacked and at the position the Spartans needed to address the most in this class. I think he picks Michigan State."
In my opinion, it's the Buckeyes who are in the "lead" position for Jones, despite the recent trip to Michigan State and all the rumblings of an impending flip. While social media needs to be taken with many grains of salt, Jones' Twitter remains littered with Buckeye-centric paraphernalia and he remains in regular contact with Ohio State commitments. He's built an excellent bond with a number of "Dream '14" members in the last seven months and has become very close with Urban Meyer as well. His mother, while not being vocal about her preference, seems to prefer Ohio State and did not escort him on his recent official visit to East Lansing, although she's been there with him previously.
Yes, there's the "issue" of Mike Vrabel's departure, and there's a chance Michigan State is selling him on the continuity of their staff (No one else is bring Jim Bollman to town.) Jones has good relationships with Spartan commitments as well, namely fellow Illinois-native Brian Allen, but I still feel the Buckeyes were his choice in June for a reason, and I think he sticks with the Buckeyes.
MALIK MCDOWELL

Malik McDowell's recruitment may be one of the strangest five-star recruitments of all time, and it's recently getting even stranger. A 6-foot-7, 290 pound defensive lineman who could project at offensive tackle in college, McDowell's parents have been very vocal recently about their preference. Greg McDowell, Malik's father, pulled no punches in his interview with 247Sports.com's Steve Wiltfong.
"I want him out of Michigan. I don't care if that's Ohio State or Florida State."
Not something you see every day, is it? Especially when it flies in the face of conventional wisdom which in this case said McDowell's parents strongly favored Michigan all along, while the defensive end himself was leaning towards Michigan State. Again, I asked Scout.com's Mike Wilson for his thoughts.
"Securing the top in-state prospect is always a goal for the Spartans and McDowell seems to give Michigan State a shot to take that player again. The rumors about him liking MSU for a while seem true, but the obstacle appears to be getting the parents on board," Wilson said. "If he/the school have convinced the McDowells, he could be headed to East Lansing. Florida State and Ohio State are the leading threats right now. I like Florida State personally, but this has been a wild recruitment to follow."
McDowell visited Ohio State officially this past weekend and according to his mother, they had a great visit to Ohio State and the Buckeyes have become a dark horse favorite to land the five-star. When it comes to McDowell, nothing is going to be known until the morning of signing day when McDowell makes his choice from his high school, he's going to have an announcement at 9:30 a.m. and the Buckeyes are feeling as if they're in a good position.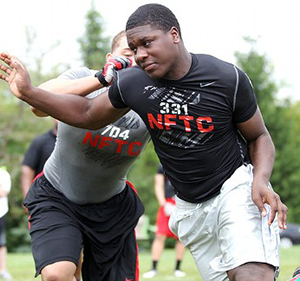 I believe Malik McDowell signs with the Buckeyes tomorrow morning if he cares about his parent's desires. If not, he'll sign with Michigan State at some point.
BOTTOM LINE

Ohio State will finish the 2014 class with a group that's ranked in the top five of the country, with or without Jones and McDowell. However, losing Jamarco Jones would without question be a major blow to an offensive line class that is vitally necessary for the Buckeyes moving forward. Jones and Demetrius Knox are key pieces to a unit that is losing four starters and losing either one of them would move the offensive line group from a "good" group to an "average" group solely based on numbers. 
Eleven Warriors will have more on Jamarco Jones and Malik McDowell as information becomes available, but at this time, we're all reading tea leaves and trying to piece together a likely outcome from the available knowledge. When a player (in this case, players) wants things quiet, they stay pretty darn quiet. When it comes to Jones and McDowell, right now, everyone is guessing except for the people inside of the kid's living room.