The men's and women's hockey teams continued to roll last week. They picked up six crucial conference points in sweeps of Penn State and St. Cloud, respectively. Special teams were key in both series. Read on as we recap all the action. We also get ready for some Olympic hockey and catch up on all the news in Buckeye hockey land, including some controversy in the Big Ten and a big honor for a recruit.  
Buckeye Men

What Happened
Max McCormick got the scoring underway midway through the first period on Friday night. He added a power play tally in the second. Scores by Matt Johnson (even strength) and Ryan Dzingel (shorthanded) contributed to a dominant middle frame for the Buckeyes. Penn State put a dent in OSU's lead with a third period power play goal, but Dzingel buried an empty netter to secure the win. The Nittany Lions peppered goalie Christian Frey with 47 shots in the game, but the freshman stood tall and stopped a career high 46.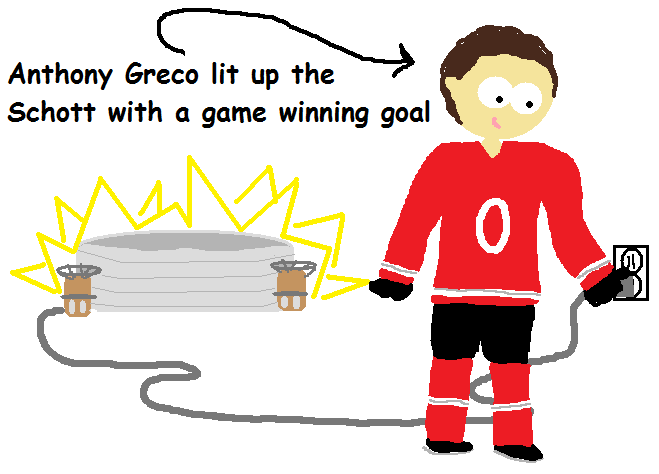 Penn State outplayed Ohio State in the opening frame of Saturday's contest. The visitors held a 2-0 lead at the first intermission, but the Buckeyes rallied with a big second period. Back to back power plays brought back to back power play goals from Tanner Fritz and Ryan Dzingel. In the waning minutes of the period Anthony Greco took a nice pass from Nick Oddo and, in one motion, roofed it to give the Buckeyes a 3-2 lead. McCormick added an insurance goal early in the third and Darik Angeli sealed the victory and the sweep with an empty net goal. Frey recorded 24 saves and bumped his record up to 5-1-0.
My Two Cents
Ohio State is still without the services of injured defensemen Curtis Gedig and Craig Dalrymple. Alex Lippincott filled in on the blue line on Friday and Clark Cristofoli suited up for Saturday's tilt. The Buckeyes did alright defensively against Penn State but they'll need those guys, particularly Gedig, back to make a late season run.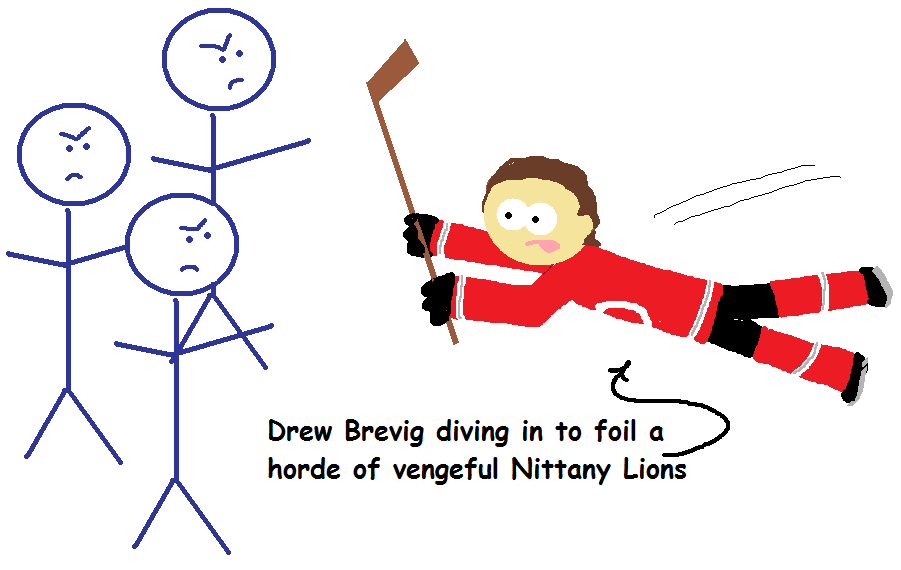 With increased responsibility in the wake of those injuries, Drew Brevig continued to impress. If I'm reading the boxscore properly he was on the ice for all five of the Buckeyes' goals on Friday. He was also good in his own end, breaking up a couple of odd man rushes by Penn State. Unfortunately he capped off a great game by leaving late with what appeared to be a leg injury. He returned to the line up on Saturday, though in my opinion, he still looked a little off.
This series provided some excellent evidence of why Steve Rohlik is a coach and I'm not. I've groused about his line shuffling, hoping he'd put it back to the way it worked before. Instead he continued to experiment until he hit on a set up against Penn State which had players up and down the line up producing scoring chances, not to mention goals.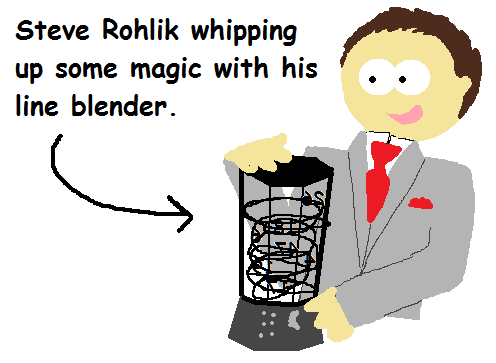 I thought Matt Johnson and Chad Niddery had a terrific series. They are two of the Buckeyes' most annoying players and they irritated the Nittany Lions all over the ice last week. Big hits by Johnson energized Ohio State in both games. Anyone foolish enough to get in Niddery's way gets run over, goaltenders included. I like to think the two of them hooking up for a goal on Friday was the hockey gods' reward for a well played series. 
Is there anything else to say about Ryan Dzingel at this point? The guy is crazy good. There aren't many more opportunities for fans to see him this season. You should try to get out to one of the remaining home games just in case he makes the jump to the pros after this season.
The Buckeyes' special teams are operating at a spectacular level. Four of their ten goals in this series came from special teams. You could almost throw the Johnson goal in as well as he scored right after a successful penalty kill.
In addition to the obviously helpful point production, I thought Tanner Fritz did a lot of little things (particularly in Saturday's game) to lead Ohio State to victory, blocking shots, harassing the Penn State puck carriers, etc. 
Christian Frey is getting better and better as he settles in with the team and college life in general. Rohlik says he likes to play both goalies but if the goaltending continues as it does at present, Frey could be the Buckeyes' No. 1 guy by the end of the season. 
What's Next
The Buckeyes begin their second round of Big Ten action with a trip to Michigan State. Both games are set to air on local television with Friday's game on BTN at 6:30 p.m. and Saturday's on SportsTime Ohio at 4pm.
Further Reading
OSU's recaps from Friday and Saturday include boxscores, highlights, press conferences, etc. They also have a write up about the six players named to the All-Buckeye team. 
Other recaps come from Craig Merz for Buckeye Sports Bulletin (Friday and Saturday), Erika Hadley (Friday) and J. Justin Boggs (Saturday) for USCHO, and Grant Miller (series) for The Lantern.
Rachel Lewis photographed Friday's game. You can see those pictures at Inside Hockey. OSU also has a photo gallery from Saturday's game.
Buckeye Women

What Happened
The ladies ran their unbeaten streak to seven games and gained six important conference points with a sweep of St. Cloud. Special teams were key to Ohio State's success. The team converted on five of their seven power play opportunities in the series. They were also a perfect five for five on the penalty kill.
Goalie Lisa Steffes allowed the Huskies just one goal in each game, making 23 and 24 saves in her respective wins. While she and the defense were locking things down in their own end, Ohio State's forwards were lighting up the scoreboard. Taylor Kuehl, Julia McKinnon, and Claudia Kepler each recorded two goals in the series. Ally Tarr, Melani Moylan, Danielle Gagne, and Cara Zubko also contributed goals. 
The two victories vaulted Ohio State into sole possession of fifth spot in the WCHA. The Bucks sit three points ahead of sixth place Bemidji State and 17 behind fourth place Minnesota-Duluth. With eight games remaining in their schedule it's still mathematically possible for OSU to catch the Bulldogs but a more likely scenario has them fending off the Beavers and securing fifth. 
What's Next
The Buckeye ladies host Wisconsin in their next-to-last home series of the season. Game times are Friday at 7pm and Saturday at 4pm. Friday night's game is a White Out. Saturday's will feature a postgame skate. Admission to the women's games is, as always, completely free.
Further Reading
Short Shifts

Around the Big Ten
Zach Nagelvoort and the Michigan Wolverines were inhospitable hosts, taking five out of six points from Wisconsin last week. The Badgers were without the services of two of their best scorers as Nic Kerdiles and Tyler Barnes are both sidelined with injuries. Michael Mersch stepped up in their absence and delivered this goal-of-the-year candidate. In the other B1G series, goalie Adam Wilcox helped Minnesota wrest four points away from Michigan State. He also stirred up a lot of debate with this controversial play in which MSU's shootout goal was disallowed because Wilcox kicked the net off its pegs. 
Countdown to Sochi
The best hockey players in the world hit the ice at the 2014 Winter Olympics which get underway this weekend. Former Buckeyes competing include Ryan Kesler (USA), Natalie Spooner (CAN), and Minttu Tuominen and Emma Laaksonen Terho (FIN). The women's action begins on Saturday with a prelim contest between USA and Finland, followed by Canada taking on Switzerland. Men's hockey starts up next week with Team USA's first game coming against Slovakia on Thursday, February 13th.
Future Nuts
Buckeye commit Dakota Joshua contributed a goal and an assist in Sioux Falls' victory over Fargo, helping to bring an end to the Stampede's losing skid.

Ohio State women's recruit Alex

LaMere

is one of ten semi-finalists for Let's Play Hockey's

Senior Goalie of the Year Award

.
Nuts Abroad
The Anaheim Ducks have recalled Dave Steckel and the Washington Capitals have recalled Tyson Strachan, each on an emergency basis due to injury.
Fluto Shinzawa looks at the ups and downs of Matt Bartkowski's game and whether the Bruins will rely on him for the postseason or look to acquire a rental defenseman.

Tim Leone has the story of Cal

Heeter

, streak killer,

here

.

Leone also has more on

Strachan's

charity endeavors and video of

a thunderous hit

he laid on Syracuse's Richard

Panik

.

John Albert had

a big hand

in St. John's win over Portland, recording a goal and two assists.

CJ

Severyn

scored to draw Orlando even

with Gwinnett twice, which apparently still was not enough to inspire his teammates to victory.

Today's clip-of-the-week is a bit from NHL Revealed featuring Ryan Kesler keeping in touch with his kids while on the road.