When Ohio State hired Chris Ash last month, the intent was to address flaws in the pass defense. Everett Withers' departure left a hole on the coaching staff, and after Clemson bubble screened the Buckeyes to death in the Orange Bowl cornerbacks coach Kerry Coombs was under fire as well.
Ash left a defensive coordinator position at Arkansas to come here; surely he wouldn't accept being a co-defensive coordinator and having only partial control over the secondary. A few days later, Gene Smith clarified the situation: Ash would coach the entire secondary while Coombs would be both cornerbacks coach and special teams coordinator, a position he was promoted to in 2013.
Coombs then did something unusual as a special teams coordinator: He worked wonders.
Though he is well-regarded as a cornerbacks coach, Kerry Coombs might not have been Urban Meyer's first choice for the position. Taver Johnson was on Luke Fickell's staff, but he left for Arkansas in 2012. Meyer ended up hiring Bill Sheridan, who reneged in favor of the Tampa Bay Buccaneers less than a month later. With those two gone, Meyer called Coombs.
Meyer promised that he would build a dream team of assistants, and Coombs was not one of the initial choices. Would giving Coombs control of special teams be a good idea?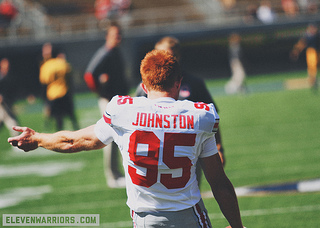 The 2013 Buckeyes answered that question emphatically. In one year the Buckeyes went from being the nation's 82nd best special teams unit to fifth in the country.
Coombs was no slouch as a coach before coming to Ohio State: he coached for 16 years at Ohio powerhouse Colerain High School, then he took over the defensive backs coach position at the University of Cincinnati from 2007-2008 and served as associate head coach/defensive backs coach/special teams coordinator from 2009-2011. In hindsight, his coaching prowess was well-matched for special teams as well.
Some aspects of special teams are beyond a coach's control. Coaches can't give a returner Ted Ginn's speed or give a kicker Sebastian Janikowski's leg (without mad surgery, that is). What a coach can do is teach: show the punt return team how to seal off gunners, instruct the offensive line how to prevent the defense from blocking long field goals, or demonstrate to line up for onside kicks. In these teachable areas, Ohio State was leaps and bounds better in 2013 than the year before. 
Cameron Johnston was a pleasant surprise as a freshman punter with an uncanny ability to stick punts inside the twenty yard line. As good as he was, he was aided by the punt coverage, which always seeming to force fair catches or blow up the returner after a few yards. In his senior season, kicker Drew Basil made the most of his reduced workload with 9 of 10 field goals and 77 extra points.
For once, Ohio State had a solid kickoff return average. Though nobody took any kickoffs for touchdowns, Dontre Wilson showed the quickness that had everyone drooling over him in the summer. On kickoffs, that funky-looking compressed field coverage worked just fine thanks to the 'piranhas' staying in their lanes and tackling with fervor. 
Most exciting of all the special teams was the punt block crew. For all the complaints about Bradley Roby regressing on defense, his punt blocks were sheer artistry.
The Buckeyes came through time and time again to block or alter punts because of a commitment to putting the best athletes on the punt block crew and bringing pressure. Urban Meyer is responsible for the great athletes; guess who teaches them how to bring pressure?
The only area in which Ohio State regressed was punt return efficiency; chalk that up to Philly Brown's confounding regression under pressure.
All this, and we haven't even gotten to the personality trait most know Coombs for, his bombast. Kerry Coombs, if you hadn't heard, is a motivator. Some of his recruiting pitches are worth preserving for the record books:
There is another benefit to Coombs being the special teams coach: relieving Urban Meyer of pressure. Various pundits have half-jokingly called special teams Meyer's baby, and being able to delegate to staff as he's done with special teams would be a huge relief. 
As for how much to credit the athletes' speed or Coombs' teaching, let there be no mistake: the teaching is far more important. The passion is important because most of special teams is finding somebody to hit and delay and energy contributes to the force of the collision.
Chris Ash will do as he pleases with the safeties and impart wisdom on the secondary, implementing his philosophy to the fullest extent. Kerry Coombs' role with the team has changed: he no longer works with the cornerbacks alone. Now he has the chance to leave his mark on the special teams as well, and it's a change for the better.