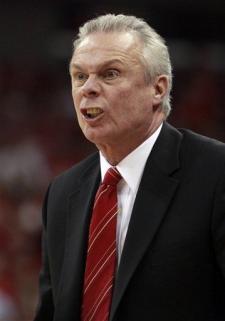 Three weeks ago, Ohio State was undefeated and ranked third in the country and Wisconsin was unbeaten and ranked fourth.
The times they are a-changin'.
Since then, the teams have combined to go 2-9. A once huge game with national implications is almost meaningless in the Big Ten. The Buckeyes are only one game clear of last place in the win column. Meanwhile, 8-0 Michigan and 8-1 Michigan State have separated from the pack.
"We were on a four-game losing slump, we beat Illinois and everything was back to normal," senior guard Lenzelle Smith Jr. said. "Everybody was happy. We acted like we didn't just lose four games in a row. As a team I don't think we cared enough."
Wisconsin's downfall is even more surprising. After all, there were murmurs of overachieving and overrated when Ohio State cruised through the non-conference schedule. Could the Buckeyes really be that good without Deshaun Thomas? The answer now seems obvious.
But the Badgers reeled off several impressive victories in the first two months – Florida, Iowa, Virginia, St. John's, West Virginia. Then came the losses, to Indiana, Michigan, Minnesota and Northwestern. Two of those came at home where Wisconsin seemingly wins every game.
Similar to Ohio State's Nebraska conundrum, the Badgers beat Northwestern by 27 only to lose by nine a month later. With the core of last season's team returning, names like Sam Dekker, Ben Brust, Frank Kaminsky and Traevon Jackson, this was thought to be Wisconsin's best chance at reaching the Final Four.
"These teams are coming in and punching us in the mouth and we're not punching back," Dekker said. "It's as simple as that. We're being soft. We're being unaggressive. We're being the team that's lacking in all the categories that you need to win."
These scenarios are foreign to Thad Matta and Bo Ryan. What's become the norm for the basketball programs in Columbus and Madison is a status usually saved for the cities' football behemoths. Losing isn't part of the equation.
"Obviously I don't like the position we're in, but it's the reality of it," Matta said. "We've got to fight our way out."
| # | Name | YR | HT/WT | PTS | REB | AST | P | # | Name | YR | HT/WT | PTS | REB | AST |
| --- | --- | --- | --- | --- | --- | --- | --- | --- | --- | --- | --- | --- | --- | --- |
| 4 | A. Craft | SR | 6-2/195 | 9.2 | 3.4 | 4.9 | G | 12 | T. Jackson | JR | 6-2/208 | 11.0 | 3.9 | 4.8 |
| 3 | S. Scott | JR | 6-1/185 | 7.5 | 3.7 | 3.7 | G | 1 | B. Brust | SR | 6-1/196 | 13.2 | 4.8 | 1.6 |
| 32 | L. Smith Jr. | SR | 6-4/210 | 12.2 | 4.9 | 1.4 | G | 21 | J. Gasser | JR | 6-3/190 | 8.8 | 3.8 | 1.7 |
| 10 | L. Ross | JR | 6-8/220 | 14.2 | 5.7 | 0.8 | F | 15 | S. Dekker | SO | 6-8/220 | 14.0 | 6.4 | 1.4 |
| 23 | A. Williams | JR | 6-11/250 | 9.0 | 6.5 | 0.3 | C | 44 | F. Kaminsky | JR | 7-0/234 | 13.1 | 6.0 | 1.2 |
Opponent Breakdown

You name it, and Wisconsin's probably had an off night during their recent slump. The latest no-show was offense. Incredibly, the Badgers shot less than 30 percent from the field against Northwestern on Wednesday.
Not unlike Ohio State, the frustration with the Wisconsin players has boiled over. Following the loss to the Wildcats, Wisconsin forward Sam Dekker let loose a reality check of sorts.
"It's time to buckle down," he said. "You don't want to end up sitting back at the end of the season and guessing, 'What if? We had a good team, what could have happened?' It's time for us to go out there and make it happen."
When someone pointed out that his message might be perceived as negative or something people wouldn't want to hear, Dekker said, "Can't be playing Mr. Nice Guy all the time."
One issue that doesn't necessarily involve offense or defense that's plagued the Badgers is disorganization. Mistakes are being made at both ends and the end result is five guys looking at one another not knowing what the answer is.
Opponents have come out and played an aggressive brand of basketball that sets the tone early. Wisconsin has been unable to recover.
Kaminsky said the team's played like schoolchildren. Talent alone won't win, especially in the Big Ten.
"It takes work," Kaminsky said. "We've got to get back to knowing that it takes work and not thinking it's just going to fall in our laps, because obviously we've found out here, it's not going to fall in our laps."
The No. 1 step is playing hard and playing smart. Making fewer mistakes than the other team usually pays big dividends.
"That's why athletics are what they are," associate head coach Greg Gard said. "It's always variable. There's never a constant. So the teams that can be the most consistent give themselves the best chance."
Buckeye Breakdown

Embarrassing.
That's how senior guard Lenzelle Smith Jr. summed up Ohio State's Wednesday night performance in an epic second-half meltdown that resulted in an overtime loss to lowly Penn State. Last week, the Nebraska loss was viewed as the low point of the Thad Matta era. Just a week later, the Nittany Lions' triumph is the clubhouse leader.
After a 15-0 start, the Buckeyes have endured a four-game losing streak and now five losses in six games. It's unfamiliar territory for every member of the team, all the way down to coaches and managers.
Asked what the missing ingredient is, Smith rattled off a list of words used to describe successful teams: "Toughness. Character. Camaraderie. Leadership."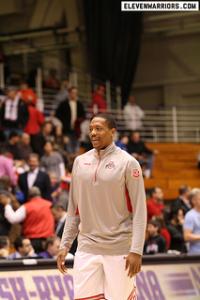 The team's two seniors – Smith and Aaron Craft – took responsibility for the current state of affairs. During the post-game press conference Wednesday, the duo sat solemnly with tears in their eyes. It's a long way from being ranked No. 3.
"I can't even talk," Smith said. "This game hurts the most out of every game since I've been at Ohio State."
Those are powerful words when you consider the Buckeyes' season has ended in heartbreaking fashion the past three seasons. But the performance against Penn State was unlike anything seen before in the past 10 years. Then again, it's something that – maybe – is becoming all too familiar.
The final eight minutes of games has been a period of wretched play for Ohio State ever since furious comebacks against Notre Dame and Michigan State. In losses to Iowa, Minnesota, Nebraska and Penn State, the Buckeyes have completely wilted.  The latest example was surrendering an 11-point lead with eight minutes left (and 10-point advantage with six minutes remaining). In regulation and overtime, Ohio State led in the closing seconds only to allow the Nittany Lions to score.
"We weren't the tougher basketball team," Craft said. "We have the ball, chance to go up three, and we turn the ball over. They go down, they got guys that want to make plays, and they did it."
Suddenly, the Buckeyes are nearing the NCAA Tournament bubble, a position they haven't been in for years. Three of their next four games are against ranked opponents with two on the road. Lose all three and March becomes a three-letter acronym – NIT.
It's far from what anyone in college basketball envisioned as recently as a month ago. Smith and Craft were in the midst of a memorable senior year, Matta was on his way to another 20-win season and the Final Four became a buzzword once again. But now those memories have been created for the wrong reasons.
"These losses don't hurt enough. This is embarrassing," Smith said. "Every other team in our conference is laughing at us right now. My senior year, this is not what I had in mind. But I'll never give up on my team."
Etc

Thad Matta is 11-11 against Wisconsin as Ohio State's head coach. 
Aaron Craft was named 

Capital One Academic All-District IV, which makes him eligible to be an Academic All-American. Craft has twice been a member of the Academic All-American team. If he makes a third, he'll be the fourth Big Ten player in history to accomplish that feat.