The big news yesterday (other than Dr. Michael Drake being officially installed as Ohio State's 15th president and Nike releasing "Hyper Elite Dominance" basketball jerseys) was Ed Warinner, Larry Johnson Sr. and Stan Drayton's in-home visit with four-star OL prospect and Ohio State commit, Jamarco Jones. 
Jones has been a Buckeye-pledge since last summer, but made waves last week when he made plans to visit Michigan State. OSU's in-home visit was big yesterday because it came a day after Michigan State visited.
The meeting went swimmingly enough — here's a picture of the gang — but unfortunately Jones will still be making his visit to Michigan State this weekend. Hopefully he looks at how Jim Bollman turned two five-star OL recruits in Mike Brewster and JB Shugarts into undrafted free agents and ends up signing with the good guys.
In better news, there are rumblings five-star DE Malik McDowell, whom many had prophesied to go to Michigan or Michigan State, will take his talents out of Michigan. This means it could come down to Ohio State or Florida State. 
JAMES FRANKLIN TELLS US WHAT WE'VE LONG KNOWN. Many folks south of the Mason-Dixon line were baffled by James Franklin's decision to leave Vanderbilt and the SEC for Penn State and the Big Ten. Franklin — besides seeing a massive pay raise in Happy Valley — had his reasons, and he wasn't afraid to share them with Penn State's Faculty Senate:
When asked about the difference between Vanderbilt, his former employer, and Penn State, Franklin said values. At Vanderbilt, which is in the SEC, Franklin says the top priority was always football.

"They don't make any excuses or try to justify, that's really their reason for existence," Franklin says.

At Penn State, Franklin says there's an emphasis on education and an athlete receiving a well-rounded experience. Additionally, with recruiting, he says his goal is to capture student athletes that are going to be "great fits here socially as well as academically."
Franklin says his No. 1 goal is to set team GPA records while at Penn State, and also added he was "embarrassed" that PSU didn't have a commitment from any of the top 10 rated prospects in Pennsylvania. However, Penn State did bring in CB Amani Oruwariye, a 3-star prospect from Tampa, who was (you guessed it) committed to Vanderbilt before making the switch yesterday.
A&M MAKES IT RAIN. Poetically, the same day James Franklin unloaded with both barrels on his former conference, Texas A&M announced a $16 million infusion into their football facilities. (They pumped a staggering $500 million into Kyle Field last summer after an absolute boon in donations.)
What does $16 million get you these days?
Encompassing nearly 50,000 square feet, Texas A&M will install new graphics, technology, office space and furniture throughout the complex, while completely refurbishing the Aggies' meeting rooms.

The first stage of the project is expected to be complete by this fall, with the second stage coming to a close by next summer.
This arms race ends with coaches making $10 million a year and colleges bankrupting themselves to keep their facilities up to date, doesn't it? 
BIG YEAR FOR OL' MIKE THOMAS. Most people know I hail from the City of Kings: Marion, Ohio, but most people don't know I was born in Pasadena, California. Because of this, I have been a fan of Mike Thomas' basically since he arrived at Ohio State. But lately I've been warning y'all: Mike Thomas is coming for chains next year, and not just in the spring game either.
Here's the latest proof: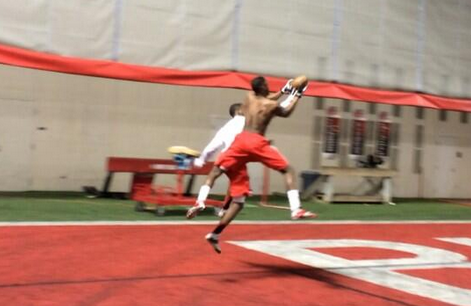 Ummmm just told the quarterback throw it up in front of me and the DB and whoever comes down with it well
You're damn straight, Michael Thomas. You're damn straight. Look at the high pointing of the ball, the body control and the "my ball" mentality displayed in this picture. When was the last time you saw an Ohio State WR make a play like this? In 2006 2005 when Anthony Gonzalez saved Ohio State's bacon in the 4th quarter against Michigan?
Add in his Twitter handle being @CantGuardMike and the fact he took to Twitter to pwn a nameless DB, and I haven't been this excited about a WR since Verlon Reed created some camp buzz in 2011. 
REMEMBER MICHAEL ROBINSON? He was that burly quarterback Penn State rolled with during the iron reign of Troy Smith. He even won a Big Ten Player of the Year Award in 2005. Wellllllll, did you know he's now a FULLBACK and he's playing in the Super Bowl on Sunday? Damn, it's true:
Then, after a [49ers] fullback got hurt, Robinson shifted over to replace him, and the superstar high-school quarterback turned college receiver turned college quarterback turned NFL running back … was now an NFL fullback, a position that barely even exists anymore. But he was better at it than anyone could've expected. "I was a natural runner," he said Monday, during a press conference. "Naturally a guy that sought a little bit of contact.

"The move to fullback wasn't that bad at all," he added. "When you want to continue to play in this league, you kind of go where they tell you to go."

He continued playing special teams, too, and helped out wherever he could. When he got cut by the 49ers, a former teammate was coaching with the Seahawks and insisted they sign him.
He's now clearing the way for Marshawn Lynch in one of the NFL's most punishing run games. IS MY FEEBLE MIND THE ONLY ONE BLOWN BY THIS? This is way more interesting than Richard Sherman. (Let's all take a moment of thanks that Tim Tebow never humbled himself enough to go this route.)
Speaking of the Super Bowl, Beatwriter Kyle will be through in a few hours with a great look at Pete Carroll's Ohio State connections. Namasté.
THOSE WMDs. Michigan Stadium is Braxton's Fun Zone... Warren Sapp blasts Al Golden... Ohio State target Myles Turner hosted a live chat yesterday... The best and weirdest Super Bowl documentary you've never seen... Chimdi Chekwa is still an awesome human being... Football recruiting summed up with one picture... If you want to feel tiny and insignificant click here... Side-by-side comparisons of scenes from The Godfather, then and now... Great pic from this year's Red River Rivalry... Tobacco ban not affecting applicants interest in Ohio State... NFL's tax-exempt status is in jeopardy...