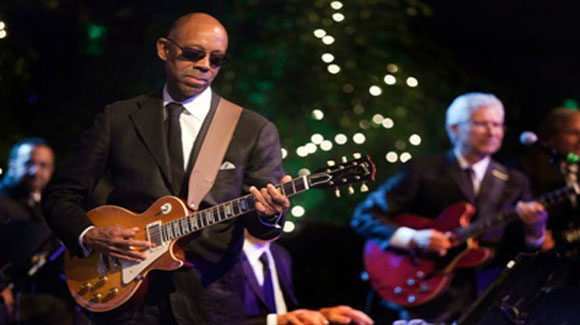 Later this afternoon, Ohio State University will name Dr. Michael V. Drake as its 15th president. Drake, the chancellor of the University of California at Irvine, doubles as an ophthalmologist and has led UC Irvine since 2005.
Drake's hiring comes more than seven months after Gordon Gee retired following disparaging remarks about Catholics, the SEC, Bret Bielema and several other universities. Joseph Alutto served as interim president and will continue doing so until Drake, 63, arrives in Columbus in June.
Prior to his time at Irvine, Drake was vice president for health affairs for five years for all 15 health-science schools in the University of California system. His entire life has been spent on the West Coast and Drake's career has involved medicine and higher education.
Drake, who will be Ohio State's first black president, also has a long history with athletics. He's on the NCAA's Board of Directors, which comprises 18 university chief executives and acts as intercollegiate athletics' leading governing body. During his time as chancellor, the Anteaters have experienced unprecedented success on the playing fields. 
"He's been a member of a number of high-profile committees that are considering the most important issues facing the NCAA," Irvine men's basketball coach Russell Turner told Eleven Warriors in a phone interview. "He's not new to the decision-making process at all.
"The [Ohio State] fans are going to be excited."
Turner knows Drake from his time as an assistant coach at Stanford. Drake was a season ticket holder with seats behind the Cardinal bench.
"He's visible at a lot of games," Turner said. "I'm really happy for him to have landed such a prestigious and high-profile job. The fans of the athletic program there are going to be happy with the fit."
Irvine's been a constant presence in the top five of standings for the Division I-AAA All-Sports Trophy, awarded to the best postseason achiever among the country's 95 Division I schools that do not compete in football. Irvine was No. 1 in 2007 and second in 2010 and 2011.
The men's volleyball program has won four national championships the past seven seasons – 2013, 2012, 2009 and 2007 – the baseball team qualified for its first College World Series in 2007, and men's and women's water polo and men's soccer have also experienced national success in recent seasons. The men's basketball team played in the CIT last year.
"He's been fully invested in our men's basketball program improving because it has the opportunity to bring positive notoriety to the university and have a great impact," Turner said. "He gets that. He's been very clear on that and been very supportive of trying to improve. That's a big part of why we've improved."
At Ohio State, Drake will be involved with an athletic department with a budget in the hundreds of millions of dollars. The announcement of his hiring comes just days after athletic director Gene Smith received a promotion to vice president and raise. Smith will have a base salary of $940,484, but he'll make a guaranteed $1.14 million that could grow to as much as $1.49 million.
Gee was the highest-paid university president, making north of $2 million. Drake makes $350,000 at Irvine.
Drake, always ready with a Willie Mayes story, grew up with athletics being an important part of his life. He's an avid cyclist and recently led a group of 50 on a 25-mile tour of Irvine, fulfilling the Promise for Education he made during the fall. Drake raised $21,443, more than any other rider, for the University of California scholarship campaign.
The Michael Drake File
Born: July 9, 1951 - New York City
Alma Mater: Stanford University, University of California - San Francisco
Profession: Physician
Family: Brenda (spouse) and two sons
Hobbies: Cycling, travel, music, track and field, and stargazing
During his time at Irvine, the 49-year-old university ushered in a new era, becoming one of the nation's foremost research universities. It has an enrollment of about 22,000 undergraduates, 2,000 graduate students and 4,000 doctoral students. U.S. News and World Report ranks Irvine as the No. 14 public university in the country, two spots ahead of Ohio State.
Drake's tenure is highlighted by a number of successes, including establishing a law school and college of education, transforming the medical center's reputation and construction of a new student center. Drake also displayed a prowess for fundraising, even as the state of California went through major budget cuts.
"He's a very accomplished guy," Turner said. "In the time Chancellor Drake's been at Irvine, I think there have been a number of advancements across any number of disciplines. One thing he's prided himself on is things get done with him in charge. They get done in time, and they get done on budget. That's an effective mentality no matter what you're managing or leading."
Drake takes over Ohio State as the Wexner Medical Center nears the completion of a $1 billion cancer hospital. But his expertise and past experience in hospitals lends the university to believe he's the right man at the right time.
"We've known here that we've had a great leader," Turner said. "That's the most important thing to know whether you're the head basketball coach, the dean of the medical school or a janitor at one of the buildings.
"If you have a great leader, that means great things are possible."