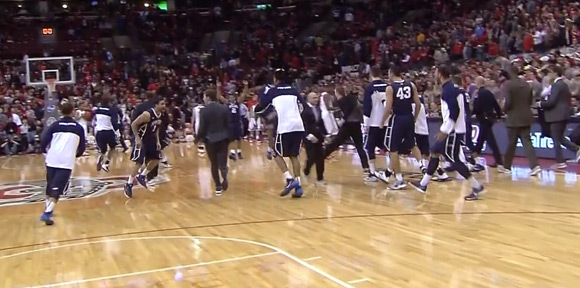 After holding an 11-point lead with just under eight minutes remaining, Ohio State went into a hole. The offense disappeared and Penn State refused to fold. The end result was a dramatic, 71-70, overtime victory for the Nittany Lions. D.J. Newbill made the game-winner with 1.9 seconds remaining.
Aaron Craft had one final chance to pull off a miracle win but couldn't get off a shot. The Buckeyes have now lost five of six games since starting the season 15-0.
"This feels different from past slumps because of the position we were previously in," Ohio State head coach Thad Matta said. "We have to be tougher physically and mentally. It's been stressing us out for weeks now. I don't like this position but it is the reality of where we've put ourselves. We have to come back."
Ohio State held a double-digit lead with six minutes left in regulation before Penn State began whittling away at it. The Buckeyes led by three with 27 seconds left when Newbill made his first clutch shot of the night. It brought back memories of the 2009 NCAA Tournament when Matta, faced with the same situation against Siena, chose not to foul. It bit the Buckeyes on both occasions.
LaQuinton Ross led Ohio State with 16 points and seven rebounds, Lenzelle Smith Jr. scored 15 points and Amir Williams added 12 points and six rebounds. Craft became the first Buckeye to have 100 or more assists in all four seasons of his career.
Newbill scored a game-high 25 points. Brandon Taylor had 19 and four 3s.
"I just did a right-to-left crossover and pulled up with confidence," Newbill said of his game-winning shot. "Luckily, it went down."
After falling behind by 11, the Nittany Lions used a 7-1 run to make the deficit a more manageable five. A subsequent 7-0 spurt after two Ross free throws tied the game with just over a minute left. A basket from Craft and free throw gave the Buckeyes a three-point advantage with 27.3 seconds left. But Pat Chambers drew up a 3 for Newbill that worked to perfection after Smith couldn't fight through a screen.
Ohio State had multiple attempts near the basket to win in regulation but none fell in.
"We weren't the tougher basketball team tonight. That's what it comes down to," Craft said. "[11-point] lead with however much time left and we just couldn't pull it off."
The Buckeyes had beaten the Nittany Lions in their previous 18 meetings, and it was just the second time Penn State won in the 16-year history of Value City Arena.
"We're a new team. This is 2013-14," Chambers said. "We're worried about this year and we can't be worried about the past."
In line with recent weeks, Ohio State started slow before finding a groove that included scoring on 11 of its final 14 possessions of the first half. Still, Penn State made 54 percent of its shot in the half, which only gave the Buckeyes a four-point lead.
It looked like turnovers and free throws would end up being the difference. Ohio State scored 19 points off turnovers compared to the Nittany Lions' six and shot 15 more free throws in regulation than Penn State. But an equalizer was Newbill and nine three-pointers.
"This game hurts the most out of any game since I've been at Ohio State," Smith said. 
The Buckeyes, 16-5 overall and 3-5 in the conference, now enter a two-game grind with consecutive road games at Wisconsin and Iowa.