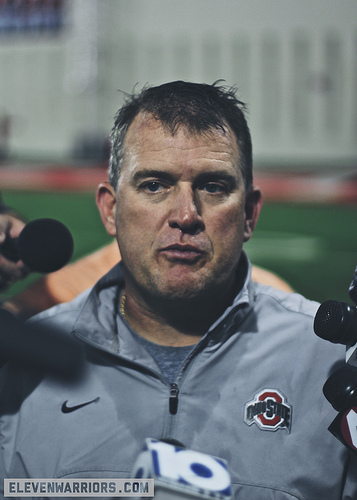 Last week's Thursday feature at this time slot drew attention to Ohio State's defensive backs and the problem of woeful performance and attrition. Ohio State's secondary is a primary concern looking ahead to the 2014 season.
Calling it the biggest question mark on Ohio State's 2014 team deflects attention from the issue of the offensive line, where attrition hit the hardest. The foundation of Ohio State's offense for Urban Meyer's two seasons in Columbus, the Buckeyes lose four of five starters to graduation. Players like Jack Mewhort, Andrew Norwell, Corey Linsley, and Marcus Hall were multi-year starters and either solid contributors the moment they stepped foot on campus, or players that found new life in the transition from Jim Bollman to Ed Warriner. Only right tackle Taylor Decker returns from last year's team.
This feature will try to forecast the replacements for these four graduates from the program, the composition of the offensive line, and offer some conjecture about the depth chart behind them.
I start with the interior of the offensive line, where both guards and center are gone to graduation. It is also a position in which it would appear that the depth chart would naturally solve itself. Jacoby Boren was listed as backup center to Corey Linsley, even spelling Linsley when Linsley needed to come to the sideline. For as stellar as Linsley was in his blocking assignments, his snaps suffered as he nursed a foot injury. Too eager to get into his set, he was prone to firing a snap over Braxton Miller's head.
Further, Pat Elflein returns for a redshirt sophomore season. Elflein famously subbed for Marcus Hall after Hall was ejected during the Michigan game. He also played most of the Big Ten Championship Game for Hall.
While both are comfortable selections to earn more playing time as starters, saying more about the interior of the offensive line is a bit difficult. For one, Elflein was listed as backup at both left and right guard through much of 2013. Further, a guy I want to keep saying is an option at guard, Chase Farris, switched again to defensive line midway through the season. Still listed as an offensive lineman on the official website, he had three tackles and 1.5 sacks last season.
There is also the issue of switching positions. Warriner is of that mentality as offensive line coach that offensive linemen should be jacks of a few trades on the line. There would be no reason for Warriner to resort to a backup center if the starting right guard is better at it than the second-team guy at the position.
In short, Elflein and Boren could conceivably switch positions before the start of the 2014 season, even if I'm inclined to guess they ultimately will not.
If forced to guess the third starter on the interior of the offensive line, I think it would actually be Antonio Underwood. Underwood tore his ACL in Spring last year and redshirted this season. While it was unlikely he would have played that much in 2013 anyway, I believe he would have been a clear selection at backup guard, probably to Marcus Hall.
Underwood's career trajectory should mirror Bryant Browning and Marcus Hall before him. Both were rather subpar right tackles before moving inside to right guard and performing well in the position. The hope is Underwood would find his niche there as well. I still have visions of him against Purdue in 2011 that I cannot shake for the time being.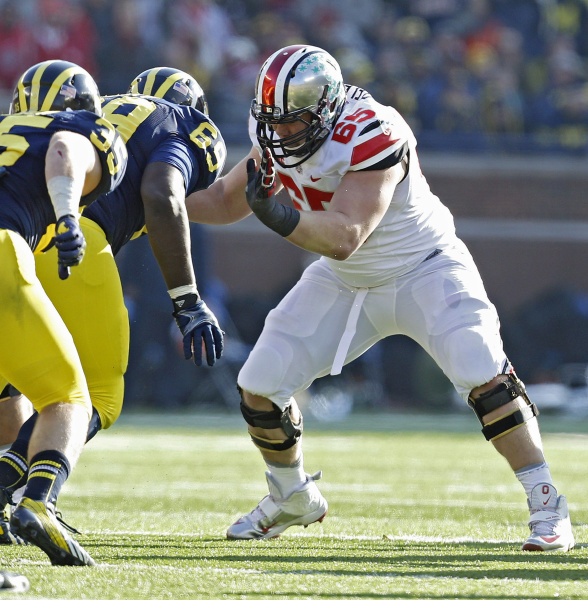 My best guess now is an interior line that goes Pat Elflein, Jacoby Boren, and Antonio Underwood at left guard, center, and right guard. Ohio State will have no shortage of options behind them on the depth chart.
If Chase Farris again returns to offensive line for a second stint, I think he's a second-teamer. I wonder if Tommy Brown appears on the depth chart at guard in 2014 as well. Brown was listed as a 2B at right tackle in Ohio State's final depth chart. I still think he's more a guard than a tackle.
Beyond those names, there'll be a clear freshmen movement on the depth chart. The name to watch is Billy Price. A Ohio HS Football Division I Co-Defensive Player of the Year in 2012, Price redshirted last season while transitioning from defensive tackle to offensive line. He would have been a good defensive tackle for Ohio State, but may be a better offensive lineman when all is said and done. I think he appears on the two-deep at the lowest come August 2014.
Ohio State will also have its choice of Marcelys Jones and Demetrius Knox in 2014 as well, though I expect Jones, at least, to redshirt his first year on campus.
What's not immediately clear is who backs up Jacoby Boren at first team center. This will be something that I intend to monitor come spring and fall camp.
I think it's safe to expect Taylor Decker will again start in 2014. However, I think the expectation is also that Decker will move to left tackle. Alex Boone had a similar trajectory between 2005 and 2006. That might be the projection I feel the most comfortable making for 2014.
If so, who is the starting right tackle? All eyes will likely turn to Kyle Dodson, the 2A at right tackle behind Taylor Decker last season. This might be now or never for Kyle Dodson, whose career at Ohio State has yet to start in earnest. The redshirt sophomore to be was the subject of a prominent recruiting battle between Bert Bielema and Urban Meyer when Meyer first arrived in Columbus, playing an incidental role in Bielema's acrimonious year in the Big Ten with Meyer and his eventual departure to Arkansas.
If Dodson does not seize this opportunity, the prospects for playing time with some of the other prospects coming to Ohio State diminish considerably.
Darryl Baldwin, Jack Mewhort's backup through 2013, should again be a backup. Like the second team at left and right guard, there will be another freshmen movement at the tackle positions.
Evan Lisle is certainly an option. The 6-6 prospect from Centerville redshirted his first year on campus. Kyle Trout, a true freshman currently on campus, is another option. If Jamarco Jones stays in this year's recruiting class, he will likely be considered as well. I expect Brady Taylor, the newest addition to the recruiting class, to redshirt in 2014.
Beyond Darryl Baldwin, every option after Taylor Decker is a freshman. No one other than Taylor Decker has meaningful game experience.
This statement is basically true for all of the offensive line in 2014. Jacoby Boren provided some relief for Corey Linsley and Elflein performed great entering a difficult situation cold in Ann Arbor. Nonetheless, Ed Warriner is basically starting from scratch after turning Ohio State's most consistently underachieving unit into the bedrock of the offense.
Whereas his first two offensive lines in 2012 and 2013 were cobbled together from previously underperforming players or players moved to very different positions, this unit will invariably feature freshmen in prominent positions on the two-deep.
How it protects Braxton Miller and creates running lanes for Ohio State's stable of tailbacks is the primary question for this year's offense.