Here we are, one week left until signing day and it seems there are just as many questions as answers when it comes to the conclusion of Ohio State's 2014 recruiting class. While of course we are inclined to feel panic and stress about how things will resolve themselves, it's my hope that we all realize two important things as conclude the race of 2014; two simple concepts that can change how something like following recruiting impacts your day-to-day mental health.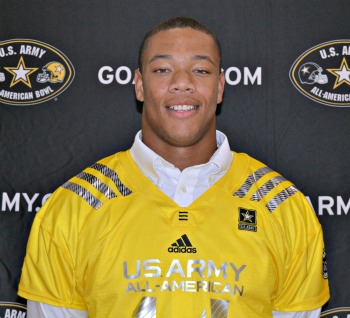 No. 1: Ohio State's coaching staff is — and is always — working tirelessly to not only bring in the best class in the Big Ten, but in the country and just because they don't always get the players "we" feel are the best players or the best fits, doesn't mean that the Buckeyes have taken "stretched" for someone under their level. Urban Meyer doesn't reach, period. The Buckeyes would, and will, absolutely save a scholarship for next rather than recruiting a player into the program for four-to-five years that they don't believe can be an impact player.
No. 2: At the end of the day, we're talking about the decisions of teenagers, stuck between (in some cases) dozens of schools. The choices these teenagers — and their families — make are not decisions they take lightly. They are not decisions made quickly. It's nothing but the single biggest decision of their life and they make it with tens of thousands of people waiting on their every breath. If a recruit chooses another school, even after they've "committed" to yours, it doesn't mean they were afraid of something, or weren't qualified, or this, that or the other thing; it just means they made a different decision that they felt was best for them.
I know what you're all thinking: "Jeremy, are you setting us up for a disappointment with Jamarco Jones?"
No, I am not. I mean, yes, maybe I am? Maybe I am asking you to prepare yourself for that possibility so that if it were to occur every Buckeye fan reading this will handle themselves appropriately via social media and other avenues? Simply put, don't be that guy. You know, the guy who embarrasses himself and the team he "represents" by calling out a teenager on Twitter? Yeah, him.
Moving on, let's actually talk about the Jones situation, shall we?
JONES'ING FOR ANSWERS
Scout.com's Bill Greene, one of the people I look up to most in this business, is fond of the mantra: "It's all about relationships," when it comes to recruiting. He's 100-percent correct, of course. In the case of Jones, that relationship was with former Buckeye defensive line coach, and current Houston Texans linebacker coach, Mike Vrabel. When Vrabel departed unexpectedly, the door reopened for Jones' second-choice, Michigan State, to try and plant some doubt in the 6-foot-5, 290 pound tackle's mind and it appears they've succeeded in doing that. They've got consistency in their staff, they've got a number of recruits from the Chicago area heading to Michigan State that Jamarco is close to to, it's a bit closer to home and they've turned their program around to the point where considering Michigan State ahead of Ohio State wouldn't be considered borderline lunacy like it would have been a few years ago. Those factors combined with Vrabel's departure have convinced Jones that it's worth "making sure" with a visit to Michigan State this weekend.
How can the Buckeyes counter that? What should they say?
Thursday night the Buckeyes will make their pitch and do so with Larry Johnson, Sr. and Ed Warinner heading to Chicago with the hopes of convincing Jones to stay the course with the Buckeyes are forgo the visit to East Lansing. No one visits East Lansing in the middle of the summer just for fun, let alone in the midst of the most brutal winter the Midwest has seen in decades. If Jones makes the trip, it's all business and it's business the Buckeyes want no part of.
When Jones committed to the Buckeyes in June, he did so and instantly started forming very close bonds with the entire "Dream '14," and those players are working hard to keep him reminded of that. As unfortunate as it is, coaches leave schools all the time and Jones certainly knows that. Ohio State's efforts this week will rely on Warinner's ability to connect with Jones, knowing that he's the man who would be coaching him anyway, never Vrabel.
Ohio State could mention that Jim Bollman's track record for developing NFL talent from highly-ranked (or any-ranked) offensive lineman is suspect at best. One look at the 2008 "Brew Crew" recruiting class that saw the Buckeyes land three five-star offensive lineman (Mike Adams, Mike Brewster and JB Shugarts) yet only have one drafted (Adams, second-round) compared to Warinner's success at Notre Dame (not to mention at Ohio State where he took a player Bollman put at TE (Reid Fragel) and made him an NFL draft pick in less than a year at offensive tackle) should illustrate that. Bollman is adept at creating relationships, not so much at creating offensive lineman. In fact, from 2008-2011, there was not a single Buckeye offensive lineman taken in the NFL Draft. That's Bollman coached and Bollman recruited, and I am sure it's been mentioned before, but if it hasn't it ought to be.
Ohio State has plenty of opportunity for Jones, the highest-rated lineman in their class, to come in and contribute as a freshman. Four senior starters departing means Jones, if he is as advertised, is almost a certainty for the two-deep as a true freshman at Ohio State; an opportunity that comes along very rarely. The question is: what's important to Jones? The Buckeyes are hoping to answer that Thursday night. Jones has been an important piece of their class for a long time and a player that Urban Meyer singled out early as a key recruit for 2014, can that knowledge help keep Jamarco from East Lansing?
As of today, Tuesday, I am more confident in Jones remaining a Buckeye than I was yesterday, Monday. What if Jones decides to move on? Who is the next option at tackle for the Buckeyes? My answer might surprise you...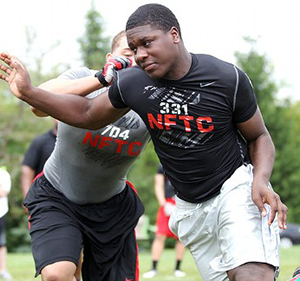 TWO BIRDS ONE STONE?
When Urban Meyer strolled into Southfield High School Monday afternoon the goal was clear: get Malik McDowell to commit to taking his fifth and final official visit to Ohio State instead of LSU this upcoming weekend. The mission was accomplished when McDowell scheduled the visit and promptly cemented the Buckeyes in his final four teams on Twitter Monday night.
During the visit to Southfield, Ohio State made inquiries about Chukwuma Okorafor, an intriguing tackle prospect committed to Western Michigan. Okorafor has reportedly added a number of major offers since his commitment to the Broncos (Iowa, Arkansas, NC State, Nebraska, Oklahoma, Florida and more) but has remained committed to Western Michigan and PJ Fleck. 247Sports.com's Steve Wiltfong reported today that Ohio State had in fact offered Okorafor, but when I spoke to the 6-foot-6, 285-pounder Monday night it didn't seem to be the case. He had been waiting for a call from the Buckeyes to confirm their interest.
"They didn't call, so I guess they're not offering," Okorafor told 11W. "I am not really worrying whether they did or didn't." 
Clearly, Okorafor is comfortable with his choice in Kalamazoo, but maybe the Buckeyes could still land their fifth offensive lineman — or third defensive lineman — in the 2014 from class from Southfield? Yes, McDowell could absolutely fill either role for the Buckeyes in the future and that's one of the things that makes the 247Sports.com composite five-star so intriguing as he prepares for his visit this weekend. 
My sources say that Urban Meyer made a significant impression on not just McDowell — but also with key members of his family — during Monday's visit and that the Buckeyes are more of a threat than they're being given credit for. Getting McDowell on campus this weekend will give Larry Johnson and the Buckeyes' staff a chance to make things interesting. 
As of right now, I'm cautiously optimistic that not only will Jamarco Jones remain a Buckeye, but that Malik McDowell could join him, despite the fact that most people feel the Buckeyes are a distant third behind Michigan State and Florida State for McDowell's signature. Ohio State could end up adding McDowell and New Jersey athlete David Njoku after this weekend's official visits, so stay tuned as always.
RUN-TMC HIGHLIGHTS
If you're bored, or sad that football is over, or just plain want to see something that's worth seeing that gets you excited about the future of Buckeye football, I recommend taking a look at Buckeye commitment Terry McLaurin's senior season highlights. McLaurin is regularly overlooked by people talking about the "Dream '14," but there's little doubt that he talent is on the same level as any of the more heralded members.