"A long way to go." That's how Ohio State head coach Thad Matta described the Buckeyes' current position after fending off Illinois and ending a ghastly four-game stretch of losing. Ohio State got what it wanted – and needed. Now, it's about building on that.
When it needed it most, the schedule fell in line for Ohio State. Nebraska, Illinois and Penn State came in succession while the Buckeyes were struggling. They flubbed Game No. 1, losing in Lincoln. But the opportunity exists for a second consecutive win as road games against Wisconsin and Iowa looming.
"There's never everything lost this early in the year," senior guard Aaron Craft said. "But we do have to have a sense of urgency. We didn't do anything special. We didn't do anything that was Earth shattering. We just have a group of guys who have been through the battles."
So what is this team's ceiling? That question remains unanswered, though dates with Wisconsin, Iowa and Michigan will go a long way in determining the Buckeyes' March prospects.
If Ohio State can keep its defense propped up and end an historically bad offense, there's reason to believe the Buckeyes can be a pest when the calendar flips to spring. That wasn't the thought a week ago.
"I can tell you prior to [the Illinois] game there were no smiles, there was no laughter," senior guard Lenzelle Smith Jr. said. "There was none of that."
Slowly but surely grins are reappearing in Columbus.
| # | Name | YR | HT/WT | PTS | REB | AST | P | # | Name | YR | HT/WT | PTS | REB | AST |
| --- | --- | --- | --- | --- | --- | --- | --- | --- | --- | --- | --- | --- | --- | --- |
| 4 | A. Craft | SR | 6-2/195 | 9.3 | 3.5 | 4.9 | G | 23 | T. Frazier | SR | 6-1/170 | 16.5 | 4.6 | 6.4 |
| 3 | S. Scott | JR | 6-1/185 | 7.6 | 3.9 | 3.8 | G | 2 | D.J. Newbill | JR | 6-4/205 | 17.2 | 5.3 | 1.9 |
| 32 | L. Smith Jr. | SR | 6-4/210 | 12.1 | 5.0 | 1.5 | G | 10 | B. Taylor | SO | 6-7/235 | 9.6 | 4.9 | 0.6 |
| 10 | L. Ross | JR | 6-8/220 | 14.1 | 5.6 | 0.8 | F | 43 | R. Travis | JR | 6-6/225 | 10.2 | 7.3 | 1.0 |
| 23 | A. Williams | JR | 6-11/250 | 8.9 | 6.6 | 0.4 | C | 5 | D. Jack | SO | 6-9/210 | 7.5 | 3.8 | 0.7 |
Opponent Breakdown
Pat Chambers' first two seasons at Penn State were anything but grand. The Nittany Lions finished 11th and 12th in the Big Ten, but there was a positive outlook for the 2013-14 campaign. Some of the issues related to last season's 10-20 record and two-win conference mark were blamed on guard Tim Frazier's season-ending injury.
With a healthy Frazier and fellow guard D.J. Newbill leading the offense, there was reason to believe a tide could turn at Penn State. But despite that duo's impressive stats, not much has changed in the win-loss column. The Nittany Lions enter Wednesday night's game 10-10 and 1-6 in the Big Ten.
A more competitive team on the court has yet to translate into more victories. Instead, late second-half leads have evaporated into hard-luck losses. Turnovers, missed free throws and uneven play from underclassmen have all played a part in Penn State not quite turning the corner.
Chambers has used phrases like "sick to my stomach" in talking about recent collapses. Three losses have come by three points or less.
"It happens and we just got to learn from it," he said. "We got to continue to learn from it and know that we're a good basketball team, know that we're competing with everybody.
"We're finally almost on the same field with these teams, which is great and refreshing and it says we're doing the right things, we're getting the right players, we're headed in the right direction as a program for the long haul, which is exciting."
In their last outing, Penn State was locked in a hotly contested game with Nebraska, who was coming off an upset of Ohio State. But the Nittany Lions didn't revert to their old ways. Newbill scored 12 second-half points to help secure the 58-54 win.
"I was just trying to stay aggressive and stay confident and keep shooting the ball," Newbill said.
Said Chambers: "That's Penn State basketball. That's it. We worked hard. That's what I want to see."
He might want to turn the other way Wednesday night. 
Buckeye Breakdown
As Ohio State's offense sputtered during a four-game slide, perhaps no Buckeye struggled more than senior Lenzelle Smith Jr. He went through a horrendous stretch where he only converted 20 percent of his three-point attempts and spent many minutes on the bench.
This came after it finally looked like Smith could be a consistent offensive presence for Ohio State. He was known his first three seasons as a player who could provide spurts of offense but was never a dependable night in, night out scorer. Then he hit half his shots from the field and converted 40 percent of his 3s as the Buckeyes started the season 15-0.
As the team's second-leading scorer, it appeared the guard's final season would be filled with cashed-in potential. But numbers like 3 of 11, 3 of 9 and 4 of 17 caused heads to turn away.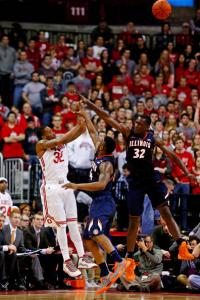 "It's a mental thing," Smith said recently. "Sometimes I get in a mental state of, 'Ahh, I missed a shot. Maybe I should get in the lane and get a layup,'"
In a slump-busting win over Illinois, it was the three-point line that once again became Smith's friend. He made 50 percent of his attempts – 4 of 8 – including a dagger in the final minutes, finishing with 16 points, five rebounds and three steals.
For a player who's charged through emotion, it was a confidence-building performance.
"Honestly, I'm happy for Lenzelle," Matta said after the victory, "because he's been very diligent last few days of in there working and trying to get everything right. You see that, and that's what excites you as a coach and you're happy for him when it goes in."
Throughout his four-game ordeal – and the team's – teammates and coaches never lost faith in Smith. Fellow senior Aaron Craft and junior sharpshooter LaQuinton Ross continually urged Smith to shoot the ball. Matta has long told his players the only way to end a shooting slump is to keep getting the ball airborne. Eventually, it will go through the rim.
But even Matta couldn't resist poking fun at Smith after the Illinois game, saying his four 3s brought his percentage in Big Ten games to six percent.
"We are jacked up," Matta said, wryly.
The conference championship is a long shot, but a high seed in the NCAA Tournament is not out of question. Penn State is the worst team in the league and then come dates with Wisconsin and Iowa on the road and home game with Michigan, who's currently the lone undefeated conference team.
Reel off a couple signature wins, and the Buckeyes could be back in their familiar February territory – trending upward. To get there, though, the uncharacteristic sloppiness and inefficient offense that hung like a dark cloud must disappear.
For that, Ohio State needs Ross, Craft and Smith to return to their "old reliable" status.
"I don't think anybody here signed up to lose games," Smith said. "Obviously, guys are feeling a little better now. It's definitely a step closer. It feels good."
Etc
To honor former Ohio State assistant Dan Peters, the Buckeye coaching staff will wear lapel pins with a purple ribbon – the color for pancreatic cancer awareness – and the words "4 Pete's Sake." It's in conjunction with the Coaches vs. Cancer Suits and Sneakers Awareness Weekend. Peters is currently the director of basketball operations at Akron.
Thad Matta is 17-0 against Penn State as Ohio State's head coach. The Nittany Lions have never won at Value City Arena (0-9) and have lost 18 consecutive games in the series. 
Ohio State ranks third nationally in three-point field goal percentage defense (26.2 percent) and eighth in scoring defense (58.3 points per game).
Aaron Craft is No. 10 in the country in total steals (47), while Shannon Scott ranks 20th (43).