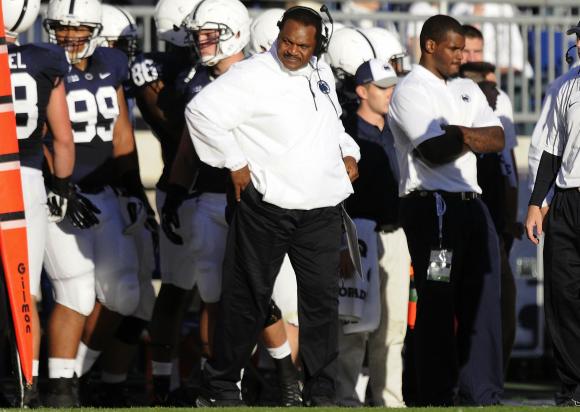 There are football coaches who yell and scream, while some talk in measured tones and offer encouragement. There are those who seem as if they are robots, always focusing on the next play, the next game, living and breathing through football.
Newly hired Ohio State assistant Larry Johnson is the soft-spoken coach who's a human being. A football lifer, Johnson understands the importance of life outside football and being compassionate inside the macho game.
That's why Johnson's won over so many recruits – and parents – and earned respect on the uber-competitive trail. It's why his former players speak of him with a twinkle in their eye and wide grin from ear to ear. Johnson has that unique blend of football coach, mentor, friend and father that few coaches capture.
"I'm a relationship guy and I think in order to get the best out of your players you have to develop relationships," Johnson said after his hiring. "I'm also a teacher. I like to teach the basic fundamentals of football. I want guys who are fundamentally sound and have the ability to play fast and to play relentless."
In a single quote, Johnson displayed his full personality. Perhaps his finest moment came in Ohio Stadium's most horrific hour. On Sept. 28, 2000, the Buckeyes were closing out a 45-6 win over the Nittany Lions when freshman cornerback Adam Taliaferro was paralyzed from the neck down after a vicious hit on a kick return.
The Penn State family was fragile during the ordeal, but Johnson stood tall and delivered a fiery sermon and prayer that helped galvanize the community during a period of sorrow.
"It's hard to put into words, but Coach Johnson would immediately make you feel like family when you'd first met him," Taliaferro told Eleven Warriors. "From Day 1 he looks you in the eye and you know you're getting the truth when he speaks to you. Often times Coach J would not even speak about football, he would talk about the importance of being good men."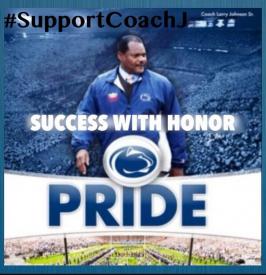 Devon Still, an All-American defensive tackle, discovered that same Larry Johnson. Before he became one of the best players in the country, Still suffered a series of serious injuries that could have derailed his career. But long hours of successful rehab followed, and while he was down emotionally and mentally, Johnson was at his side for reassurance.
"What was so special about Coach Johnson is he never yelled or cursed, but when he spoke everyone paid attention. The relationship he has is more than player/coach, and I think that's why his D-linemen were always successful," said Taliaferro, who's now a member of Penn State's Board of Trustees. "They were not only playing for themselves, but they did not want to disappoint the man they had so much respect for." 
During his 18 years in State College, Johnson coached special teams, defensive ends, the defensive line and was an ace recruiter. He also oversaw day-to-day operations when the Nittany Lions searched for a new head coach.
Twice in the past three years, Penn State has been left without a head football coach. In both instances, one candidate garnered the overwhelming support of former and current players – Johnson.
Taliaferro tweeted, "Daydreaming..Coach Johnson HC at PSU...@LaVarArrington as LB coach...find a OC and other staff and lets roll #RecruitingOn100 #PSU." Still made an impassioned plea on instagram and detailed how important Johnson was to Penn State.
"I've NEVER in life met a man other then my father that I knew I could always count on," Still wrote. "The one coach I know would do anything for his players and put his career on the line to fight for something he truly believed in. While I was at [Penn State], he had many offers to move on to other institutions to advance his career, but he never left because during the recruiting process he told us he would be the one coaching us throughout our college career, and he was a man of his word.
"His track record speaks for itself. He's had numerous defensive linemen named All-Americans and later became NFL draft picks, so he knows how to bring the best out of players. A man that's been apart of the community and school for 15+ years, so he knows what [Penn State] represents to many across the world. We all speak about hiring a coach that's going to be loyal to the program, so why not be loyal to a coach who has done so much for this program and give him a shot at being [head coach]."
The hashtag #SupportCoachJ went viral among Penn Staters, as did a photo of Johnson with the words "Success with honor" and "Pride." But it was all for naught. James Franklin, one of the bright young minds in the sport, traded Vanderbilt for Penn State.
So Johnson will bring his talent evaluation, coaching, fatherly role and player barbecues to Ohio State. All of the aforementioned skills/traits/characteristics are why Still de-committed from Ohio State in 2007 – and why Meyer sees so much value in having Johnson on his staff.
Taliaferro roomed with Johnson's son, Tony, at Penn State and saw firsthand the relationship between father and son. What he witnessed didn't differ from the way Johnson treated his players. He kept them close, delivered doses of reality when it was needed and served as a calming influence amidst trying times.
Said Taliaferro: "He is a special coach and will always have the respect of anyone who played for him."