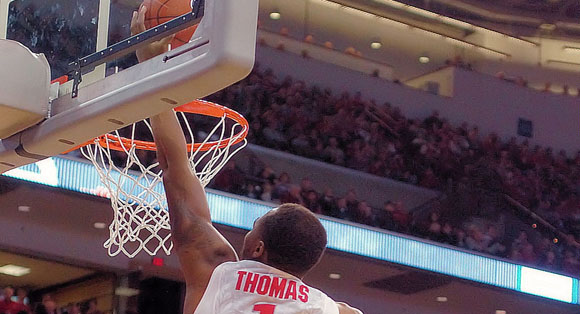 As the New Year approached, Michigan was floundering downhill. After coming within one half of winning the national championship, the Wolverines had to replace the country's best player in Trey Burke and fellow first-round draft pick Tim Hardaway Jr. That gave way to a disappointing 7-4 start to the season.
But the biggest loss came weeks after Michigan nearly beat undefeated and top-ranked Arizona. Soon thereafter, it was discovered Mitch McGary would be out indefinitely due to a nagging back injury. Instead of wilting, though, the maize and blue have rattled off nine consecutive wins without McGary. They've positioned themselves as the Big Ten's front-runner and are poised to break into the top 10. 
Michigan's last three wins have come against foes ranked in the top 10. Suddenly, spring practice is on the back burner in Ann Arbor.
"I know we beat three really good teams," Michigan head coach John Beilein said. "The national stuff? Forget about it. It's about the Big Ten right now."
A couple hours to the south, National Signing Day is taking precedence.
As the Wolverines' season spiraled, archrival Ohio State vaulted out to a 15-0 record and No. 3 ranking. The Buckeyes, coming off a trip to the Elite Eight, were thriving even without the Big Ten's leading scorer, Deshaun Thomas. But just as quickly as Michigan's fortunes turned, Ohio State went through an epic nosedive, descending into a four-game losing streak and effectively eliminating itself from Big Ten title contention. 
During the Buckeyes' slide, they displayed an uncharacteristic brand of basketball. Thad Matta's 10 years in Columbus have been defined by good defense, sound point guard play and discipline on both ends of the floor. That all disappeared for a two-week stretch.
Last Five Outings


| Ohio State | Michigan |
| --- | --- |
| W, 62–55 vs ILL (1/23) | W, 80–75 @ MSU (1/25) |
| L, 68–62 @ NEB (1/20) | W, 75–67 vs IOWA (1/22) |
| L, 63–53 @ MINN (1/16) | W, 77–70 @ WIS (1/18) |
| L, 84–74 vs IOWA (1/12) | W, 80–67 vs PSU (1/14) |
| L, 72–68 @ MSU (1/7) | W, 71–70 @ NEB (1/9) |
Ohio State's nation's-best four consecutive trips to the Sweet 16 is on the verge of ending. The bleeding stopped with an ugly-but-much-needed victory over Illinois. Michigan, meanwhile, was 2 for 2 last week dispatching ranked opponents – Iowa and Michigan State.
The latter came on the road in one of the sport's most hostile environments. Sure, the Spartans were without two starters. But Michigan was down three significant pieces from last season's sprint to April, and they overcame an eight-point deficit to win by five.
"This is one step in the right direction with a long way to go," Beilein said.
The rise from 7-4 to 15-4 – and 7-0 in the Big Ten – begins and ends with players seizing the moment. No one has done that more than sophomore guard Nik Stauskas. The sharpshooting Canadian is averaging 18.5 points per game this season and 22.6 the past three games. He's 12 for his last 24 from long range, and Stauskas hit game-changing shots in all three wins.
Fellow sophomores Glenn Robinson III and Caris Levert provide a combined 25.5 points each night. The latest emergence for the Wolverines is freshman Derrick Walton Jr., who scored 19 points against Michigan State and connected on nine of 10 free throws.
For Ohio State, LaQuinton Ross is the leading scorer many thought he would be. But he doesn't have the same "it" factor that Greg Oden, Mike Conley, Jared Sullinger and Thomas possessed before him. Amir Williams still isn't as dependable a big man as the Buckeyes need, and Lenzelle Smith Jr. lacks a consistent shooting touch to be the No. 2 guy. For all the defense Aaron Craft provides, he still hasn't been able to hammer down shooting woes that have plagued much of his career.
"I would say, Jared Sullinger and your Deshauns, those guys had a knack for somehow, someway of finding a way [late in games], via the free-throw line or getting inside the defense, to score," Matta said.
Still, the Buckeyes have one of the best defenses in the country. Up north, Michigan has arguably the most efficient offense. The Wolverines' points per game haven't dipped without Burke and Hardaway (and McGary), they're turning the ball over less and have essentially the same assist numbers.
"We heard it and all throughout the summer. That's what motivated us all to work hard," Stauskas said. "We knew we were losing that talent and that people thought we couldn't do it. We're just trying to work as hard as we can and get better every day."
Daily improvement is also the focus for Ohio State, if for nothing else to keep interest until spring football.