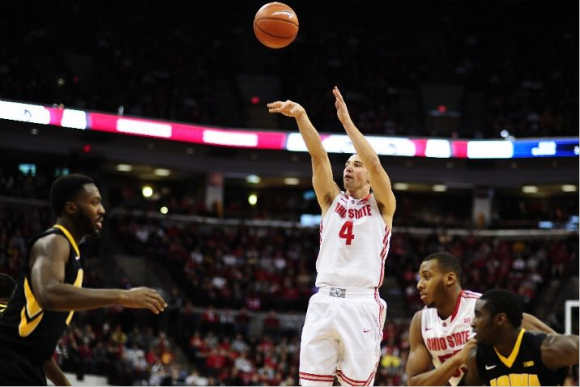 The Buckeyes' offensive struggles are well known. According to the Kenpom rankings, Ohio State's offense is ranked 120th, the worst offense of Matta's ten years in Columbus by a wide margin. Perimeter shooting is a major reason why.
The men's basketball team ended a four game slump against Illinois on Thursday in a curious fashion: after a first half in which both teams shot enough bricks to add another floor to Orton Hall, Ohio State finished shooting 42 percent from three point range to pull out an eight point win.
Aside from the turnover issues that have hindered the team in Big Ten play, the Buckeyes' biggest area of improvement is three point shooting. It's also the best hope for the offense; if Ohio State become good at nailing three pointers, it gives their otherwise middling offense the variance to beat good teams.
Given that three point shooting is a major concern for the Buckeyes, how can they improve on it?
Whatever the plan was in the offseason, the team hasn't improved their outside shooting like they had hoped. Following the 2013 regional final against Wichita State in which the Buckeyes shot 31.1 percent from the field and 20 percent from three point range, the team vowed to spend the offseason getting better at shooting:
"Coach had a massive emphasis on shooting (during the offseason), not just for myself but for everybody," guard Aaron Craft said. "The first few times we worked out individually, it was all shooting, trying to have us understand how important it is. When you make shots, it changes a lot of things in the game."

Yesterday, at the team's media day, Matta said, "I believe we're a better-shooting basketball team. The percentages say we're a better-shooting basketball team with what we're doing right now."
So far, there have been mixed results. The two point shooting has improved to 52 percent, but the three point shooting has declined to 34.4 percent, 168th in the country.
There are several schools of thought about defending three pointers, but one point of agreement is that a team's three point defense cannot be judged by the opponent's shooting percentage. We need not worry about how Michigan State, Northwestern, and Iowa will affect those percentages; for Ohio State, it's all about improving the quality of the three pointers they take.
The Shooters
The Buckeyes don't have a three point specialist; they spread the ball evenly. LaQuinton Ross and Lenzelle Smith are the best shooters, and that's reflected in them making fifteen and eight three pointers in Big Ten play. The trigger-happy Marc Loving has six, Shannon Scott and Amedeo Della Valle with five, and Sam Thompson and Aaron Craft have four.
The distribution of shots is pretty good. Sam Thompson is below expectations given his potential and Amedeo Della Valle doesn't get enough minutes in the rotation to be a key scorer, but there's not much more room for optimization in who takes the shots.
Jack Up Shots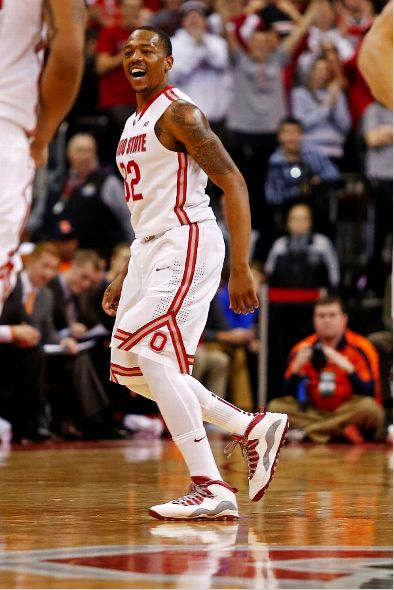 Maybe the problem is that Ohio State doesn't have the necessary practice with three pointers. Why not go three-wacky and hope that the repetitions increase the efficiency?
The Buckeyes already take a fairly high percentage of their shots from three (36.2%, 87th in the country). For one thing, greater volume comes with decreased efficiency. When a team relies heavily on the three pointer, opponents play tighter and contest more shots, making them more difficult.
Instead, the current offense would be better off with more two point shots, which they are better at hitting. In theory, shooting more two pointers would cause opposing defenses to suck in, allowing for more open looks on the perimeter when they collapse.
Increasing the shots taken from the perimeter could also hurt the team in its rebounding. Ohio State is 208th in the country at offensive rebounding, the offense's worst category outside of free throw shooting. By taking more low percentage shots, the Buckeyes would forfeit a greater percentage of their possessions and second chance points.
Inside-Outside
In the other direction is the inside-outside game, in which Ohio State would pound the ball inside, force the defense to tamp down on the man with the ball, then quickly swing the ball out to an open man. In this system, the man close to the basket would be the center of the offense.
The problem with this is that Amir Williams is the only player on the team who has the size and strength to post up regularly, and he has notoriously bad hands. He may not be good enough a passer to carry the offense.
The other method of creating enough space for perimeter shooting is guard penetration. Aaron Craft and Shannon Scott are the two players most likely to do this, kicking out to Ross or Smith or Thompson on the perimeter. The problem with this is the slump both players have gone through in Big Ten play, turning the ball over frequently and killing possessions.
Burn the Redshirt
Another option is to burn Kameron Williams' redshirt. Williams averaged 21 points a game as a high school senior and is skilled at hitting jumpers. Were he to enter the rotation, he could bring an offensive spark that Aaron Craft and Shannon Scott haven't shown.
However, adding Williams to the lineup would make Ohio State even more guard-heavy on minutes. The Buckeyes already start three guards, and Amedeo Della Valle gets around twelve minutes a game. Williams would have to be a firecracker to take minutes away from Craft or Scott, who have shown themselves to be excellent defenders.
It's a moot point, since Thad Matta reaffirmed his commitment to redshirting Kameron Williams in this past week. Unless Matta rethinks that decision during the stretch run, the next time Williams takes the court will be in October.
Pairing Players
Unlike the list of three point shooters, the facilitators for those shots are distributed unevenly. Aaron Craft dominates, having dished out assists on 20 of OSU's 42 made three pointers in Big Ten play. He doubles Shannon Scott, who has assisted on ten three pointers, and then follows Sam Thompson with seven and Ross and Smith with three and two assists respectively. In light of this, the best option may be to design set plays for pairs of players who have been productive together and run them frequently during the game.
Amedeo Della Valle and Sam Thompson have a special kind of connection. Though neither uses many offensive possessions, they've been quite effective in their limited time, with Thompson assisting Della Valle on three of his four three pointers. When Ohio State has to go with a small lineup, putting in Della Valle as a third guard and Sam Thompson as a forward could spark some offense.
Among the starters, the two leading three point shooters pair up with the Buckeyes' two primary ball handlers. Shannon Scott has assisted LaQuinton Ross on six of his treys, more than anyone else on the team. Aaron Craft's favorite target is Lenzelle Smith, whom Craft has assisted on five of his ten threes. When all four are in the game, Craft should focus on penetrating then dishing out to Smith, while Scott may be better served by running the pick and roll with Ross.
Conversely, there may be some players who are better off kept separated. Aaron Craft has only assisted on four LaQuinton Ross three pointers in Big Ten play despite playing more minutes than anyone; when Craft is on the bench, it might be better for Scott and Ross to be together on the floor.
Ohio State doesn't need everyone to hit threes like Jon Diebler to be successful; it can make it through the year without improving on offense and make a modest NCAA Tournament run. But if the goal is to make it to the Final Four, something has to click on offense.