After the Buckeyes lost the Big Ten Championship many among Buckeye Nation believed the 2013 team squandered the Scarlet and Gray's best chance at a title run in the near future. On the surface it's hard to blame them. Gone is all-bulldozer everything, Carlos Hyde as well as the entire offensive line he was running behind. On the defensive side of the ball the Silver Bullets lost a couple of studs in Bradley Roby and Ryan Damn Shazier.
While there's no denying solid pieces are leaving a team that went 24-2 over the past two seasons, I believe the best team of Urban Meyer's Buckeye tenure is just an offseason away. Here's why.
Braxton Miller

After his performance over the last two games of the season, many have been quick to write Miller off as a good but not great Buckeye quarterback. These individuals have their reasons (well sort of). Over the past three seasons, Miller has shown a tendency to revert back to a run-first quarterback as the schedule wears on, he's yet to lead the Scarlet and Gray to a B1G championship, and he hasn't won a bowl game. On paper, it's hard to get past some of those knocks.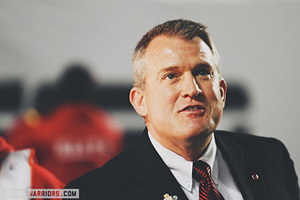 But I'm here to tell you fans calling out Braxton need to re-evaluate their evaluation. Simply put, it's unfair to analyze his three seasons in a vacuum. Coming in as a freshman, Braxton was never supposed to start. He came in, played admirably and lost a Gator Bowl under the tutelage of a video coordinator while carrying a team decimated by sanctions on his back. In 2012 Braxton finally got the quarterback coach he deserved but was forced to learn a new offense in a single offseason. 
We all know how that panned out. Of course, even with an undefeated season, the Buckeyes couldn't compete in the post-season so once again…no B1G championship…no bowl win for Braxton.
In all fairness, 2013 was the first season Miller had a chance to achieve greatness on a scale outside of the B1G...and he got close.
2014 will be the year he does it.
He's a two-time Big Ten offensive MVP, has won two straight Chicago Tribune Silver Footballs, is 500 yards and one TD away from being the Buckeyes' all-time leader in total offense and scores, and is 11 wins away from being the winningest quarterback in Ohio State history. This will be his third year in Tom Herman's system, he'll have the best group of WRs he's had in his career and he'll be hungry to prove doubters wrong while trying to punch his NFL ticket.
2014 Braxton is going be the best version of No. 5 we've ever seen.
Defensive Line

The Buckeyes lost defensive line coach and boss-hog recruiter Mike Vrabel then went out and found someone that may be even better to replace him. That's no knock on Vrabel. The guy is a Buckeye through-and-through, is young and has proven himself on college football's biggest stage. The defensive line was the lone bright spot on the defense last season and much of that is thanks to Vrabel's abilities.
But Larry Johnson is next level, folks. While he doesn't have the Super Bowl rings to flash in the living rooms of targets, he's widely regarded as one of the best recruiters in the country. As good as he is at planting flags, he's even better on the practice field. With 18 years of experience he's developed techniques that produce results. At Penn State he coached seven first team All-Americans including six first round draft picks. In total, fifteen defensive linemen received first-team all-conference nods under Johnson's tutelage.
With the Buckeyes, Johnson is inheriting a group of young blue-chipers who appear to be one year ahead of schedule. It's hard to believe now, but heading into the 2013 season many believed the defensive line to be the unit's biggest question mark. As aforementioned they became the defense's biggest asset with unexpected surprises like Joey Bosa leading the way.
The 2014 edition of the boys in the trenches might be the best we've seen in years. They're all coming back and the depth of talent at every position will be incredible. Coaches will tell you it all starts with the players up front. If that's the case, the Buckeye defense will be starting off on the right foot.
Secondary

It's not going out on a limb to say the 2014 edition of the secondary couldn't possibly be worse than the 2013 unit. While that would probably be true even if the Buckeyes fielded a group of newborn babies, I'm here to tell you the 2014 squad will be markedly improved.
To start, the departure of Pitt Brown, Bradley Roby, C.J. Barnett and Christian Bryant will clear the way for some of Meyer's stockpiled talent to see the field. Players like Vonn Bell, Eli Apple, Gareon Conley and Cam Burrows have been chomping at the bit to prove their worth, while incoming 2014 recruits like Damon Webb and Erick Smith will push everyone to get better.
There will be a sense of urgency for this unit in 2014 and leading the charge will be new co-defensive coordinator and safeties coach, Chris Ash. Ash will be primed and ready to prove his worth on the staff. He's a proven winner who stresses fundamentals (which seemed to be lacking during the majority of 2013) and a fresh presence on that side of the ball will open up a healthy competition among a group of incredibly young and talented players.
Ash should be able to teach the new guys from the ground up, while (hopefully) removing a lot of the older players' bad habits. Looking at you Doran Grant and Armani Reeves.
All-in-all I don't see this unit going anywhere but up next season. A welcome relief for everyone involved.
Ed Warinner

Last but certainly not least is the return of offensive line coach Ed Warinner. Warinner interviewed with Army in December, but ultimately remained with Meyer's staff. This may have been the biggest Buckeye offseason story that nobody is talking about.
The Scarlet and Gray are losing their entire offensive line. The unit was arguably the strongest on the 2013 team. They cleared holes for Hyde and Miller I could have gained three yards running through. They were a phenomenal group and they were a beast of Warinner's design. In the ten years before his arrival Buckeye fans were forced to watch way too many premier offensive line prospects serve as kindling for Jim Bollman's bonfire of sadness. Seeing the extreme lows made Warinner's arrival that much sweeter. He coached the blue chips into everything they always should have been. Seeing him leave in the midst of a complete offensive line re-build would have been devastating.
Instead, he's back and he's got plenty of talent in his meeting room. I think Warinner will revel in the challenge of recreating the success of last season, and I think he can do it.
---
The 2013 Buckeyes were good. The 2014 Buckeyes have a chance to be great. Braxton Miller is primed to have his best season in the Scarlet and Gray, the defensive line should be one of the best Buckeye Nation has seen in years and the coaching staff (old and new) is eager to prove the chase is real. Watch out for the 2014 Buckeyes. They might just surprise you.