Recruiting season is in full swing and the Ohio State coaches are continuing their relentless pursuit of future Buckeyes.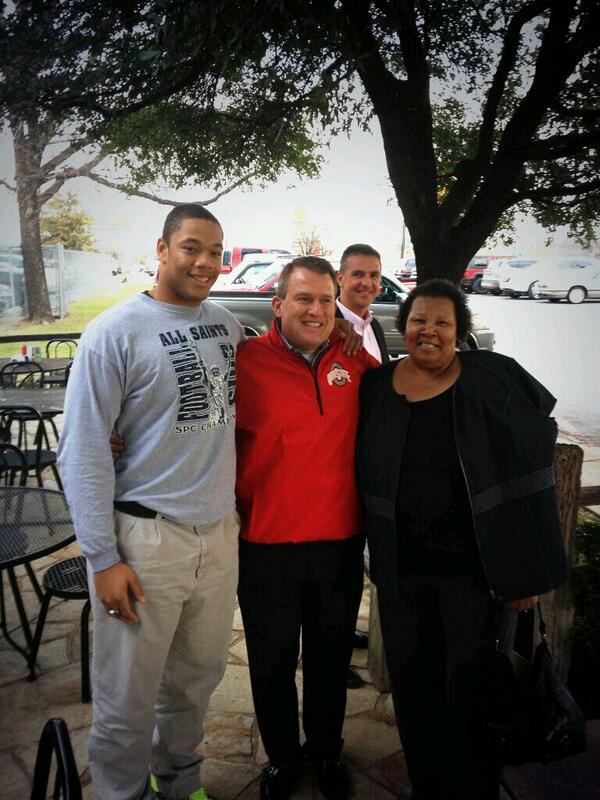 The east coast, Texas and Florida have quickly emerged as hot beds for the 2015 class and OSU is already recruiting these areas hard. That doesn't mean the Buckeyes have forgotten about their home state. Urban Meyer, Kerry Coombs and Luke Fickell were recruiting Ohio this morning, before Meyer headed to Connecticut to check out Christian Wilkins.
Meyer was at big time Cincinnati prospect Justin Hilliard's school this morning, while Coombs was at Winton Woods. Meyer is also visiting top TE target Chris Clark today, who 11W caught up with a few days ago.
Meanwhile, Fickell is staying closer to home and recruiting the Columbus area. He visited Nick Conner today as well as likely several others (more on Conner here). Tom Herman is also back in Ohio Today, checking in on Sciotovill'e Tyler Gerald.
We will have plenty more on the coaches whereabouts on Twitter and in the forum (especially in threads like this one), but join us after the jump for updates on Demetrius Knox and David Njoku, as well as a few recently offered 2015 and 2016 targets.
Beast of the east

Signing day 2014 is fast approaching and Ohio State's class is pretty much wrapped up, but there is one target Meyer and company would really like to snag. Newly offered David Njoku has been receiving a lot of love from the Ohio State coaches over the past week or so, with multiple visits from members of the staff.
Ed Warinner was out in New Jersey again last night to attend Njoku's basketball game. Njoku told 11W that he just got a chance to say hey and have a brief chat with Warinner, so nothing too extensive. It's pretty safe to say that Warinner likely came away impressed though. Njoku's team lost but he continues to display freakish athleticism on the court, averaging more than three blocks per game and nearly 13 rebounds per game over his career. Njoku told 11W that he led the state of New Jersey in rebounding last year, which especially impressive considering he out-rebounded a pair of highly touted 7-footers - Karl Towns Jr. and Trayvon Reed. His football stats aren't too shabby either, as he had nearly 1000 receiving yards, 11 touchdowns and averaged more than 24 yards per catch.
With the recent news surrounding Marcus Baugh, Njoku is Ohio State's biggest remaining target and the Buckeyes are in as good of a position as anyone to land him. He will be visiting Columbus next weekend where he will try to determine if Ohio State is "the right fit." Here's a little more info on his recruitment in the forums from a few days ago in case you missed it.
Stay tuned for more on Njoku's recruitment in the coming days as we'll have all the latest info here at 11W.
New offers go out

While much of the focus remains on how Ohio State will close out the 2014 class, the coaching staff continues their early jump on recruiting for 2015 and beyond. Two new offers went out yesterday – one to a 2015 athlete and one to a 2016 wide receiver.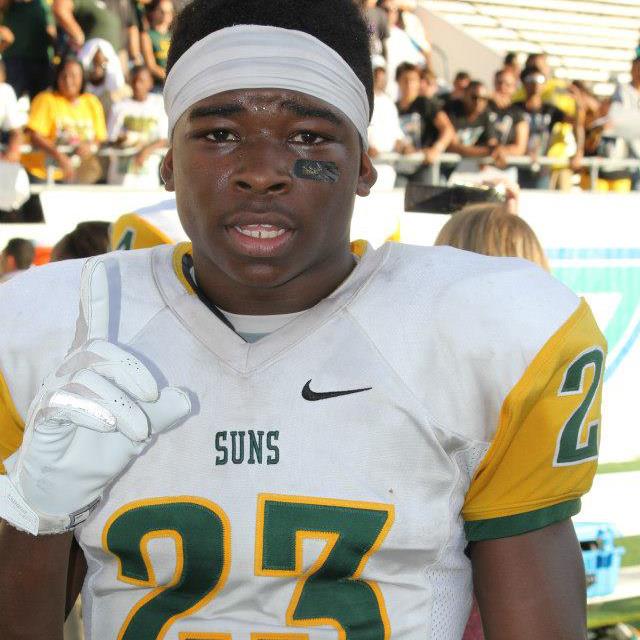 The 2015 athlete was Deon Cain, a four-star from Tampa, Florida. Cain has a pretty impressive offer list that includes Florida State, Florida, Clemson, Miami, Louisville and others. He currently plays quarterback for his high school team, though likely projects to a receiver at the next level. Cain told 11W that Ohio State is recruiting him as an athlete and that they could use him as either a QB or WR. He has the ideal size/speed combo that Ohio State is looking for at WR, listed at 6-foot-3 and running a reported 4.40 forty.
Cain said receiving an offer from Ohio State "means a lot to me. They stand high on my list."
Also high on the list for Cain are the local schools - Florida State, Florida and Miami, who offered yesterday as well.
Cain could be difficult to pull out of Florida, but the Ohio State staff is certainly gaining some momentum in the sunshine state for 2015. Jamel Dean (commit), Torrance Gibson, Jacques Patrick, Sh'Mar Kilby-Lane and others are all high on Ohio State in the 2015 class, which could help the Buckeyes with prospects like Cain. Check out Cain's highlights:
The other offer yesterday went out to 2016 wide receiver Sam Bruce from Fort Lauderdale. Bruce just transferred to St. Thomas Aquinas high school where he will be teammates with Buckeye targets Nick Bosa (2016 DL) and Devante Peete (2015 WR). Peete and Bosa are both really high on Ohio State and it would be quite a spectacle if Ohio State reeled in all three from one of the best programs in the nation.
Sam Bruce is 5-feet-8-inches tall and 160 pounds, but the sophomore has plenty of time to grow. Offers from Alabama, Florida State, Notre Dame, USC, South Carolina, Michigan State, Clemson, Miami and others already are pretty telling - the kid can flat out play. He has genes on his side that's for sure, as he's the nephew of former NFL star Isaac Bruce. 
As of a week ago, Bruce had a top two of Florida State and Miami, though offers yesterday from Ohio State and Alabama will give him something to think about. He has visited Florida State and Miami thus far, but I would expect him to expand his horizons a bit as the process continues. He isn't planning on committing until his senior season so he is very early in the process. The Florida schools have an early advantage but the Buckeyes and others should be in the mix as well. Being in the same class and on the same team with Nick Bosa could really help Ohio State's chances here. I'm not saying Bosa is a Buckeye lock by any means as it is very early, but Nick likes Ohio State a lot and Ohio State has a good relationship with the Bosa family, which should help with Peete and now Bruce. Check out Bruce's highlights, his route-running for a sophomore is phenomenal:
Today, Ohio State offered another 2016 prospect, running back Kareem Walker (Wayne, NJ). Walker is already a big back, at 6-feet, 1-inch tall and 190 pounds as a sophomore, and he holds early offers from Michigan, Penn State, Tennessee, Rutgers and a few others. Michigan is recruiting Walker very hard after offering a couple of weeks ago, and one Michigan site says that he will visit the Wolverines. Additionally, Walker is being chased by in-state Rutgers and took an unofficial visit there in August. Still, Walker doesn't really have any favorites and he has barely started the recruiting process. On the field, Walker helped lead his team, De Paul Catholic High School, to a New Jersey state championship this past year. Check out his sophomore highlights here.
Meech
Update
After visiting with the Ohio State coaching staff on Wednesday, it appears Demetrius Knox has canceled the visit to Texas he was planning to make this weekend.
He could of course change his mind between now and tomorrow but as Birm predicted, it doesn't look like he will visit Texas. As of now he is still scheduled to visit UCLA, we shall see if he does indeed make the visit. I think he will go ahead and check out UCLA one last time, but I would be surprised if he flipped from Ohio State.