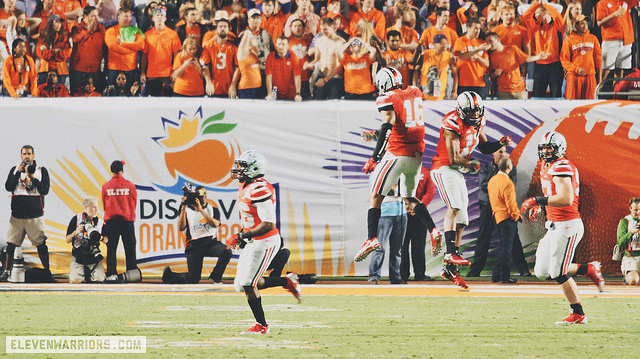 Continuing a theme I started two weeks ago, Urban Meyer's tenure at Ohio State could be best characterized by missed opportunities. The missed opportunity in 2012 was clearly the sanctions that led, in part, to the arrival of Urban Meyer. Absent that postseason ban, I do not doubt Ohio State rolls Nebraska again in the Big Ten Championship Game and beats Notre Dame in lieu of Alabama. College football fans can contest this scenario as I envision it, but, alas, we'll never know.
The missed opportunity in 2013 on a team loaded with veteran offensive talent was clearly the defense, whose collective absence of respectability gave every opportunity for college football pundits to discuss substituting a one-loss SEC team (Alabama, Auburn, or Missouri) in place of an undefeated Ohio State squad.
Michigan State did college football writ large a favor by exposing Ohio State's fundamentally poor defense for good in the Big Ten Championship Game. Sammy Watkins and Chad Morris poured salt on that wound for Ohio State fans in the Orange Bowl a few weeks later.
Ohio State's 2014 season will start with far more questions than even the 2012 campaign, Meyer's first in Columbus after a 6-7 Ohio State season. Perhaps the biggest question concerns the secondary. While attrition at offensive line may be greater, that particular unit had much greater production and reason for confidence despite the attrition.
The questions at the secondary even led to a reshuffling of the coaching staff. While Chris Ash is yet to be formally announced, the title he has bestowed upon himself in his Twitter bio suggests he may take responsibility for the entire defensive backfield. This would possibly move Kerry Coombs, beloved fire-breathing mascot of the program for Ohio State fans, to special teams coach and recruiting coordinator.
This feature will take a look at the problem of attrition in the secondary for 2014, discussing as well the likely replacements for the departing seniors and Bradley Roby.
The consensus among Ohio State fans may be that the safety play was the bigger source of frustration, though that it is a matter of debate underscores how far-reaching are grievances are with the play of the defensive backfield. Down the stretch, I found the play of the cornerbacks even more concerning. Bradley Roby was lost to injury after the Big Ten Championship Game, leaving a guy like Doran Grant the top cornerback on the squad. His inability to turn around his head and look for the ball in the air was the source of multiple pass interference flags in the Big Ten Championship Game and Orange Bowl. Even when coverage was adequate, these freshman-level errors manifested among the cornerbacks.
Confidence in the ability of the returning cornerbacks was not demonstrated through the 2013 season now that Roby is a professional. The projected starters, at least right now, are Armani Reeves and Doran Grant. Neither looked the part in 2013. Grant will be a senior in 2014, though was prone to those aforementioned freshman-level errors. Reeves, a junior in 2014, did not look much better either. Him interfering with Martavis Bryant en route to what was another highlight reel play for Clemson in the Orange Bowl still resonates.
New secondary coach Chris Ash is going to pick one of two poisons in evaluating the two-deep at cornerback for the start of the 2014 season. The returning players from last year's active roster are upperclassmen with game experience but without much confidence. The redshirts from last season, Eli Apple and Gareon Conley, have no game experience, but plenty of intriguing "upside". Further, both are distinct from Grant and Reeves in another measurable property. Whereas Grant and Reeves measure around 5-10 each, Apple and Conley are listed at 6-1 and 6-2 respectively. Both would physically match up better with the move toward taller and bigger wide receivers than Grant or Reeves.
I'm especially optimistic about Eli Apple, who, from reports I gathered, may have looked the part better than the other freshman defensive backs during fall camp last year. For one reason or the other, the coaching staff felt comfortable redshirting him in 2013 and preserving his eligibility for 2014. Apple should still be as promising in run support as a cornerback as he was when he started his collegiate career. His wingspan and ability to ride receivers should still be there, even if I'm still not sure about the quality of his backpedal. All told, I think Apple makes a very strong push for playing time, even possibly starting, as a redshirt freshman.
Conley is still a bit of an unknown, but his size is still ideal for the cornerback position. A wide receiver for most of his high school career, there is still a lot we don't know about Conley as a defensive back.
Though it could be too early to call shots for this position, especially with the major reshuffling in the coaching staff for the defensive backfield, but I think Doran Grant holds his starting spot to start 2014. I think Eli Apple may supplant Armani Reeves, though.
The conversation about cornerback depth has, to this point, omitted freshmen-to-be who have not officially signed letters of intent and Cameron Burrows. A guy like Damon Webb, who I am surprised did not receive that elusive "fifth star" from recruiting services, could very well factor into the cornerback picture. Cameron Burrows provided emergency duty down the stretch at cornerback, especially in the game against Indiana. However, I expect Burrows to transition to safety soon, possibly starting this season.
Ohio State loses just about all safeties from last season. With the exception of Christian Bryant, that may be a good thing to just start anew. Bryant was denied a redshirt for the 2013 season after being injured at the end of the Wisconsin game. C.J. Barnett and Corey "Pitt" Brown exhausted their eligibility as redshirt seniors. Much like the situation at cornerback, a youth movement to replace these seniors is inevitable.
The two returning faces are two sophomores-to-be in 2014. The first is fan favorite Tyvis Powell, who endeared himself to fans the moment he committed to Ohio State and acquitted himself fairly well as a redshirt freshman in 2013. The game-sealing interception against Michigan is a great way for an unknown commodity from Bedford to seal his status among Ohio State fans.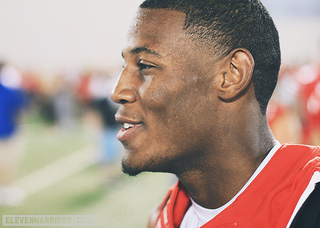 The second is Vonn Bell, the highly touted prize of the 2013 recruiting class who committed to Ohio State on National Letter of Intent Day over the favored Tennessee Volunteers. Bell, the subject of this post-Orange Bowl feature on Eleven Warriors, got increasingly more playing time as the season progressed. He started on special teams before moving to a starting role for the Orange Bowl after Corey "Pitt" Brown demonstrated an incapability in his position during the Big Ten Championship Game.
Bell did well enough, given the circumstances and the overall play of his teammates in the defensive backfield. He got burned on one Sammy Watkins touchdown, in which he was given no help in the form of a linebacker redirect. In another, he goaded Tajh Boyd to become Freshman Tajh Boyd, killing what would have been a scoring drive with a one-armed interception. The future is indeed bright.
I think the same holds for Tyvis Powell, who I genuinely like. One possible reservation about Powell concerns how high his "ceiling" is. Powell has ideal size for his position. I'm unsure of overall athleticism or speed. Nonetheless, Powell more than compensates by being a coach's favorite. His buy-in and work ethic have gone unquestioned. It's how a meager prospect from Bedford, a relative backwater for football recruiting in the state, could go from a redshirt year with a coaching staff who knew nothing of him and may not have recruited him to a regular fixture the next year. I don't think Powell's trajectory is exponential, but continued improvement and maturity at the position should see Powell again as a starter.
This leaves open the question of a third defensive back for Ohio State's nickel formations, an increasingly common alignment against the bevy of spread offenses that Ohio State faces in the league. Given his size and speed, the aforementioned Cam Burrows becomes a possibility.
Whether it's Burrows or another player, new assistant coach Chris Ash is going to have a rookie at nickelback. Jayme Thompson and Chris Worley are options from last year's recruiting class. Both redshirted and are unknown commodities at this point. Thompson is rehabilitating an injury and Worley is a "tweener" at linebacker, though I am expecting he stays at the "star" position.
Further, Ohio State is giving itself numerous options in this year's recruiting class. Most of the defensive backs pledged to sign with Ohio State project as safeties and not cornerbacks. However, freshmen are still freshmen. We also will not know a lot about guys like Erick Smith until they're on campus.
The prospectus for Ohio State's defensive backfield in 2014 looks objectively bleak. This is mostly a function of the poor performance of the unit in 2013 and the attrition that followed among the personnel and coaching staff. Whatever the case, and whoever gets inserted by Chris Ash to the field this season, it has to improve considerably. The defense can not rely on the offense hit harder overall by attrition for bail in 2014. If anything, it may be asked to provide cover itself if and when pass protection falters and Ohio State struggles to gain yards on the ground.