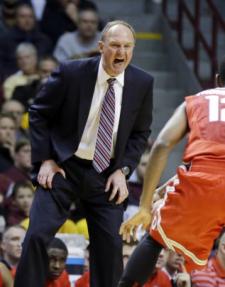 It's hard for many to believe that two weeks ago, Ohio State was undefeated, ranked No. 3 in the country and on the verge of completing a monumental comeback at Michigan State. But a layup at the buzzer missed, the Buckeyes lost in overtime and the tailspin has been precipitous ever since.
A failure to correct the lingering problems could give way to Ohio State's first five-game losing streak in more than 15 years.
"It is a little bit," That Matta said, when asked if all the losing surprised him. "But it is what it is, and we've got to face the reality of it and try to get as much as we can squared away."
Luckily for their sake, the Buckeyes have an appetizing matchup with Illinois. The Fighting Illini are in a similar state of disarray. They were 13-2 and ranked in the top 25 before losing four straight games – by an average of 13.8 points.
Midseason struggles are nothing new for Matta at Ohio State. In fact, it seems as if there's an annual bottoming out period. This is the third straight year the Buckeyes have gone through a horrid stretch. But it's undeniable that this year is different, simply because the team has a smaller margin for error than in past seasons.
"I love this team. I love the work we've put in, I love all those guys in there," senior guard Aaron Craft said after the Nebraska loss. "We have to figure this out. I think we will, but sooner rather than later, hopefully. I think we're capable. If we wanted no one else to believe in us, I think we're at that point. It's 12 guys on the team, six coaches, one athletic trainer – that's all we've got right now."
| # | Name | YR | HT/WT | PTS | REB | AST | P | # | Name | YR | HT/WT | PTS | REB | AST |
| --- | --- | --- | --- | --- | --- | --- | --- | --- | --- | --- | --- | --- | --- | --- |
| 4 | A. Craft | SR | 6-2/195 | 9.2 | 3.4 | 4.9 | G | 13 | T. Abrams | JR | 6-2/190 | 12.8 | 3.9 | 3.4 |
| 3 | S. Scott | JR | 6-1/185 | 7.7 | 4.0 | 3.8 | G | 24 | R. Rice | JR | 6-4/235 | 17.4 | 5.9 | 1.8 |
| 32 | L. Smith Jr. | SR | 6-4/210 | 11.9 | 4.9 | 1.5 | G | 2 | J. Bertrand | SR | 6-6/200 | 10.6 | 5.5 | 0.8 |
| 10 | L. Ross | JR | 6-8/220 | 13.9 | 5.7 | 0.8 | F | 33 | J. Ekey | SR | 6-7/225 | 8.0 | 5.8 | 0.2 |
| 23 | A. Williams | JR | 6-11/250 | 9.0 | 6.4 | 0.4 | C | 32 | N. Egwu | JR | 6-11/250 | 6.8 | 5.4 | 0.3 |
Opponent Breakdown
As the former lead deputy for Thad Matta, Illinois head coach John Groce knows a thing or two about winning. That streak of success continued when he became a head coach at Ohio University and followed him again when he crashed the Big Ten party at Illinois. But for now, Groce, like Matta, is mired in a four-game losing streak.
The two frustrated coaches have used many of the same adjectives to describe their teams' recent woes, though Groce has always been more animated. In traveling to Columbus, he knows Thursday's game could be a season-defining result. 
"The biggest thing for us right now is trying to get back to where we're playing with some consistency," Groce said. "I thought over the course of the last two weeks we've done some things well and some things not so well. I think for us that starts on the defensive end, in particular in rebounding. Those two areas have been consistent for us previously."
The Illini have four players who average more than five rebounds per game, but none average six. During their four-game losing streak, opponents have outrebounded them by 13. Similar to the Buckeyes, Illinois' defense has also taken a considerable hit. Wisconsin and Michigan State each shot better than 55 percent after the Illini limited opponents under 40 percent for the season.
A four-day break could be the right elixir for the struggling club.
"We're looking forward to getting back out," Groce said. "The biggest thing is getting the guys' minds and bodies back."
Illinois starts all upperclassmen, with Rayvonte Rice's 17 points per game leading the way. There's been an influx of youth, though, in recent weeks. Three freshmen – Malcolm Hill, Maverick Morgan and Kendrick Nunn – received increased minutes. The playing time has been justified by production.
Groce points to depth and growth as the catalysts for the youngsters rise.
"The reason they're playing more is because they've earned it," he said. "They've continued to evolve in the roles we've given them. They've been more consistent with what they bring to the table. That's a good thing for our team."
What isn't good is a less-than-100-percent Rice, which is a possibility. He was injured against Northwestern, a game the Illini lost and shot less 30 percent. He's been limited in games and practice with a muscle strain.
Despite the downward trend, Groce continues to take a levelheaded approach, much like his mentor.
"They've been positive. They've led well. They've done a great job," he said. "I have no problem with their effort, their attitude, their toughness. They've done some things really well. We just have to make a few more plays here and there."
Buckeye Breakdown
You can pour over the stats for hours. Ohio State's four-game losing streak, its first in six seasons, reveals many head-scratching themes – opponents dominating the paint, horrendous assist-to-turnover ratio for point guards, wilting down the stretch. But perhaps the biggest issue the Buckeyes face is an inability to put the ball in the hoop.
In the past two losses, Ohio State's shot less than 40 percent, missing layups and open jump shots with regularity. The starters in particular are where the gory stats present such a surprise.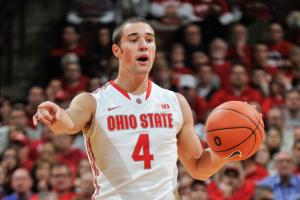 "Early in the year when we were playing the best basketball we could, we had multiple guys kind of doing their job and putting the ball in the bucket," senior guard Aaron Craft said. "It really relieved a lot of stress and a lot of pressure off the other guys."
The pressure now exists for everyone on the team. When points dry up and confidence heads south, an entire roster can become tight. There were several possessions late in the Nebraska game where the basketball was passed around like a hot potato. Even LaQuinton Ross, who's never shy to take a shot, gave up multiple open looks.
Thad Matta's always chimed in on his practices, saying no team in the country shoots more than Ohio State. That might be true, but clearly there's a breakdown somewhere along the way from the practice gym to the game court. 
"For some reason, we're not playing with very much confidence and that shows when we get into games and we miss a shot or two and you don't want to shoot the next one," Craft said.
During the four-game skid:
Craft has 19 turnovers.
Shannon Scott is averaging four points per game and has converted just one his nine three-point attempts after shooting 32 percent the first 15 games.
Lenzelle Smith Jr.'s averages have plummeted, from 12.7 points per game and 39 percent from 3 to 8.7 points and 24 percent.
The same goes for Amir Williams' 9.7 points and 6.5 rebounds during a 15-0 start. Now he's contributing 6.5 points and five rebounds per game.
The vaunted defense also has taken a hit. All four teams who've defeated Ohio State have shot better than 45 percent and two of them shot 50 percent. On the season, the Buckeyes are turning the ball over nearly 12 times per game, a number that's spiked during the losing streak.
When Matta was asked following the Nebraska game to rattle off the problems, he quipped, "How much time do we have?" Ohio State has no time when it comes to correcting its issues. The Big Ten doesn't come with a grace period.
"You have to respect this league and know that it's hard," Matta said. "We need consistency. When we play ourselves back into it, when something doesn't go well, I think the thing I see the most is we're not able to answer the call. We've got to have some mental toughness to make the next play. Right now, we're clinging on the mistakes. You've got to play forward."
Yet another opportunity to end the long losing streak comes tonight.
Etc
Thad Matta is 12-5 vs. Illinois as Ohio State's head coach.
Joe Tessitore and Sean Farnham have the call on ESPN.
Aaron Craft is averaging 10.8 points per game against the Illini in his career.