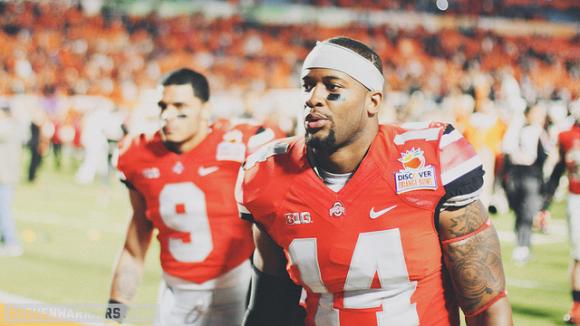 Vulnerable. Underwhelming. Discouraging. Those are words used to describe Ohio State's linebacking corps at various points last season. Head coach Urban Meyer chimed in frequently, saying, "they don't look Ohio State-ish." 
"Other positions, you can see three guys, they're all good-looking players. The linebackers are not where we need to be," Meyer added.
That begs the question, how will they stack up in 2014 minus their biggest playmaker? Ryan Shazier, he of 143 tackles, is off to the NFL. The void left where he occupied space is cavernous. For three seasons, Shazier could be relied on to be in the right place at the right time.
Shazier's difference-making ability was obvious from the start. He made 15 tackles against Penn State in his first career start and never let up. Tackles, sacks and stops behind the line of scrimmage happened with regularity. When you consider Ohio State's returning scholarship linebackers had one less tackle combined than Shazier tallied all of last season, a drop off in production is imminent.
Depth at linebacker is nonexistent. Yes, there are bodies. But inexperience is the dominant trait. Replacing 22.5 tackles for loss – the third-best total in school history – isn't easy. Curtis Grant and Joshua Perry progressed well in 2013, though each still needs to make a leap to become a game-changer.
"I'm coming along," Perry said, assessing his season. "I've still got a lot to work on, but I've got a lot more confidence in my play. My teammates and coaches have more confidence in me, too."
The three-word phrase used most often when reinforcements are needed is "next man up." But it's not that simple. Luke Fickell must search far and wide during the offseason to not only fix a leaky defense, but also discover the remedy to offset Shazier's absence.
Help is on the way when recruiting is dissected. The Buckeyes welcome the No. 2, 3 and 4 outside linebackers in the country – Sam Hubbard, Kyle Berger and Dante Booker. And a plethora of linebackers populate the current roster. Competition will be the theme of spring practice, as each position is open. Even Grant and Perry's jobs aren't safe.
One opening, similar to what Shazier faced against Penn State, can jumpstart a career. Until someone seizes the moment, anxiety will permeate around the defensive coaching staff. For the better part of three seasons, linebacker has been a black hole for Ohio State.
"The linebacker position is still my biggest concern on the team," Meyer said, late in the season. "It's just the depth. The depth is a major concern. We're nowhere where we need to be as far as the expectation level of the linebacker play here."
The top candidate to fill in for Shazier is Trey Johnson. As a true freshman, Johnson saw the field sparingly. He did, however, find time to make 11 tackles. Compared to the options behind Johnson, the sophomore seems loaded with experience. Junior Devan Bogard is a possibility, but a second torn ACL makes his presence at linebacker less likely. Beyond that, there's no one with previous playing time.
Names like Mike Mitchell, Cam Williams and McMillan surface when linebackers are mentioned. All three could get receive playing time. The microscope will be squarely on Mitchell during spring practice after a redshirt season in Year 1. Much was made of the five-star before he ever arrived on campus, but an injury set him back.
Joe Burger, Darron Lee and Craig Fada are names coaches have used in talking about surprise players. Burger garnered attention during fall camp after he took some of Grant's reps with the first-team defense. Whoever steps up, whether they start or rotate in, will be depended on for leadership. While Grant is the most seasoned of the lot, the unit is set up to lead by committee.
"I tell guys all the time, the hardest thing around Columbus, Ohio, to handle is praise," Fickell said. "Criticism is not hard to handle. If you're not a tough person, you're in the wrong sport anyway. Criticism just makes you tougher, makes you grind harder, makes you work harder, and it makes you a better person."
After doubling as a punching bag for three seasons for talk radio, the media and even the head coach, an assembly of Ohio State linebackers attempts to restore its luster and lofty status among the Silver Bullets.