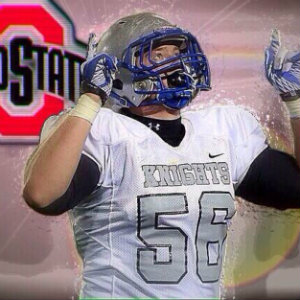 With just a little more than two weeks remaining until National Signing Day, the recruiting circuit is moving full steam ahead. The Big Ten is trending in the wrong direction, with nine prospects deciding to decommit in the past week. 
Not all was bad – Indiana landed three new pledges, while Michigan State, Nebraska, Northwestern, Ohio State, Penn State and Purdue each landed one. The latest movement shook up the middle of our rankings. 
With the Buckeyes' addition of three-star offensive tackle Brady Taylor, "Dream14" is quietly running out of available scholarships. There appears to be one or two spots remaining in Ohio State's highly-rated recruiting class. It's not exactly clear how Urban Meyer will close, but you know better than to count him out. 
Coaches will be hitting the roads, again, as they wrap up their 2014 classes and get a head start on visiting the nation's top junior prospects. In-home visits could start soon, although Urban Meyer will probably elect to wait until next week. 
Now, on to the rankings.
14. Minnesota
Coach Kill will be very busy over the next two and a half weeks as he tries to prevent his top commit, Jeff Jones, from decommitting. The Gophers have only 13 commitments and many believe they can fit as many as 20 into this class. 
Three-star running back Rodney Smith is closing in on a decision between Minnesota and East Carolina, with the Gophers leading on the crystal ball. 
Commitments: No new commitments this week.
Visitor news: With up to seven available scholarships, Minnesota has a busy next two weekends with plenty of official visits scheduled. Cincinnati Moeller (OH) and Kent State commit Isaiah Gentry will head to Minnesota for a visit. Another Ohio native, Cincinnati Colerain's Kelvin Cook, will also be taking an official visit this weekend. 
13. Illinois
The Fighting Illini's recruiting class has been disappointing. Things got worse with three-star tight end Jordan Frazier changing his commitment to Oklahoma State just a few days before he was scheduled to enroll. Things aren't looking too good for Tim Beckman. 
Commitments: No new commitments this week.
Visitor news: Two-star quarterback Jeff George will visit Champaign and his only FBS offer is from the Fighting Illini. 
12. Purdue
Like quite a few teams, Purdue lost a commitment this week. Three-star corner Chris Jones decided to flip to Nebraska after visiting this past weekend. Hazell and the Boilermakers still have three more open spots in this class. WMU three-star running back Robert Spillane could take one of those remaining spots. 
Commitments: Three-star offensive tackle Bearooz Yacoobi decided to flip his commitment from Northern Illinois to Purdue. The Boilermakers have been looking hard for offensive lineman in this class. 
Visitor news: With Purdue only expected to take three more recruits, the visitor list is bare. JUCO offensive lineman A.J. Allen visited last weekend and the Boilermakers remain the front runner. 
11. Maryland
I once thought Maryland would finish with a top five class in the Big Ten, but missing out on five-star Jalen Tabor and other recruits, such as Brock Ruble, has hurt their cause. Now, Randy Edsall must salvage this class by landing five-star lineman Damian Prince, which will be no easy task. 
Commitments: No new commitments this week. 
Visitor news: The Terps will host some of their commitments while they are scheduled to host unranked corner Daniel Ezeagwu. Despite almost committing to Virginia, his crystal ball still favors Maryland.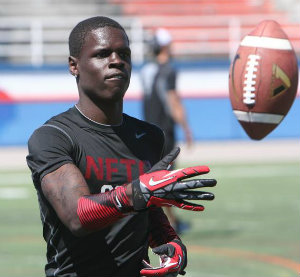 10. Iowa
The Hawkeyes are only expected to take one more recruit and that could happen this week. Unless something changes, it appears Iowa will be wrapping up their recruiting class, soon. 
Commitments: No new commitments this week.
Visitor news: Unranked guard Ross Reynolds will visit Iowa on Friday. With the Hawkeyes looking for a offensive lineman to fill out their class, Reynolds was just recently offered. It's possible a commitment could be coming soon. 
9. Indiana
Kevin Wilson has been completely remaking his staff, but the recruiting has actually improved. We'll see if Indiana can keep this momentum, as they hire a few new coaches and hit the recruiting scene hard. 
Commitments: The Hoosiers had a busy week with three new prospects entering into the fold. High three-star linebacker Tegray Scales elected to play in Bloomington instead of heading to Louisville, Minnesota, Oklahoma or Wisconsin. Kevin Wilson added another highly regarded three-star prospect with the addition of one-time Iowa State running back commit Tommy Mister. Rutgers three-star decommit Waynedriko Smith also decided to play for Wilson at Indiana. 
Visitor news: Indiana has a visit scheduled for three-star corner Charles Gaskin. It's unclear if the latest wave of commitments could put his visit in jeopardy with IU's class filling up. 
8. Northwestern
The Wildcats' class lost two key members over the past week. Pat Fitzgerald pulled the scholarship of three-star linebacker Noah Westerfield after he visited Cal. Three-star safety Jordan Thomas also flipped to Oklahoma. It has been a disappointing finish to Northwestern's recruiting class. 
Commitments: With the recent decommits, the Wildcats had two scholarship to use. Three-star linebacker James Prather took one of the available spots by selecting Northwestern over UCONN, Memphis and Northern Illinois. 
Visitor news: Northwestern thought they wrapped up their 2014 class, but a pair of decommitments changed that. The staff will now have to look for one more prospect to round out their class.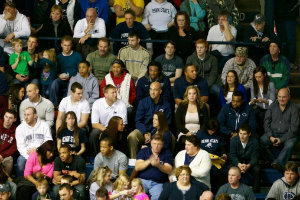 7. Nebraska
While Bo Pelini has been flipping recruits from other schools, he lost two of his own commitments. Four-star JUCO defensive tackle Terrell Clinkscales flipped to Kansas State, possibly because of academic concerns. Three-star defensive end Darius Slade also switched his commit to Michigan State. It was a rough weekend for Nebraska. 
Commitments: Pelini flipped three-star corner Chris Jones from Purdue. This news comes only a day after his recent visit. 
Visitor news: Nebraska will be hosting quite a few senior prospects, including three-star running back Corey Avery. Landing Avery over Baylor would be an impressive coup for Bo Pelini. A commitment from two-star receiver Glenn Irons could be coming during his official visit. 
6. Rutgers
It appears Rutgers is trying to set the record for most decommits in a recruiting cycle. Waynedriko Smith was the latest prospect to flip schools, as he elected to verbal to Indiana. 
More bad news could be coming as four-star receiver Saeed Blacknall was spotted visiting Penn State. 
Commitments: No new commitments this week. 
Visitor news: Two-star corner Isaiah Wharton will visit Rutgers, this weekend. His recruitment is shaping up to be a battle between Illinois and the Scarlet Knights. Northern Illinois three-star corner commit Juwan Dowels will be visiting, as well. It looks like Rutgers has some work to do with Oklahoma and Syracuse in the picture. 
5. Michigan State
The Rose Bowl win has paid off with some recruiting success. Malik McDowell and Daniel Cage would be a great finish to their defensive line haul. Michigan State has already added some serious talent to one of the top defenses in the country. 
Commitments: The Spartans landed a surprising commitment when three-star defensive end Darius Slade committed. There was plenty of buzz surrounding the New Jersey native after Urban Meyer stopped in at his high school to offer him a scholarship. Many felt the Buckeyes were the favorite to land the Nebraska decommit. 
Visitor news: Michigan State could have a few big visitors on campus, this weekend. Five-star Malik McDowell could return to East Lansing for a basketball game, which would be big for Sparty's chances at landing him. Four-star lineman Daniel Cage is also scheduled to be in attendance and MSU has long been believed to be in his top two. 
4. Wisconsin
Gary Andersen has done a great job with his first recruiting class at Wisconsin. It's not over either. The Badgers still plan to take a few more recruits. Former Louisville verbal George Rushing could take one of the remaining spots. 
Commitments: No new commitments this week.
Visitor news: There was some talk that three-star athlete Cornelius Strughill had committed to Wisconsin, but it doesn't appear that Gary Andersen was ready to accept his verbal. That could change when he takes his official visit to Madison, this weekend. UCLA was considered the favorite to land his commitment.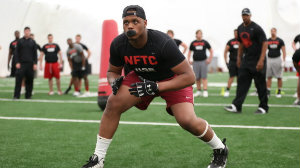 3. Penn State
Penn State lost two of their top prospects to other schools since James Franklin took over. Five-star defensive tackle Thomas Holley flipped to Florida while three-star Troy Vincent switched to N.C. State. 
Recruiting will be fine in Happy Valley. Things have been hectic and Franklin is working hard on quite a few new prospects for PSU. How the Nittany Lions recruit in 2015 will really be interesting. 
Commitments: Penn State flipped yet another Vanderbilt recruit, this time it is three-star offensive tackle Brendan Brosnan. The Illinois product held offers from Boston College, Illinois, Maryland, N.C. State, Syracuse, Vanderbilt and Virginia Tech. 
Visitor news: Five-star Damian Prince doesn't have the Nittany Lions in his top three, but he could soon make a trip to Happy Valley. It'll be tough to land the big-time offensive tackle, but you can't fault James Franklin for trying. 
2. Michigan
The Wolverines are looking to add two or three more prospects before National Signing Day, with running back being a top priority. 
It will be interesting to see if Michigan begins to pursue another defensive lineman with Malik McDowell trending toward the Spartans on the crystal ball. McDowell was long considered a Michigan "lean."
Commitments: No new commitments this week.
Visitor news: With limited scholarships available, Michigan doesn't have very many visits scheduled in January. One big visit to keep an eye on is Minnesota four-star commitment Jeff Jones on Jan. 31. He would be a huge get for the Wolverines. 
1. Ohio State
It's not exactly clear how many available scholarships the Buckeyes have to give. One or two seems like the most likely number. The staff's number one priority is another defensive lineman. The staff will be back on the road to recruit after the official visits have wrapped up. 
Commitments: Virginia Tech commitment Brady Taylor decided to make the flip to Ohio State. The three-star offensive tackle was recently offered by the Buckeyes, which was a dream come true. Taylor is the fifth offensive lineman in the class and 22nd commit. 
Visitor news: Ohio State does not currently have any visitors scheduled for next weekend. Things can change quickly, but it looks like the staff will spend the week traveling across the nation to visit top prospects. 
---
Rankings Overview
| No. | School | Commits | Scout ★ AVG | Rivals ★ AVG | 247 ★ AVG | ESPN ★ AVG | Overall ★ Avg |
| --- | --- | --- | --- | --- | --- | --- | --- |
| 1 | Ohio State   | 22 | 3.82 (3) | 3.77 (2) | 3.77 (2) | 3.77 (6) | 3.78 |
| 2 | Michigan  | 16 | 3.56 (20) | 3.44 (23) | 3.56 (15) | 3.75 (12) | 3.58 |
| 3 | Penn State  | 20 | 3.10 (33) | 3.21 (26) | 3.20 (30) | 3.32 (24) | 3.21 |
| 4 | Wisconsin  | 24 | 3.17 (19) | 2.96 (28) | 3.04 (31) | 3.12 (31) | 3.07 |
| 5 | Michigan State  | 20 | 3.15 (30) | 3.00 (31) | 3.05 (34) | 3.31 (38) | 3.13 |
| 6 | Rutgers  | 22 | 2.91 (40) | 2.81 (44) | 2.95 (41) | 2.95 (NR) | 2.91 |
| 7 | Nebraska  | 19 | 3.17 (38) | 2.94 (42) | 3.06 (42) | 3.22 (39) | 3.10 |
| 8 | Northwestern  | 14 | 3.07 (47) | 3.07 (50) | 3.21 (44) | 3.42 (33) | 3.19 |
| 9 | Indiana  | 21 | 2.90 (43) | 2.85 (40) | 2.95 (47) | 3.05 (NR) | 2.94 |
| 10 | Iowa  | 19 | 2.95 (42) | 2.74 (50) | 2.94 (48) | 3.12 (NR) | 2.94 |
| 11 | Maryland  | 13 | 2.92 (59) | 3.07 (60) | 3.00 (54) | 3.21 (NR) | 3.05 |
| 12 | Purdue  | 18 | 2.63 (58) | 2.53 (59) | 2.95 (59) | 3.00 (NR) | 2.78 |
| 13 | Illinois   | 17 | 2.65 (63) | 2.80 (63) | 2.88 (60) | 3.06 (NR) | 2.85 |
| 14 | Minnesota  | 13 | 2.69 (65) | 2.77 (71) | 2.85 (66) | 3.00 (NR) | 2.83 |
Number in parentheses is national rank