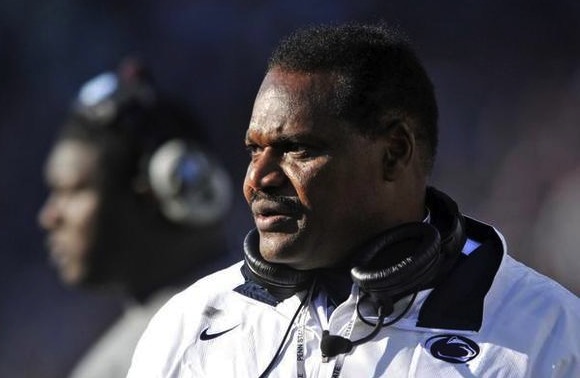 Happy Valley is brimming with confidence and smiles once again. When you hire one of the best young coaches in college football, it's easy to stay excited during the sport's long, torturous offseason. But one Penn State defection was a massive gain for rival Ohio State.
For nearly two decades, Larry Johnson Sr. was a constant presence for the Nittany Lions. He won in living rooms along the eastern seaboard and molded a bevy of talented – and under recruited – players into All-Big Ten stalwarts and NFL draft picks. The names read like a "Who's Who" on the defensive line – Courtney Brown, Tamba Hali, Aaron Maybin and on and on.
The sheer numbers and amount of production is staggering. Seven first-team All-Americans, six first-round draft picks and six Big Ten defensive player/lineman of the year awards.
But Johnson made a decision to move on with his coaching career. It didn't take long for Urban Meyer to realize a coup was staring at him from 327 miles away. Johnson couldn't even update his resume before Meyer was in touch. Soon thereafter, Johnson's bio and the title assistant head coach/defensive line coach appeared on Ohio State's website.
So, what does it mean for the Buckeyes? Well, in short, you can argue they've hired up. Mike Vrabel was an up-and-comer in the profession, but his three years coaching and recruiting do not top the experience of Johnson. Ohio State's defensive line is already littered with top-flight players. Noah Spence, Adolphus Washington, Michael Bennett and the rest of Gang Gray will now learn under Johnson.
It's possible Johnson's hire could make an immediate impact on the recruiting trail. More than two weeks remain until National Signing Day, and Johnson's already spent time in the Midwest donning a scarlet and gray pullover. Excitement from current players is evident, with one telling Eleven Warriors that the enthusiasm for next season is already in high gear.
Where Johnson's influence will be greatest, though, is in the long term. Maryland and Rutgers' involvement in the Big Ten opens new recruiting grounds for all 14 Big Ten schools. Now, Ohio State just so happens to have the best recruiter in the country for those areas.
Suddenly, it appears Ohio State-Penn State will become an annual battle for East Coast prospects. James Franklin and Co. built Vanderbilt into a nine-win team by hauling in top 20 recruiting classes. Not many coaching staffs were more aggressive than Vandy's all-out approach. And Franklin made it clear the attitudes are coming north from Nashville.
Dominating the state and the region were bullet points in his introductory press conference, which garnered two thumbs up from the fan base and galvanized them once more.  
"I've worked a lot of different institutions that tried to compete," Franklin said. "Recruiting against Penn State University, it was always an unbelievable challenge because this school has everything that young men are looking for. This school has everything that families are looking for. That is going to be our plan, and I'm calling all the high school coaches. I'm calling all the people in the state that we need to come together like never before."
But at a hated institution to the west will be Penn State's No. 1 recruiter – heck, the nation's top recruiter in 2006. Current and possible future prospects have chimed in and approved the Buckeyes' move. Pennsylvania became a hotbed for Ohio State during the Jim Tressel era – Terrelle Pryor, the Corey Browns, Jordan Hall, etc. Meyer is trying to continue that trend. Spence is a Pennsylvania native and 2014 commit Malik Hooker also hails from the Keystone State.
The Buckeyes have dipped their toes into Virginia, New York, New Jersey and Massachusetts, wide swaths of land that Johnson will no doubt make a second home. Pre-built relationships with high school coaches throughout the East give Johnson a leg-up on the new Penn State staff.
It adds yet another dimension to the Ohio State-Penn State rivalry. The hatred between the two schools has burned bright during periods of their Big Ten existence. In the 90s, the games were among the biggest in college football, the Pryor saga added to games in the late 2000s and Meyer's ability to pry several de-commits away from the Nittany Lions upset Penn Staters in 2012.
"I'm at peace," Johnson told ESPN.com of his decision to leave State College. "I have no bitterness. I have no ifs, ands or buts about looking back. That's just not me. I'm good."
So too is Ohio State. Even after consecutive losses to end the 2013 season, I-270 has morphed into a happy valley.