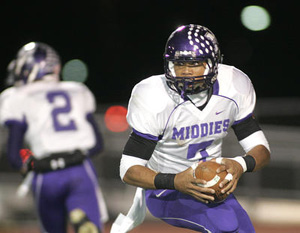 With the departure of wide receivers Corey Brown and Chris Fields, there is suddenly playing time available for some new blood to haul in passes donning the Scarlet and Gray. Conventional wisdom would say next year's seniors, Devin Smith and Evan Spencer, will be the team's best options, but Smith and Spencer have both shown a propensity to disappear at times.
Needless to say the competition will be heating up at wide receiver as Urban Meyer's recruiting machine has been pulling in speedy edge talent since he arrived in Columbus. If I'm Smith or Spencer, I'm certainly not resting on my laurels.
Here are a few young wide receivers I believe will push Smith and Spencer for playing time.
Jalin Marshall
Marshall was on the squad in 2013, but didn't see the field due to a redshirt. Holding Marshall out certainly wasn't a talent issue. The Middletown, OH native was the No. 1 prospect in Ohio and was one of the first to commit in the class of 2013. Marshall played quarterback for Middletown where he rolled up a school-record 4,759 yards over the course of his career including 1,400 yards and 14 TDs as a senior.
Marshall is a burner who is incredibly elusive in the open field. Some who have watched Jalin in practice compare his running style to Braxton Miller (not bad company). Marshall has had an entire season to become acclimated with the offense (incredibly important considering the switch from quarterback to wide receiver), understands what it takes to be a student athlete at Ohio State, and will have two offseasons with Strength Coach Mickey Marotti under his belt before he ever takes the field. Marshall's chances to be a huge contributor in 2014 look incredibly solid.
Michael Thomas
Shortly after the Orange Bowl, The Confident Michael Thomas let the world know he was unhappy with the WR play in 2013. Thomas will have a chance to back that talk up on the field next season, as he will certainly be a player to watch in 2014. Buckeye Nation first learned of Thomas after an unreal 2012 Spring Game. The then true freshman led all players with 12 catches for 131 yards. The performance was so astounding, Coach Meyer called Thomas "our most dedicated receiver", after the game.
Unfortunately the unreal Spring didn't parlay into an outstanding fall. During the 2012 season Thomas was used sparingly to the tune of 3 receptions for 22 yards. In what was a little bit of a surprise, Meyer chose to redshirt Thomas in 2013, opening up an additional year of eligibility for the young gun. As aforementioned, Thomas had something to say about that after the season, but I expect him to channel that frustration into getting better. We already know the kid has hops, hands and height (6'3''). It's only a matter of time before he's doing some amazing things on Saturdays.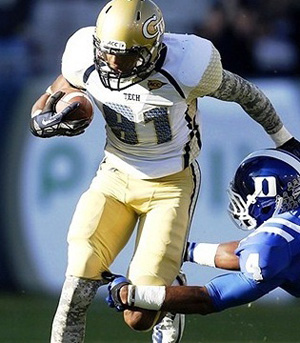 Jeff Greene
You didn't hear much about Greene in 2013 as he was forced to sit out via the NCAA's ridiculous transfer rules, but make no mistake Greene is a competitor. The former Georgia Tech standout lettered in two seasons for the Yellow Jackets, leading the team in 2012 with 18 receptions for 284 yards and 2 TDs. He's the biggest WR on the Buckeye's roster at 6'5'',  218 lbs and has already proven himself at the college level.
In recent years the Buckeyes have lacked a true redzone threat; someone you can toss the ball up to in the back of the endzone. Greene could be that guy. It will be exciting to see how Tom Herman utilizes him in 2014.
James Clark
Clark was a four star prospect out of Florida who was one of the last to commit to the Buckeyes in the 2013 class. He was put in during garbage time of the Florida A&M game and had the bad fortune of breaking his ankle, ultimately ending his season. Luckily Clark was granted a medical redshirt giving him four years of eligibility starting in 2014.
Clark is an absolute burner with a reported 4.45 forty time and a 10.48 100-meter dash. He was recruited by over 25 schools including Auburn, Clemson, Florida, Miami, Nebraska, Notre Dame, Penn State, Tennessee and Vanderbilt but ultimately chose the Buckeyes in the 11th hour. During his senior year at New Smyma Beach, he led his team to the state playoffs and was voted as a first-team Florida 6A all-state pick. During his career, he tallied 87 receptions for nearly 2,000 yards and 29 TDs. He's an incredibly versatile player who I suspect Herman will try to get on the edge during the 2014 season. Much like Dontre Wilson, he's a player who can make things happen in space. If he gets past you…good luck catching him.
Corey Smith
Smith is the first JUCO prospect to sign with the Buckeyes since Larry Grant in 2006. Coming to Columbus from East Mississippi Community College. The story of Smith's recruitment is a long and winding one. But Vico did a great job of spelling it all out. Essentially Smith is an amazing talent who originally committed to Tennessee, but had to attend a community college to become academically eligible. The Volunteers head coach at the time, Derek Dooley, planned to hold a scholarship for Smith until he was eligible, but Dooley was let go by Tennessee, ending Smith's chances of playing down in Knoxville.
Through it all, Smith held down his commitments both in the classroom and on the football field, ultimately earning interest from Mississippi State, Ohio State, Alabama and Hawaii. The No. 9 JUCO prospect in the nation picked the Buckeyes after visiting during the 2012 edition of The Game, and will have three years to complete two seasons of play.
All reports state Smith has excellent hands and is a polished route runner. Much like Greene, he's already played at the college level and knows what it takes to excel. Vico calls him "what Duron Carter could have been". If that doesn't get you excited, I don't know what will.
Johnnie Dixon
Dixon is the only player on this list who wasn't on the 2013 roster, but that doesn't mean he wont be able to contribute right away. In fact, I expect it. The four-star prospect out of Florida committed to the Buckeyes just days after five-star LB Raekwon McMillan, helping to soften the blow of losing the B1G championship game.
Dixon was recruited by nearly every major college program. His commitment came down to Ohio State, Alabama and Miami, where WR Coach Zach Smith and Urban Meyer were able to pry Johnnie out of the South. 247Sports lists him as the 16th best receiver in the country and ESPN pegged him at 34th on their ESPN300 list.
Dixon is a legitimate deep threat who runs a 4.5 forty. While he's not as fast as Dontre Wilson, many believe he will be used both as a receiver out-wide as well as on jet sweeps to help him get the edge. He's a polished player who has already enrolled at Ohio State, giving him additional time to take a beating from Marotti while becoming acclimated to college life. Look for him on the field in 2014.
---
Competition at any position is a healthy motivator. The hope is these six players will push Devin Smith and Evan Spencer for playing time in 2014, making the unit better as a whole.