Hello again, hockey fans.
Sorry to leave you all hanging last week. Some unavoidable life stuff came up. I didn't get to see much of the Michigan State series. It sounded like Ohio State got a decent start on their Big Ten campaign, though, taking four of six points from the Spartans.
Matt Tomkins returned to the Buckeye net. OSU Pride Night was wildly successful once again. The series attendance was huge. All in all it seemed like a good week. Only having seen the highlights, I don't have a lot to offer in the way of "art" but I'd say this is an appropriate graphic: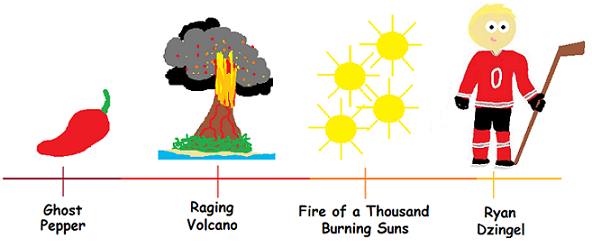 Now the 11-6-1 Buckeyes undertake their first road series of the season, visiting the 15-2-3 Gophers. This will be the first meeting between the teams since 2007.
Tonight's game will be played in the great outdoors of Minnesota's football stadium as the Hockey City Classic. Local fans can see both of the series' games on television this week. The HCC is the second half of BTN's Frozen Friday doubleheader tonight (9pm) and SportsTime Ohio is picking up Saturday's broadcast (6pm).
This was supposed to be something of a rebuilding year for the Gophers. Half of their incoming seniors skipped out on their final college seasons in favor of pro careers. This season's freshman class was highly touted but obviously inexperienced at the college level. Halfway through 2013-14, however, the team has a firm grip on the No. 1 spot in the polls. The impressive, though untried freshmen are now the nation's highest scoring rookie class. Minnesota is now favored to win the Big Ten and is included on many a fan's short list of national title contenders.
"We are playing not only the number one team in our league, but the number one team in the country. So we know we've got to have our 'A' game to go up there and no matter if you're playing outside or inside. We've got to be at our best and that's been our focus the last few days." -  Steve Rohlik
The Gophers enter the series on a fairly hot streak. They're undefeated in their last eight games (6-0-2), including a sweep of Penn State last week. They outscored their opponents in those games by a combined 29-16. Although their special teams' season stats aren't great they've been very good recently. The Gophers have scored power play goals in six straight games and have killed off 23 of their opponents' last 24 man-advantages.
They've played a tougher schedule than the Buckeyes, but the teams have had a few opponents in common this season. Minnesota and Ohio State have each played Mercyhurst, Minnesota-Duluth, and Michigan State. The Gophers put up a bunch of goals vs. Mercyhurst, split with Duluth, and had a win a shootout loss against the Spartans. The Buckeyes, meanwhile, put up a bunch of goals vs. Mercyhurst, split with Duluth, and had a win a shootout loss- Hey, look at that. Similar results against common opponents. Want to guess how many times they bring that up in tonight's broadcast? I'm going with 47 fewer times than they mention Ohio State's weak schedule.
There's no question that containing the Gophers' speedy, skilled forwards will be a big challenge for the Buckeyes, particularly on Saturday when the series heads indoors to Mariucci's Olympic-sized rink. Like Ohio State, Minnesota averages nearly four goals a game. They have three players (Sam Warning, Justin Kloos, and Kyle Rau) rolling at a 1.00+ point per game.
The Gopher defense is also dangerous offensively. Three of their defensemen have double-digit point totals and five can boast of multiple goals scored. It's the nation's second highest scoring defense corps. For comparison's sake, Drew Brevig leads the OSU defense with eight points and Justin DaSilva is the only Buckeye d-man with more than one goal to his name. Ohio State does fare better in the point-per-gamer department, though, with Dzingel, Max McCormick, Tanner Fritz, and Alex Szczechura all making the grade and Nick Oddo not very far behind with 17 points in 18 games.
However, the toughest test for the Buckeyes this week may very well be in finding a way to beat Minnesota goalie Adam Wilcox. The sophomore hasn't allowed more than two goals in a game since Thanksgiving. He's racked up a 2.13 GAA this season to go along with a .925 save percentage. Drew Claussen called him a "flashy" goalie in his team preview for USCHO back in the preseason. I'm not sure whether Wilcox's style has changed or I've just managed to catch the games just right, but in the few Minnesota games I've seen this season Wilcox has impressed me as a quiet goalie. He seemed very in control of those games and was very stingy with rebounds.
The odds are against Ohio State this weekend. They're 0-2 in outdoor games, 1-3-1 on the road this season, and 1-12-0 all time against Minnesota. Don't count the Buckeyes out though. Their top two lines are every bit as productive as their opponent's. Defending the talented Gophers will definitely be a challenge but OSU has some fairly mobile defenders and committed shot blockers to help out Matt Tomkins (I'm guessing) in net. Ohio State may very well earn some precious conference points this weekend.
Here are Steve Rohlik's thoughts on facing Minnesota:
A few more pregame links…
Ryan Dzingel and Matt Johnson spoke with the media earlier this week about playing outdoors, and in Johnson's case about playing in front of friends and family.
Check out these videos to see a time lapse of the ice going in at the football stadium and walk (virtually) in the steps of the Gophers as they travel from the locker room to the ice.
Both Ohio State and Minnesota will wear special throwback jerseys for the Hockey City Classic, which could make the game less than pleasing visually. Still, by far the most terrifying sight tonight will be the students wearing these.

From The Lantern this week: Taylor Cameron writes about how important

the Buckeye family

is for players like Matt

Tomkins

and Josh Healey who are far from home. Grant Miller focuses on the

top junior class

in the nation.

Here's the official

series preview

from OSU. Craig

Merz

also

previewed the series

for Buckeye Sports Bulletin.

Nathan Wells

collected quotes

about playing outdoors from Minnesota's men's and women's hockey programs for

SBN College Hockey and previewed the series for CHN here.
Drew Claussen and Paula Weston make their weekly Big Ten predictions for USCHO here.

If you missed any of the visuals from last week's series you can watch

BTN's

highlights from Friday's game as well as an interview with

Rohlik

here

 (Jake

"Hilderbrand

?" Seriously, BTN graphics people?) and an interview with

Dzingel

here

. Also take a look at Rachel Lewis' photo galleries from

Friday

 (that last picture is begging for a caption) and

Saturday

's games at Inside Hockey.
Big Ten Outlook
Minnesota won a pair of games at Penn State last week while Wisconsin took down visiting Michigan. At this stage of the season the Gophers and Badgers have played a couple more games than their B1G brethren. They've made the most of their opportunities and are the early leaders in the Big Ten. In the national polls the Gophers are No. 1, the Badgers have moved up to No.9, the Wolverines slid down to No. 13, and the Buckeyes are receiving votes in the USCHO poll. The only other action in the Big Ten this week is Michigan State-Penn State. Wisconsin and Michigan are off.
| Team | w | l | t | sow | pts | This Week |
| --- | --- | --- | --- | --- | --- | --- |
| No. 1 Minnesota | 5 | 0 | 1 | 0 | 16 | vs. OSU (FRI at 9pm on BTN, SAT at 6pm on STO) |
| No. 9 Wisconsin | 4 | 2 | 0 | 0 | 12 | Bye |
| No. 13 Michigan | 2 | 2 | 0 | 0 | 6 | Bye |
| Ohio State | 1 | 2 | 1 | 0 | 4 | vs. MIN (FRI at 9pm on BTN, SAT at 6pm on STO) |
| Michigan State | 0 | 2 | 2 | 2 | 4 | vs. PSU (FRI at 6pm on BTN, SAT at 6:30 on NBCS) |
| Penn State | 0 | 4 | 0 | 0 | 0 | vs. MSU (FRI at 6pm on BTN, SAT at 6:30 on NBCS) |
OSU Women
The Buckeye ladies continued their second half turn-around by snapping a 29 game losing streak against No. 1 Minnesota. After falling 6-0 in Friday's contest, the ladies earned a shootout win on Saturday. Check out the highlights in which you'll see Julia McKinnon start the scoring with a bomb and an Ally Tarr breakaway goal result from a great Taylor Kuehl pass before Kendall Curtis seals the deal in the ninth round of the shootout:
Astonishingly not pictured in the highlights were the many excellent saves made by Lisa Steffes in the shootout. You'll have to take my word for it that it was the most impressive performance by any Buckeye goaltender, men's or women's, this season. Also impressive and not shown in the highlight video: Kari Schmitt (7) and Sara Schmitt (5) led Ohio State to a team total 31 blocked shots.
The ladies look to continue their second half success as they head to Minnesota-Duluth this week for matinee games on Saturday and Sunday. Both contests are set to start at 4pm. Duluth's weekend preview has links for online audio and video streams. The Bulldogs usually give the Buckeyes a tough series and I don't expect this one will be any different, but I have a feeling Ohio State will be bringing some points home.