It was a rough week for the Buckeye basketball team, as they dropped a pair of games to ranked opponents. Meanwhile, it was a great week for many of the other Buckeye sports teams.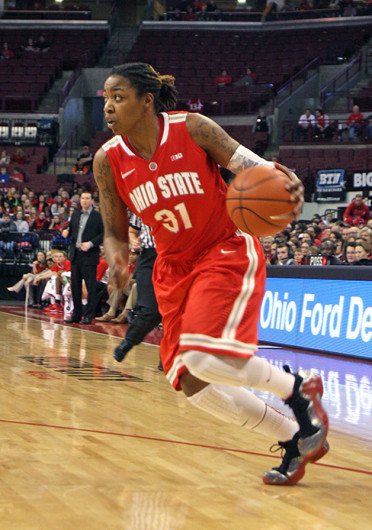 After an up and down week that saw the Lady Buckeyes defeat a ranked Purdue team before losing at home to Michigan, Ohio State bounced back in a big way this week.
Winning in Bloomington is always tough, as the undefeated Wisconsin Badgers discovered last night. Winning by double digits in Bloomington when Indiana is ranked and in first place of the Big Ten is almost unheard of, but that's what the Lady Buckeyes did on Saturday, defeating the Hoosiers, 70-51.
Ohio State was led by a trio of Lady Buckeyes who posted career nights. Ameryst Alston matched her career-high with 29 points, Raven Ferguson set a career-high with 18 points and Martina Ellerbe recorded her first career double-double with 10 points, 10 rebounds and 4 blocked shots.
The key to victory for the Lady Buckeyes was dominating inside, outscoring the Hoosiers 38-14 in the paint. Ohio State also relied on stifling defense, blocking 9 shots and holding Indiana to 3 points in the final 8 minutes.
The win was easily Ohio State's best this season. They are currently tied for second in the Big Ten at 2-1 in conference play (12-7 overall) and rank 18th in the NCAA Women's Basketball RPI. The Lady Buckeyes travel to No. 16 Penn State on Thursday for their only game this week.
Join us after the jump to see how the rest of the Buckeye teams fared this week.
Track and Field
The men's and women's track and field teams both opened up their seasons this past Friday, hosting the Buckeye Classic. The Buckeyes dominated visiting Wright State, Marshall, Dayton, Kentucky State, Ohio and Ashland.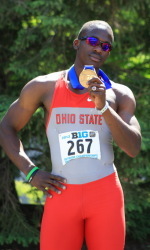 Highlighting the day for Ohio State was senior Demoye Bogle, who broke his own school record on the 60-meter hurdles with a time of 7.65 seconds. Meanwhile, Donovon Robertson posted the second best 60-meter hurdles time in school history and finished just behind Bogle with a time of 7.74 seconds.
For Bogle, his time of 7.65 seconds on the 60-meter hurdles ranks as the top time in all of Division I so far this season. Bogle was also named the Big Ten's co-track athlete of the week.
For the women, it was a downright dominating performance, finishing both first and second in five of the seven races. Three Lady Buckeyes set personal bests: sophomore Alexis Franklin with a 8.35 in the 60-meter hurdles, junior Abie Ehimwenman with a 6.01 meters in the long jump and senior Emily Taylor with an 18.71 meter throw in the weight throw.
Chesna Sykes was named the Big Ten's Femal Track Athlete of thew Week after winning both the 60-meter dash and 200-meter dash.
The men's team travels to Penn State this weekend for the Penn State Challenge, while the women travel to Lexington, Kentucky for the Kentucky Invitational.
Gymnastics
The No. 19 Ohio State women's gymnastics team opened up their season this past weekend against No. 12 Oregon State and Bowling Greeen. Oregon State posted a team score of 195.2 to edge the Buckeyes (194.75) for first place, while Bowling Green finished third with a score of 191.95.
Individually, Ohio State was led by Melanie Schaffer, who won the all-around title with a score of 39.225 points. Schaffer finished first on the bars, finished tied for second on the vault and finished third on the beam and the floor events.
Sarah Miller also had a great day, finishing first on the vault and beam while finishing third on the floor.
The Lady Buckeyes return to action this Sunday when they host Rutgers. Also this weekend, the 4th-ranked men's team opens up its season at the Windy City Invitational in Chicago on Saturday.
Tennis
Recently graduated senior and 2013 NCAA Singles National Champion Blaz Rola qualified for and is currently competing in the Australian open. After winning three qualifying matches Rola entered the actual Australian Open, drawing Federico Delbonis in the first round. Delbonis, who is from Argentina, is ranked as the No. 55 singles player in the world.
Rola defeated Delbonis in straight sets (6-4, 6-2, 7-5) to advance to the second round. The official Australian Open field consists of 128 individual players, with 16 of those spots reserved for those who advance through the qualifying tournament. Rola was one of 128 trying to qualify for the tournament, with only 16 advancing to the actual field. Of the 16 qualifiers, Blaz is one of only six to advance past the first round.
Next up for Rola is a match against Martin Klizan on Thursday at 2:00am. The match may be replayed on ESPN2 at some point, so be sure to check back for confirmation on that.
Klizan is a left-handed player from Slovakia and ranks as the No. 106 singles player in the world. Rola is now ranked No. 185 in the world.
Upcoming events
Thursday: Women's Basketball at Penn State, 7 p.m.
Friday: Men's Swimming at Kenyon College, 5:30 p.m.
          Men's Volleyball vs. Lees-McRae, 7 p.m.
          Wrestling vs. Northwestern, 7 p.m. in Cincinnati
          Men's Ice Hockey at Minnesota, 9 p.m.
          Men's Track at Penn State, TBA
          Women's Track at Kentucky, TBA
Saturday: Men's Swimming at Kenyon College, 11a.m.
              Men's Lacrosse vs. Hill Academy, 12p.m., Woody Hayes Athletic Center
              Women's Tennis at Baylor, 1p.m.
              Women's Ice Hockey at Minnesota Duluth, 4 p.m.
              Men's Ice Hockey at Minesota, 6 p.m.
              Men's Volleyball vs. George Mason, 7p.m.
              Men's Gymnastics at Windy City Invitational, 8:30 p.m.
              Men's Track at Penn State, TBA
              Women's Track at Kentucky, TBA
Sunday: Women's Gymnastics vs. Rutgers, 2 p.m., St. John Arena
            Women's Basketball vs. Iowa, 3 p.m., Value City Arena
            Women's Ice Hockey at Minnesota Duluth, 4p.m.
Wednesday: Men's Tennis vs. Butler and Xavier, 12 p.m., Varsity Tennis Center