Urban Meyer said he needed to hit a "home run" in hiring a replacement for Everett Withers. He did that and more, according to a report by Sports Illustrated's Pete Thamel. Meyer completed the proverbial grand slam by bringing on former Arkansas defensive coordinator Chris Ash and longtime Penn State assistant Larry Johnson Sr.
Ash will be the co-defensive coordinator/secondary coach and Johnson will coach the defensive line.
Withers accepted the head-coaching job at James Madison, while Johnson replaces Mike Vrabel, who left to be the linebackers coach for the Houston Texans. Both hirings not only bring on respected coaches and recruiters, but also take away from two rivals — Bret Bielema and Penn State.
Ash will be tasked with restoring the luster to Ohio State's pass defense, which ranked 110th in the nation last season. The Buckeyes allowed 268 yards passing per game, including a combined 1,143 in their final three games.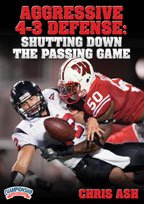 Ash was most recently the defensive coordinator for Bielema at Arkansas. He also spent 2010-12 at Wisconsin as the Badgers' co-defensive coordinator and defensive backs coach. Ash coached on three consecutive Big Ten championship teams in Madison.
Wisconsin finished in the top three in the Big Ten in total defense during Ash's three seasons. In 2012, the Badgers ranked 13th nationally in total defense, 19th in scoring defense and 23rd in pass defense.
They were 13th in scoring defense in 2011 and 15th in total defense. Ten of Wisconsin's opponents failed to score 17 points that season. It only allowed 163.6 yards passing per game, fourth-best in the nation.
In 2010, three starters in the secondary earned all-Big Ten honors.
Ash has also coached at Iowa State, San Diego State and Drake. 
Johnson spent all 18 seasons of his college coaching career at Penn State, where he was the defensive ends/special teams coach from 1996-99 and the defensive line coach the past 14 seasons.
He declined an offer from newly hired head coach James Franklin to stay on the staff. It's been reported that Johnson was frustrated after being passed over twice for the head-coaching job, though he disputes that notion.
"Getting promoted isn't the issue to me," Johnson told ESPN.com. "At the end of the day, it's giving Coach Franklin the chance to move forward. It's his program, his coaching staff and, yes, he offered me the opportunity to stay.
"But at the end of the day, I thought what would be best for me – and be unselfish – is the fact that let's move forward. That's my decision. It had nothing do with a job, or not giving me a promotion."
During his time in State College, Johnson became a respected coach and figure in the locker room, as well as one of the top recruiters in the country. He coached seven first-team All-Americans, including first-round draft picks Courtney Brown (No. 1 overall), Tamba Hali, Jared Odrick, Michael Haynes and Jimmy Kennedy.
Chris Ash's Coaching History


| Years | school | position |
| --- | --- | --- |
| 2012-13 | Arkansas | Defensive Coordinator/Defensive Backs |
| 2011-12 | Wisconsin | Defensive Coordinator/Defensive Backs |
| 2010 | Wisconsin | Defensive Backs |
| 2009 | Iowa State | Defensive Backs/Recruiting Coordinator |
| 2007-08 | San Diego State | Defensive Backs/Recruiting Coordinator |
| 2006 | Iowa State | Defensive Backs/Recruiting Coordinator |
| 2002-05 | Iowa State | Defensive Backs |
| 2000-01 | Iowa State | Recruiting Coordinator |
| 1998-99 | Drake | Defensive Coordinator |
| 1997 | Drake | Grad Assistant-Defense |
| 1996 | Drake | Volunteer Assistant |
Johnson twice turned down offers from other schools while he was at Penn State. In 2008, Illinois offered him the defensive coordinator position, which would have doubled his salary. Johnson again said no in 2011, this time to be Maryland's defensive coordinator. He cited a promise to Penn State's incoming freshman recruits as his reasoning.
In the 1980s and 90s, Johnson spent a combined 11 seasons as head coach at Maurice J. McDonough High School and T.C. Williams High School in suburban Washington, D.C. He was a six-time coach of the year in Maryland and won three state championships. The Greater Washington area is one of Johnson's strongholds in recruiting.
Vrabel too earned lofty praise for his recruiting prowess. The addition of Johnson lessens the blow of Vrabel's departure and perhaps makes the Ohio State coaching staff better due to Johnson's wealth of experience and knowledge when it comes to recruiting.
At Ohio State, Johnson will coach two players he recruited heavily: Tommy Schutt and Noah Spence.
One current Buckeye who was recruited by Johnson was asked if he was happy with the hiring, and answered, "Yeah, absolutely."