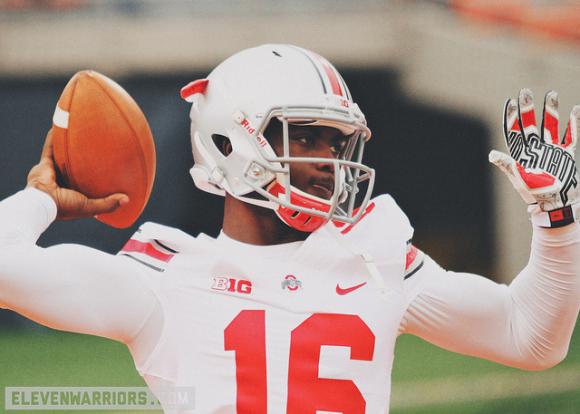 John Thomas Barrett stood calmly in the middle of the Ohio State locker room in Sun Life Stadium. Moments earlier, Braxton Miller had thrown his second interception of the Orange Bowl, this time a game-ender. Steps away from Barrett, Miller was undergoing his own round of questioning from reporters, a post-game autopsy of sorts.
Is this really what Barrett wants? Well, yes. It's what you sign up for when you go to Ohio State and it's in the DNA of every competitor. His time won't come next season – Miller is returning for his senior year – but Barrett, known as J.T., is the quarterback of the future for the Buckeyes, regardless of what the depth chart might tell you.
He came to Ohio State by way of Wichita Falls, Texas, an outpost to the west and equidistance from Dallas and Oklahoma City. Barrett was handpicked by Tom Herman – "Every day, he just helps me develop," Barrett said – after a junior year that attracted assistant coaches from both coasts. He completed 60 percent of his passes for 1,605 yards and 14 touchdowns, and rushed for 1,521 yards and nine scores. 
Barrett was a top 100 recruit, rated as the third-best dual-threat quarterback in the nation and the No. 11 player in the state of Texas. He quickly committed to the Buckeyes when they offered him in April, 2012. But he wasn't able to build on his stupendous junior season after he shredded his knee during the fifth game of his senior year.
Still, in a little less than half a season, Barrett threw for 784 yards and five touchdowns while adding 569 yards and seven touchdowns on the ground. A redshirt freshman season was inevitable due to the knee injury. Barrett's ACL, MCL and meniscus were rehabbed and strength was added to his 6-foot-1, 222-pound frame.
"It still gets sore every now and then," he said of his surgically-repaired knee. "I'm just working on that in the offseason. I'll be good. I'm fine."
For a true dual-threat quarterback, blowing out a knee is a worst-case scenario. But Barrett insists he'll be the same player he was pre-injury. That seemed to be proven as he starred on the scout team throughout the season.
"Being the scout team quarterback, it's not like you're just separated from the offense. You're still developing," said Barrett, who played the role of Tajh Boyd during Orange Bowl preparations. "You see a team that an opposing team's running, you try to make it similar to a play that you would run. Every day, you're just trying to be a better quarterback and help your defense."
When he was asked about ascending to the starting job after the Orange Bowl, Barrett didn't take much interest in the subject. He's a natural-born leader, as Herman alluded to last spring when Barrett, unprompted, gave an impassioned speech to potential recruits. That's why his caring nature for Miller to do what's right comes off as genuine.
"I really don't have to think about it. I just knew I had something to say, and that's what came out," Barrett said of his speech to Dontre Wilson and James Clark. "It was natural and I didn't have to think about it. It just comes to me sometimes."
Barrett said the year away from game action served him well. Not only did it allow him to become fully healthy, it also gave him a glimpse into how to prepare at the college level both on and off the field. Meeting room experience with Miller and Kenny Guiton was invaluable, according to Barrett.
"It was a big learning experience," he said. "I think it was the best thing for me. I'm glad I was redshirted."
Even with Miller's return, Barrett remains likely to find himself in a quarterback competition come spring. He, Cardale Jones and incoming freshman Stephen Collier will be the other scholarship quarterbacks on the team, with Guiton's departure opening the backup position.
The high football IQ and sensible approach of Barrett could give him an advantage over Jones and Collier. Barrett will use the offseason to learn the "whys" of the offense, as he put it. He said losing is at the top of his hate list, going as far to say that he dislikes losing more than he enjoys winning, a model that will mesh well with head coach Urban Meyer.
"I'm a grinder, a competitor, a really tough guy," Barrett said. "Anything to win. Anything."