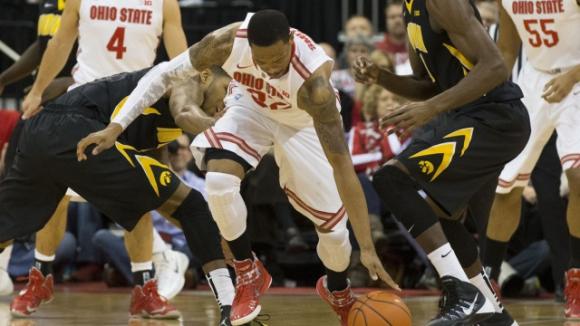 As Aaron Craft trudged to the locker room following a second consecutive loss, the Value City Arena crowd stood silent, not believing what they'd just witnessed. They saw Craft at his best and worst, they saw LaQuinton Ross render a 22-point output irrelevant with a series of gaffes and they saw Ohio State throw away a nine-point second-half lead and get outscored 22-9 down the stretch.
It could simply be a case of Iowa being the better team – the Hawkeyes withstood all the then-No. 3 Buckeyes tossed in their direction. Winning on the road in the Big Ten is perhaps the toughest task in all of college basketball. But Ohio State's issues last week ran much deeper than simply losing to two superior teams.
The Buckeyes turned the ball over 38 times. In the loss to Iowa, the Hawkeyes used 17 turnovers to score 27 points. They outscored Ohio State 40-21 over the final 12-plus minutes, a period that included eight turnovers – four from Craft.    
Any notion of a comeback failed after several key miscues in the closing minutes.
"I gotta figure that out," a befuddled Thad Matta said. "I think from the standpoint of just the decision making we made. I think the biggest thing getting our guys understanding is you can't let one mistake compound into another mistake. That was what happened to us today."
The most glaring mistakes came from Ross. In the midweek loss at Michigan State, he was benched in the second half for poor play, mostly on offense. He righted that ship Sunday by recording 22 points, seven rebounds and three assists. But there was another number attached to his name – five turnovers.
There were lapses on defense late in the game and a horrendous air ball, turnover, turnover sequence on three straight possessions that put the Buckeyes' chances of victory on life support. Ross talked about wanting to redeem himself after the debacle in East Lansing. Instead, there was more damage.
"We were in this exact same position last year. We're so far from the end of the finish line and to panic is something I won't do and have never done."
"Obviously, we need LaQuinton to play well," Matta said. The same goes for the entire roster, even Craft, who had one of his worst games as a Buckeye.
Consistency is the No. 1 issue plaguing Ohio State. The offense and defense rarely get going at the same time, which causes uneven play at both ends of the court. There was a seven-minute stretch during the Iowa game when the Buckeyes got their overall game clicking. It resulted in a nine-point lead and the Hawkeyes were held scoreless for more than six minutes.
The game would flip from that point forward, though. Ohio State became a turnover machine and never had a realistic chance to win during the final two minutes. 
"It's on us. We knew they were going to press, we knew they were going to do what they did, and we just weren't ready to take care of the ball," said Craft, who fouled out, turned the ball over six times and was -19. "There comes a point where you just have to make smart decisions and do what you need to do to protect the ball, and we're not doing that."
Entering the week, the Buckeyes were averaging 10 turnovers per game and led the Big Ten in turnover margin. Just like that, Ohio State's gone from undefeated, ranked in the top five and the toast of the Big Ten to its season reaching a crossroads in mid-January. As Matta spoke about, allowing one mistake to evolve into two or three is at the center of the Buckeyes' recent struggles. They've proven they aren't skilled enough on offense to waste possessions. 
The Big Ten is arguably the best conference in the country. Experience can often lift teams through difficult times and losing streaks that are inevitable. For Ohio State, it's surprising to see its veterans as part of the problem and not the solution. But that's been a theme in its two losses. 
Still, panic will not set in. The locker room will continue to be a site of positive thoughts. Going undefeated was never a goal and losing to two highly ranked teams will never damage your national standing. However, it doesn't mean things don't need corrected.
The Buckeyes have dealt with questions in January and February before, only to venture to the Final Four. As recently as last season, major problems were perceived in February. The end result nearly became a trip to the Georgia Dome.
"We were in this exact same position last year," Matta said. "The biggest challenge is making sure our minds are where they need to be in order for us to get better. We're so far from the end of the finish line and to panic is something I won't do and have never done.
"College basketball is hard. There are a lot of ups and downs, but it's about picking yourself up, dusting yourself off and going back into the game. From our perspective, it's staying positive but demanding and finding ways to continue to grow and connect."