Mike Vrabel's sudden decision to leave Ohio State for the NFL is going to have – at least temporarily – adverse side effects for Ohio State recruiting. Theres's little to no doubt about that.
His charisma, his passion and his love for all things Buckeye was unrivaled by anyone on the Buckeye staff and it helped make him the best recruiter not only in Columbus, but maybe in the country. Vrabel was Urban Meyer's ace-in-the-hole, and now Meyer has to find another, but rest assured: he will. 
The challenge for Meyer is not to find a good young coach with a firm grasp of defensive football. Those guys are everywhere, and Meyer is aware of it. The challenge is not to find a "player's coach" that identifies with the grind of the football team and can recruit great players, either. Those guys, too, are everywhere.
The loss of Vrabel is hardest to replace in terms of passion for and about Ohio State directly. Mike Vrabel loves Ohio State, it's a part of who he is, it resonates through every facet of his personality and it is that trait Meyer will find most difficult to replace.
The truth is this though, no matter how much Vrabel was liked by recruits and coaches alike, Urban Meyer is ultimately the draw at Ohio State. Recruits come to Columbus to play for Ohio State and to play for Urban Meyer. Ohio State's history and tradition, Urban Meyer's reputation and the promise of future winning, that is why kids come to Ohio State.
Best of luck, Mike, and thank you for three pretty darn good years. Maybe we'll see you again down the road.
With all of the we've had recently – in the middle of a dead period, no less – this afternoon's update will focus on a few random notes and players from the around country, but it may be a bit "lighter" than you've come to expect from my always rambling prose.
The James Franklin Effect

It's no secret that Ohio State's 2015 quarterback targets are well established. We've talked about them at length here and as the next year unfolds we'll talk about them more.
The one name that has been discussed the most is Brandon Wimbush from New Jersey, who initially wanted to make his college choice in December, but has decided to put it off for another month or two. That delay, coupled with Penn State (his mother's alma mater) hiring James Franklin, could dislodge the Buckeyes as the favorite for his services. Wimbush was considering Vanderbilt previously almost exclusively because of Franklin, and his ascension to Happy Valley could definitely impact the battle for the quarterback.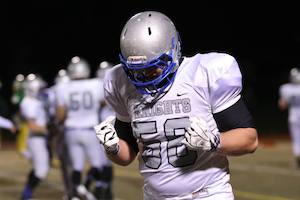 Landing Wimbush doesn't necessarily guarantee that you land his five-star defensive back teammate Minkah Fitzpatrick, but losing Wimbush could absolutely hurt the chances of landing Fitzpatrick as well. Ohio State has felt very good about their odds with both of these players, but Penn State's impact in New Jersey combined with a coach of Franklin's prodigious charm is going to be a challenge even for Urban Meyer.
The New Jersey boys are not the only prospects potentially affected by Vanderbilt's loss. Van Jefferson, the talented wide receiver from Ravenwood High School in Brentwood, Tenn. is another four-star prospect that may quickly move the Nittany Lions up on his list of schools because of his relationship with Franklin at Vanderbilt.
In fact, Jefferson's father was pushing for Penn State to get a better look with O'Brien at the helm, but the wideout and his mother really liked Franklin and what he was building in Nashville. Ohio State was named the leader for Jefferson following his November visit, but this one is far from over.
The Offensive Line Situation

On Thursday, two of Florida State's top offensive lineman, Cameron Erving and Tre Johnson, announced they would be returning for their senior seasons in Tallahassee. Naturally for Buckeye fans this brings one name immediately to mind: Chad Mavety. Mavety committed to Florida State in early December and many believed that the JUCO star would see FSU's projected line openings as a way in to early playing time, but the decisions of Erving and Johnson have thrown a little wrench into that idea.
Does that mean Ohio State has any chance to re-open the New Yorker's eyes? I don't think so. 
That said, Mavety told me has not signed with Florida State yet, so anything could happen, but don't count on this one turning the Buckeyes' direction.
Ohio State's offensive line recruiting seems to be narrowing down at this point and Missouri's Rod Johnson and Ohio's Brady Taylor are the primary factors as I see it. The problem is that Johnson doesn't seem to be altogether too interested in taking another visit to Ohio State and Taylor is currently committed to Virginia Tech and without a Buckeye offer. Couple that with the reports that Taylor has told people a Buckeye offer wouldn't even change his mind if it came, and it appears that Ohio State could be sitting on four offensive lineman come February. Of course, this is recruiting and anything can change in the blink of an eye, but right now it's a little too quiet for my taste on the line front.
What do I think happens? I'm sticking with my guns, and I still think Brady Taylor gets an offer before February and I think he signs with Ohio State, but I do not think it will be an easy, slam dunk choice for him. He's been committed to the Hokies since July and Taylor is not the type of kid who takes his commitment lightly. He doesn't want to be "flaky" or "change his mind," but I believe that if the offer comes he'll make that choice because it's a lifelong dream for the Columbus native to don the scarlet and gray.
CRAIG PLANS A BUCKEYE VISIT

It's not too early to talk 2016 recruiting, is it? One of Florida's top wide receivers, Nate Craig from Dade County, has had a Buckeye offer for since April of 2013, before he suited up for his sophomore year at Pasco High School. Ohio State has stayed in regular contact with Craig as they are able (contact rules are pretty strict for underclassmen) and he told me last night that he's hoping to get up to visit Ohio State, as well as two other schools soon.
"I hope to take some visits during this upcoming summer," Craig said. "I want to visit Clemson, Tennessee and Ohio State."
With a handful of younger players from Florida already making commitments, Craig said he's not thinking about committing anytime soon, but he understands those who do.
"You just wanna take every visit to make sure your making the right choice," he added about his recruiting process. "But, if the shoe fits then you have to go with it."
Urban Meyer is hoping that Craig's shoes are scarlet and gray.