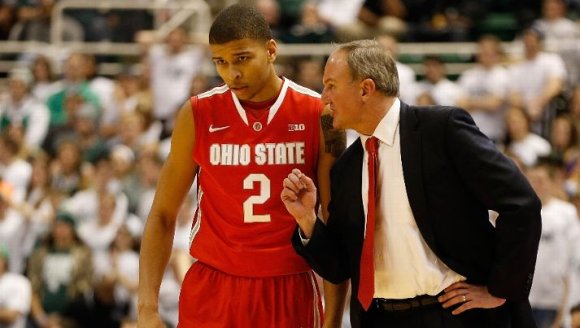 Though it was tough to stomach Ohio State falling to Michigan State in overtime after fighting all the way back from a 17 point deficit to force overtime on the road, there were still a handful of positives to enjoy, most notably the continued emergence of true freshman swingman, Marc Loving. 
One of just two incoming freshmen to the 2013 squad, Loving, a Rivals 4-star out of Toledo, was known to possess an all-around game complimenting an ability to put the biscuit in the basket but with the likes of upperclassmen Aaron Craft, Shannon Scott, Lenzelle Smith Jr., Sam Thompson and LaQuinton Ross forming a log jam on the perimeter, not to mention sophomore Amedeo Della Valle fighting for wing minutes of his own, whether or not Loving could convince Thad Matta he was worthy of meaningful minutes was far from certain. 
Of course, Matta would kick the tires on Loving as he is wont to do against non-conference cupcakes that dominate Ohio State's playbill in the month's of November and December but against the better out of conference competition, Matta mostly reverted back to his status quo of leaning on vets to log heavy minutes. 
Interestingly, and somewhat foretelling of what Matta sees in Loving, the freshman logged 22 minutes in Ohio State's third game of the season, a 52-35 road win at then #17 Marquette, ending their 27-game home winning streak. He hit just one of three shots but it was a big one as the offensively challenged Buckeyes used his triple with seven seconds in the opening half to tie things up at 19 before a 2nd half defensive assault triggered the eventual blowout. Despite the lack of offensive production, Loving did pick up two steals and looked far from overwhelmed in the most hostile environment he'd encountered to date.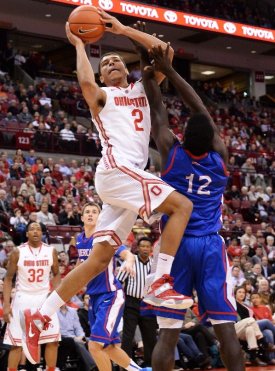 Less than three weeks later however, as Ohio State hosted Maryland in the ACC/B1G Challenge, Loving saw just nine minutes of action as the Buckeyes won by 16. He would average over 12 minutes per contest over the next four games including 14 in a 12-point performance against a solid North Dakota State squad but when the Buckeyes headed to New York City to take on Notre Dame in The Garden, Loving was virtually stapled to the bench, logging a season-low four minutes of action in Ohio Sate's sick comeback win. 
Loving responded with eight points thanks to a knack for getting to the line (4/5 FT) along with three boards in 16 minutes against a badly outclassed UL-Monroe team to round out the non-conference action setting the stage for an unforeseen breakout through the first three games in B1G play. 
In his league debut at Purdue, Loving looked very much the part of a solid reserve contributor as he posted another eight points and three boards, including 2/4 from distance, in 16 minutes of action against a physical Boilermaker lineup. 
Four days later, Loving had his best game as a Buckeye tossing in a career-high 13 points on 3/6 from the floor and more importantly, 7/8 from the stripe in a blowout of Nebraska. As he had shown in small doses during the non-conference slate, Loving flashed a scorer's mentality balanced by a strong basketball-IQ, driving to the bucket as 'Husker defenders consistently played him tight in an effort to take away his jumper. 
Those two outing set the stage for last Tuesday night as Loving racked up 23 minutes of action, much of it as the Buckeyes used a 20-3 run in the 2nd half to force the extra session. No less significant was the fact he did so with Ohio State's top two scorers, LaQuinton Ross and Lenzelle Smith Jr., riding the pine. 
MARC LOVING'S STATS: B1G GAMES

| OPP | MIN | FG | FG% | FT | REB | TO | PTS |
| --- | --- | --- | --- | --- | --- | --- | --- |
| PUR | 16 | 3/7 | 43% | 0/0 | 3 | 1 | 8 |
| NEB | 17 | 3/6 | 50% | 7/8 | 5 | 1 | 13 |
| MSU | 23 | 2/8 | 25% | 5/6 | 1 | 1 | 10 |
Loving shot just 2/8 from the field, missing four of five tries from downtown, but did manage to earn six trips to the stripe, making five, while turning it over just once in a raucous environment against a tenacious D. 
The kid made his share of freshman mistakes including his decision to take a leaning triple while being heavily crowded by a defender with five seconds left in overtime and he was partly to blame for a turnover in which Aaron Craft appeared to read a curl while Loving picked and popped midway through the extra session. 
LOVING'S STATS: B1G VS. NON-CONFERENCE GAMES

| GAMES | MPG | FG | FG% | FT | FT% | RPG | PPG |
| --- | --- | --- | --- | --- | --- | --- | --- |
| NON-CONF | 13.6 | 31/73 | 43% | 40/48 | 83% | 2.5 | 7.0 |
| CONFERENCE | 18.7 | 8/21 | 38% | 12/14 | 86% | 3.0 | 10.3 |
Still, there's no denying Loving is a future star in Columbus and unlike Ross and others before him, it's clear he has earned Matta's trust in his first year on campus for a multitude of reasons. 
Beyond the obvious ability to score in a variety of ways, Loving has impressed Matta with his work ethic and the already noted floor intelligence that shows up in ways such as leading an opposing offensive player into a switch to correct a defensive mismatch or exploiting the defense and earning a trip to the line when the offense lacks flow. 
As Matta noted, talents such as these are hard to instill, especially a true freshman, which has Thad believing Loving is coming into his own as an overall player. 
Knowing how all freshmen operate, there will likely be times that he looks overwhelmed or out of sorts as he did for a few minutes against Michigan State but if can consistently contribute in more ways than just trying to score, there's a great chance Loving will continue to receive quality minutes which will not only pay dividends this season but for years to come.