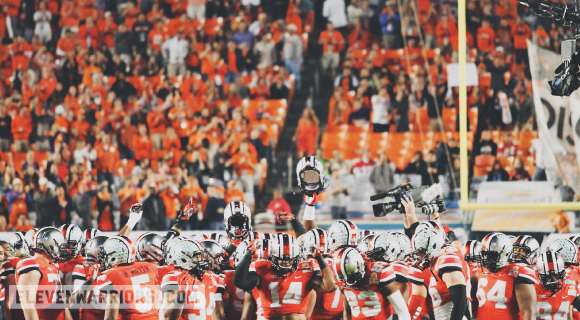 The loss Friday hurt. There's no denying it. The only possible way to make winning 24 straight games feel not-so-hot is by losing the last two on the biggest of stages. But, contrary to Friday night's popular belief, the sun did rise Saturday morning. Now, with a few days to reflect there's reason for hope. I know it's hard to see as many of you are still wrapped in grief cocoons (understandably) but I'm here to tell you the future is bright.
Here's why.
Braxton Miller
Reports indicate No. 5 will be returning for his senior season. This is absolutely the best thing for both parties involved. Miller needs another year to hone his passing game, which wavered down the stretch as the weather and competition got harsher. The Buckeyes need the experience of a veteran signal caller to balance out the loss of their offensive line and bowling ball of a back, Carlos Hyde.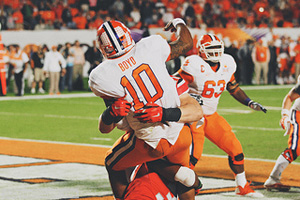 Miller is a playmaker. You don't win two Chicago Tribune Silver Footballs on accident. With that said, he still has something to prove in the passing game. Much of the talk headed into the season revolved around Miller's improvement as a gun-slinger, and during some games his progress was evident (Wisconsin, Penn State and Purdue come to mind).
However, in the last three games of the season we saw a Braxton too quick to lock onto one receiver then take off if that individual wasn't open. The result was a completion percentage under 50% in two of the last three games.
The good news is Ohio State has one of the most relentless QB coaches in the country in Tom Herman. Make no mistake, as the final seconds ticked off the clock in Miami, Herman was thinking of ways to get better in 2014. Miller and Herman have an excellent relationship and if Braxton makes strides similar to those between his sophomore and junior season, he'll be in New York for the Heisman ceremony.
Just stay healthy No. 5. Buckeye Nation is elated to have you back.
Young Guns
Much hand-wringing occurred after it was reported both Bradley Roby and Noah Spence wouldn't take the field for the Orange Bowl. The two were arguably the best players on an already shaky unit. Stepping in to take their place would be sophomores Armani Reeves, Jamal Marcus and true freshman Vonn Bell.
The trio played admirably against a Clemson offense that possessed NFL ready weapons in Tajh Boyd and Sammy Watkins. The much maligned Reeves looked markedly better in coverage while Marcus tallied six tackles and a pass-breakup. Bell was burned early on a Sammy Watkins TD grab, but later came up with one of the highlights of the game, snatching a Boyd pass out of the sky with one hand to keep the Tigers out of the endzone and swing momentum.
These players along with guys like Joey Bosa, Dontre Wilson, Ezekiel Elliott, Pat Elfein and the confident Michael Thomas are all young and hungry to make a name for themselves. Another offseason with Mickey Marotti is going to do wonders for most of these kids who are just a year or two removed from high school, and there's no doubting the younguns can ball.
This is the new reality at Ohio State. Gone are the years where players have to wait until their junior or senior season to see significant playing time. Urban Meyer and staff are recruiting at an unbelievable clip, and they are just now getting their players into the system. The caliber of kid they are recruiting can come in and make a difference right away, and they are bringing in two or three blue chips at each position. On paper the cabinets looked more stocked than they've ever been.  Which brings us to…
Recruiting
Ohio State lost the Orange Bowl Friday night then woke up Saturday morning to commitments from two of the best prospects in the country. The news moved Ohio State into 24/7's No. 2 spot in their composite rankings behind only Alabama. Undoubtedly the class is positioned to remain in the top 5, making this the third year in a row Meyer has reeled in a class ranked 5 or higher (2013 was No. 2).
Jim Tressel was excellent at bringing in three star recruits and grooming them into studs (see Dane Sanzenbacher, James Laurinaitis and Troy Smith). But, when he got the occasional 5-star like Maurice Clarett or Terrelle Pryor, they elevated the program; winning BCS bowl games and national championships. In his 10 years at the helm, Tressel reeled in 13 five star recruits. That's nothing to scoff at. But, in just three years as the head man Meyer has already brought in nearly half that, amassing 5-five stars from 2012 to the present.
No one can say how many of these elite H.S. players will pan out. For every Chris Wells, there's a Robert Rose. However, there's no denying stockpiling that kind of talent is ALWAYS a good thing and Meyer intends to do exactly that. What should scare the B1G is where Urban is pulling these players from. Gone are the days of building a fence around Ohio and grabbing the state's best players. Over the past three offseasons the Buckeye recruiting machine honed in on the best players in the country, regardless of location, to outfit them in the Scarlet and Gray.
Urban Meyer
Last but certainly not least, Buckeye fans can take solace in the fact that they've got one of the best college football coaches in the country. Meyer has won everywhere he's been and he's doing it again in Columbus. While Meyer lacks a signature win as the Buckeyes' head man, one can sense it's only a matter of time. Urban hates losing. Hates it more than anything.
That fire is going to be the catalyst for change in 2014. Do things need to be re-tooled during the offseason? Yes, and I think Meyer would be the first to tell you. Buckeye Nation should trust Meyer to pull the right levers to correct the issues. He knows what he's doing, and he's going to do the right thing. Trust in Meyer and that trust will set you free.
---
It's going to be a defining offseason for the Buckeyes. Losing the last two will remain sour for a time, but one can't help but be excited for the future of the program. The star QB is coming back, young talent is here, more is on the way and they'll be led by Urban F. Meyer.
Hope. What an amazing thing.