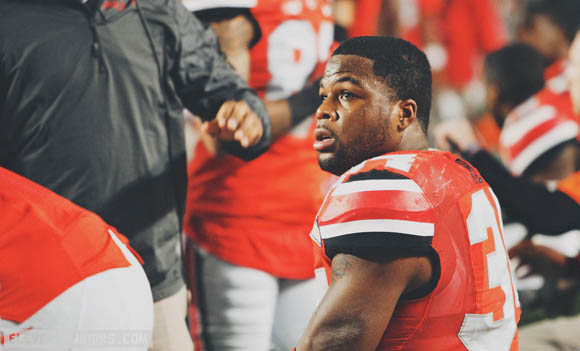 MIAMI GARDENS, Fla. – Even without a national championship on the line, it was all set up for Ohio State to end its 2013 season in a cheery mood. The up-and-down nature of the Orange Bowl resembled a Carnival cruise leaving the Port of Miami. But in the fourth quarter, it looked like the Buckeyes were destined for an offseason filled with happy thoughts.
Instead, Ohio State enters the stretch run of recruiting, spring practice and fall camp on a two-game losing streak. After 24 wins, it's nine months of adversity. Urban Meyer is used to winning and takes losses harder than most coaches, which likely means he'll work all the harder to rid the feeling of losing.
"The one thing you're going to find out the more that you're around me, I'm not a big blamer," Meyer said. "We've got to get better."
Meyer on the defense.
"We're not a championship caliber defense right now," he said.
True freshman safety Vonn Bell earned the start in the Orange Bowl. He also made one of Ohio State's biggest defensive plays, intercepting a Tajh Boyd pass near the goal line.
"We ran a little zone play. I read the eyes of Tajh and he threw it and I was able to make a play," Bell said. "They said we need plays made, so I made the play for us."
Bell said he was moved into the starting lineup at the beginning of bowl practice. Being a difference maker and producing is why the move was made.
"They just wanted to see me make plays and do what I do," he said. "Like when I got here. Just play your football and they knew I could play. So that's what they told me to do.

"I played all right. I could get better at some things. But I made plays that were there for me sometimes. I just have to get better, and I have more motivation this spring."
The first year of playing college football provided Bell with frustrations, namely not playing as much as he thought. He was a coup on National Signing Day, joining the Buckeyes as a five-star recruit who would make an instant impact. For much of the year, the only thud was his playing time. Bell appeared sparingly, mostly on special teams.
"It just motivated me to keep on grinding every day. Just be patient," he said. "As a true freshman, it's really hard to play DB. You have to be really talented and you just have to stay patient and show them every day and earn the coaches' trust."
Senior left tackle Jack Mewhort wants he and his fellow seniors to be remembered for their work ethic, among other things.
"I think we were very resilient, hard workers, good people. I like to think that would be the legacy," Mewhort said. "Obviously we dropped a few tough ones here at the end. We would have liked to go out on top, but I think we set a standard for these younger guys. I think they're going to do great things. This program will stay on the rise with Coach Meyer and some of the leaders coming back."
During Mewhort's sophomore season, the Ohio State football program hit rock bottom. Two years later, the Buckeyes are positioned for repeat success, even after two losses.
"[Meyer] pulled us out of something bad," Mewhort said. "I'll be forever grateful to him for that. You have to keep moving forward for this next group of guys and start fresh next year and do it the right way."
When Meyer came to Ohio State, wins followed almost over night. It may have looked easy from the outside, but Mewhort assures you it was not.
"I know it looked like immediate success after going from 6-7 to 12-0 in one year, but it wasn't immediate at all," he said. "It started at 5 a.m. in January of 2012. Every day we came to work and we grinded hard. What you saw on the field was a product of a lot of man hours, a lot of effort."
There was talk all week about the Ohio State defensive starters who were missing and how it represented major problems for the Buckeyes. As it turned out,  Bell, Armani Reeves and Jamal Marcus played well. It was some of the veterans who no-showed. 
"I feel like the young guys, they were ready and prepared to play," junior linebacker Ryan Shazier said. "Vonn and Armani and Jamal, I felt like they really stepped up when we needed them to."