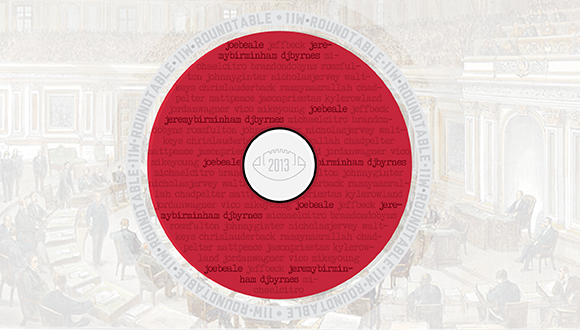 It's hard to believe, but after tonight the 2013 Buckeyes' season will come to a close. With the finale comes the last 11W Round Table of the season. Try to hold back your emotions, and power through the tears. Before you know it we'll be heading into the Spring Game...right? To end the season we've got Joe, DJ and Jeremy. Let's hit it.
What do the Buckeyes need to do to win tonight?
DJ: They need to score more points than Clemson. And that's not me having a go; it's just I don't think Ohio State will be able to stop Clemson's offense. This game is on Ohio State's receivers. Carlos will ball out, but he's still human, and Ohio State will need him for the fourth quarter in case they need to grind a game out in the final six minutes. OSU can't afford drops and other displays of mediocrity from their wide outs.
Jeremy: On defense, they need to force turnovers, which Boyd is prone to when he is pressured. Ohio State's secondary has been suspect all year and the likely loss of Bradley Roby tonight will put a young and suspect group of guys in the spotlight.
On offense the Buckeyes will need to do the exact opposite and make sure they don't turn the ball over. Every drive is going to matter in a game where both defenses are less than reliable.
Joe: Three things: get pressure on Boyd without having to bring more than 4-5 rushers, get back to the kind of diversity that they once had on offense prior to the last two games, and maintain their poise under the pressure of playing a good opponent under the big lights.
Without Noah Spence, who needs to step up on the defensive line to fill the void?
Joe: Jamal Marcus, first of all. But to be honest, the line in general needs to step up. They need to be able to get pressure on the passer from all angles, not just the side where Joey Bosa is playing.
DJ: I actually think the defensive line will be fine without Spence. Obviously it's not ideal to lose him because he's a beast, but at least it's at a position in which Ohio State has insane depth.
Jeremy: I think the obvious answer is Jamal Marcus, because he's probably the guy who will play more than "normal" in Spence's absence. The good news is that in limited playing time this year, Marcus has fared pretty well, being disruptive in passing situations multiple times early in the season. Aside from Marcus, Ohio State could use an appearance from last year's version of Adolphus Washington, too.
Will Vonn Bell be the spark needed to bring some much needed energy to the defense? Why or why not?
Joe: One guy is not going to make a huge difference, but every little bit helps. It might be more significant that Everett Withers has departed, which means the defense is fully under the reins of Luke Fickell. That might contribute to the establishment of some kind of identity, which will allow guys to play faster and not think as much.
Jeremy: Simply put, he can't be worse than Corey "Pittsburgh" Brown has been in the last two months, so I guess the question really is "why not?" I think Bell's natural talent and physical abilities are ahead of Brown and while we should certainly not expect a perfect game from him in his first start, people should be more willing to accept his mistakes than they would another round of Pitt's. Bell will fly around, he'll hit people hard, but whether that means he can cover good college WRs I guess we'll find out.
DJ: No offense to Pittsburgh Brown, but he just hasn't gotten it done as Christian Bryant's replacement. Obviously all the defensive woes can't be traced back to Christian Bryant's shattered ankle, but it's definitely time Vonn Bell got the starting spot.
And looking to a freshman to provide a spark in the 14th game of the season says everything that needs to be known about the 2013 Silver Bullets, doesn't it?
Clemson gives up over 150 rush yards per game. What does Carlos Hyde's end of game stat line look like?
DJ: Carlos Hyde will run for over 300 yards. That's my "bold pick" or whatever.
Jeremy: Carlos Hyde will run for as many yards as Tom Herman and Braxton Miller let him. If the Buckeyes give him the ball 25 times, he'll get 200 yards and three scores. Give it to him 15 times and the Buckeyes lose.
Joe: Over 200 yards rushing and at least three touchdowns. I would also like to see him grab a few receptions, like he did in the Northwestern game.
Will Braxton Miller re-discover the potent passing attack the Buckeyes possessed for most of the season? Why or why not?
Jeremy: The difference between #GoodBraxton and #BadBraxton is not that difficult to figure out. If Clemson does what Michigan State did - disrupt the short passing game and force Braxton to look towards second and third progressions - then Miller gets frazzled. Ohio State needs to put him in a position early to get some confidence and you'll see him feel far better about his choices later in the game. Clemson will press corners, Ohio State will need guys to get open - another issue they've had in recent weeks.
Joe: He has to. In order to keep the game competitive, Miller needs to regain the accuracy that he showed against Wisconsin and others throughout the season. Clemson undoubtedly has seen the tape of the last two games, and unless they are completely insane, they will load the box and make sure OSU does not beat them on the ground. 
DJ: I think a month of getting healthy and preparation, compounded with the favorable Miami weather will produce Braxton's best game as a Buckeye yet. It also helps Clemson's defense isn't known for its tenacity.
What is your final score prediction?
Joe: Ohio State wins 45-38, as the defense improves from the last two weeks, becoming more disciplined and quicker to react to what the Clemson offense is doing.
DJ: 42-38. Ohio State scores late in the game on a Carlos Hyde touchdown run.
Jeremy: I know it may not be popular, but I think the Buckeyes lose 48-45, and I think it's a classic college bowl game between two flawed - but good - football teams. Ohio State's personnel losses on defense are a lot to overcome: you don't lose your best defensive lineman and defensive back and feel no impact. The Buckeyes' linebackers have struggled all year and I don't see any reason to think three additional weeks of practice will turn on any "lights" that months of practice have not been able to. To say my confidence in the defense is lacking would be a complete understatement.
Is Braxton Miller coming back next season? Why or why not?
Jeremy: Yes. I mean, no. I mean, I don't know, man. There are no reasons besides the obvious (read: $$$ because of his responsibilities as a father) for Miller to even consider leaving Ohio State early. He's an incredibly talented player, an incredibly exciting player and an incredibly inconsistent player. There's nothing about his game right now that is NFL ready, nothing. 
Joe: He would be foolish not to. Considering the quarterbacks that are coming out this year, it is very possible that Miller will be an afterthought. Better to spend another year working on his game and coming through with a Troy Smith 2006 type of season.
DJ: No, and he probably shouldn't. His athleticism is his NFL ticket even if his quarterbacking skills aren't, and why risk it? Even if he puts up numbers, they'll always be questioned because of the B1G's shoddy reputation.
Braxton has improved every year he's played. He's a smart player. Why not get paid to develop his craft? I don't know why even Ohio State go out of their way to shit on his talents, but they did the same to Terrelle Pryor, and that guy is still in the league and has earned millions of dollars. No reason Braxton can't at least do that.
If he does go pro, I hope Ohio State fans stay thankful for the three years we got from Braxton. He came to Ohio State during a tumultuous time and once suffered the indignity of being behind Joe Bauserman on the depth chart. I love the guy, and he'll always have a spot among the greats in Buckeye lore regardless.
Will the Buckeyes have a legitimate shot at the national title next season? Why or why not?
Joe: Assuming the offensive line can be rebuilt, I think so. The schedule is favorable once again, and the leaders on offense will be more experienced and more ready for the big stage than they showed at the conference championship game this season. I also expect major improvements on defense since it will be under one coordinator and not two.
DJ: Ask me this after the game at Michigan State next year, but if Braxton comes back: yes. If not, I'd say "no" but I always hate ruling out Urban Frank Meyer.
Jeremy: They have a chance if Braxton Miller and Devin Smith make the right choice and return for their senior season. As much I hate to say it, no, they don't have a chance if they don't. The schedule isn't "hard," but for a team that could conceivably be replacing Braxton Miller, Carlos Hyde, Jordan Hall, Philly Brown, Devin Smith, Andrew Norwell, Corey Linsley, Marcus Hall and Jack Mewhort on offense at one time is not likely to compete for a Big Ten title, let alone a national title. Combine those major offensive losses to losing Ryan Shazier, Bradley Roby, CJ Barnett and Christian Bryant on defense and I don't think it's too out of the question to expect four losses for the Buckeyes next year, a la 2004.
Yes, I know the recruiting classes have been good as the 2014 group will have a number of guys contributing early, but true freshman don't win championships often unless they're in complementary roles, not starring ones.
Will Urban Meyer lose any more assistant coaches before the start of next season? If so, who?
DJ: If Tom Herman hasn't been poached, that'd be a blessing of the highest order. I think he stays, however.
Jeremy: I think it's obvious that the coaching carousel craziness hasn't really even begun yet, but it seems like the Buckeyes are likely safe from any other attrition at this time. With no coaches having current head coaching experience, it's unlikely that any will garner much attention from any major colleges impacted by the coming changes. If someone were to get a closer look, of course the attention goes to Offensive Coordinator Tom Herman and Offensive Line coach Ed Warinner, each of whom has taken their respective units to record breaking seasons with the Buckeyes.
Joe: I thought that maybe Luke Fickell might go to Bowling Green, but that didn't happen and I don't expect any others to jump. There don't seem to be a lot of plum coaching jobs available at the moment and the season for firings looks to be done. I expect Herman and others to wait for better opportunities to open up down the road. None of them are big enough to get the Texas job, but they're all big enough to hold out for something better than Bowling Green.
Who will be the Buckeye no one knows about yet that we'll all be talking about at this time next year?
Joe: Considering the almost encyclopedic knowledge that OSU fans typically have about the players in the program, it's hard to believe someone can come out of nowhere and surprise us. That being said, I think we might be talking a lot more about Trey Johnson this time next year than we are now. With Shazier likely leaving for the NFL and considering Meyer's approach to all of the jobs being open even if some starters return, I think Johnson has a real chance to grab a starting spot and make a big splash next year. 
DJ: Michael Thomas. Obviously he's a guy who's won some Spring Game MVPs in the past (and not much else) and took a redshirt this year, but damn I hope he breaks out next year. (I've said this since he arrived at Ohio State and will say it until he's arrived on the national stage.)
Jeremy: I think the Buckeye most likely to burst onto the scene is Ezekiel Elliott, who is at least unknown on a national level. Elliott is the most complete running back on the Ohio State roster and he'll become a major contributor in the offense in 2014, especially if Miller does decide to go pro after the Orange Bowl. Elliott can run, he can catch, he can knock you out on special teams and he's got the size/speed/quickness combination that is ideal in a Ohio State's offense.